Thanks for reading some of the latest features about area people and events.
To view every page and read every word of The Kenmare News each week,
subscribe to our ONLINE EDITION!
Social networking brings changes to some aspects of cross country bicycle touring
Karen Melin shared Kenmare-style hospitality with a stranger last week when Remi Dion, 24, of Montreal, Canada, showed up at her door on his bicycle.
11/28/12 (Wed)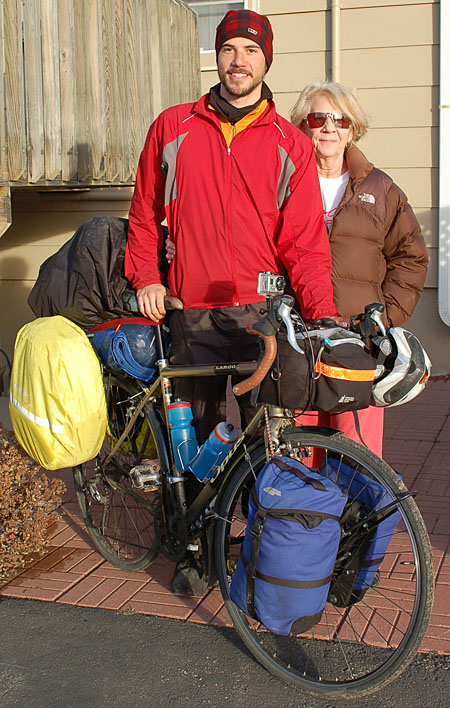 Quick stop in Kenmare . . . Remi Dion, bicycling from
Montreal, Quebec, to Calgary, Alberta, takes an afternoon break
at the home of Karen Melin in Kenmare last week after Melin
heard about the young rider from a friend in Minot.

By Caroline Downs
Karen Melin shared Kenmare-style hospitality with a stranger last week when Remi Dion, 24, of Montreal, Canada, showed up at her door on his bicycle.
Melin was expecting him, thanks to a conversation with her friend Joyce Dammen of Minot about Dion's fine character and his quest to ride his bicycle from Montreal, Quebec, to Calgary, Alberta.
That sort of networking between friends has been important to Dion during his solo trip, who pitched a tent some nights during his journey and also arranged places to stay through the social media website www.couchsurfing.org.
He left Montreal October 10th, and by the time he reached North Dakota in November, using his tent became less practical. "In North Dakota, [the hospitality] been really good," he said. "I like to be with people and meet them."
Dion embarked on the trip as a recent college graduate. "The idea was to challenge my perceptions," he said. "I'd just graduated from the university world, and I wanted to discover the boundaries of my comfort zone and the comfort zones of other people. I know there are so many options out there."
Dion has traveled extensively throughout Canada, the U.S. and Europe and cycled for years in eastern Canada. He is also familiar with winter camping skills and actually rides his bike year-round in Montreal, so the thought of the 2,500 miles (4,100 kilometer) journey across North America didn't intimidate him.
He tries to ride about 75 miles each day, depending on weather conditions. He records some stretches of road with a small camera that attaches to his handlebars, uploading the video footage to his website at www.astuvuremi.ca. The site name is a French phrase meaning Have you seen Remi?
"Biking in the winter is something that's accessible," he said. "It's not true there's only one season to get out and move around. I want to promote physical activity in any season."
Dion started his ride with a destination and general sense of direction. Making connections with people along the way has determined the more specific route, which took him through Minot and Kenmare on his way to Regina, Saskatchewan. In fact, he arranged the night's stay with Dammen in Minot by encountering her grown children in the eastern part of the state.
"Meeting the first people is what really matters," he said, adding that suggestions for further contacts along the way have come easily.
Dion was interested by the oil and gas development taking place in North Dakota, as well as the political rhetoric he heard when he entered the state after the general election. "It's been an interesting experience so far," he said about his first visit to North Dakota. "I'm just being welcomed into homes and having great discussions."
With the ultimate goal of meeting friends in Calgary, however, Dion stayed focused during his visit to Melin's home November 20th. He arrived in the early afternoon and warmed up with a cup of tea and ham sandwiches made by his host.
Melin inquired about his trip and his parents, who support the ride but are happy to hear from their son by email whenever possible.
Dion chatted with Melin for a while, but declined the offer to stay in her home, pedalling back to U.S. Highway 52 by 4 pm.
"I'm hoping to cross the border tonight," he said as he headed north.
"I fed him," Melin said with a smile and a shrug as the young Canadian left her driveway. "I'm just glad it worked out so he could stop here."