Thanks for reading some of the latest features about area people and events.
To view every page and read every word of The Kenmare News each week,
subscribe to our ONLINE EDITION!
Lexie Munson named to All-State Volleyball Team
KHS varsity volleyball setter Lexie Munson finished her high school career with one of the top individual honors when she was named to the 2012 Class B All-State Volleyball Team November 18th.
11/28/12 (Wed)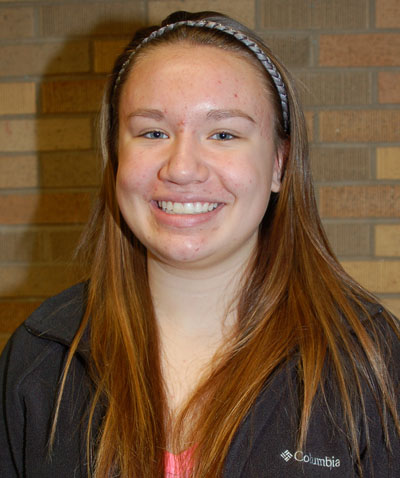 Lexie Munson, North Dakota Class B All-State Volleyball Team
Munson sets record of 3,637 assists
By Caroline Downs
KHS varsity volleyball setter Lexie Munson finished her high school career with one of the top individual honors when she was named to the 2012 Class B All-State Volleyball Team November 18th.
Munson's performance through the season attracted attention as she wracked up a career total 3,637 assists.
"When you think about it, that is a lot of assists," said KHS head coach Tim Wallstrum. "About every third set is a kill so I calculated she set the ball 10,911 times in games alone, and that doesn't count practices."
Munson's number breaks the previous school record held by her predecessor, Kendra Miller, who finished with 3,035 assists.
Munson doesn't keep track of the numbers. "I just think about putting the ball where it needs to go," she said. "I couldn't think about the number, or I wouldn't have played very well."
She also doesn't think of herself as a star player, despite three appearances in the Class B state tournament, one state championship, and two all-state selections. For Munson, volleyball is all about the team.
"If they don't get the kill, I don't get the assist," she said. "Without them, I wouldn't be close to where I am now."
Perfect temperament
While Munson may hesitate to talk about herself, Wallstrum tells stories, starting with her days at volleyball camp as a fourth grader. "She could serve as well then as the varsity girls," he said, "and get it in [the court] nine out of ten times."
He and assistant coach Faye Alexander watched Munson play on the junior high squad and noticed several characteristics desirable in setters.
"You have to have the right temperament, you have to have nice hands, you have to be an athlete, and you have to be intelligent," Wallstrum said. "This is your quarterback for the team."
The two coaches decided to try her as the varsity setter during her freshman year. "When Kendra [Miller] graduated, we had a lot of good hitters coming back," Wallstrum said. "We threw [Lexie] into the fire, but the older girls didn't like that so much. As far as they were concerned, could this little freshman do the job?"
Wallstrum said the varsity players grumbled until he sent Munson with the JV and C-squads to a match in Sawyer one afternoon. During varsity practice, the hitters complained about having no one to set for them. "I told them, 'You find somebody to set,'" he recalled. "From that moment on, they accepted Lexie fully."
That particular group of players went on to win the state tournament, which Munson described as one of her best experiences with the Honkers.
Wallstrum said Munson had the perfect temperament for the setter's role. "I used to think she had ice in her veins," he said. "Nothing bothered her."
Not even injuries stopped Munson, as seen at one of the Coal Country Tournaments in Hazen.
"She sprained her ankle, and we were ahead by maybe three points," Wallstrum said.
Munson sat down to get her ankle taped and watched as the opposing team scored the next few points to threaten the Honkers' lead in the critical set.
"I think the score was something like 22-20 and here came Lexie, running back in to play," Wallstrum said. "Her dad told her 'Better get out there. They need you,' and we won that match."
Munson was known to defend her players when they made mistakes, and to show up for open gym early and stay late to accommodate teammates who wanted to practice their hitting skills. Wallstrum said she handled herself professionally on and off the court, which has become part of the KHS Honkers volleyball tradition.
"We've had such good leaders every year," he said, "and they want to keep this going, to pass on the desire to play volleyball to the younger girls. But it's more than just volleyball. It's how they behave and how they act."
From Wallstrum's perspective, Munson was a quick study. "I had to teach her how to think, where to put the ball, but she was so quick at it," he said.
He talked about Munson's skill at improvising on the court. "She has to know where every girl is, what type of set that girl likes, and how far off she is from the net," he said. "She knows where everyone is supposed to be in every rotation, and in the four years she played, I think we were only out of rotation once or twice."
He noted the Honkers have had strong hitters for Munson to set during the past four seasons, but she had to get the ball passed to her first. "And she can make any bad passer look good, no matter where the pass is going," Wallstrum said.
Great stats for 2012
For the season, Munson played in 123 games and finished with 629 sets, with about a 30 percent success rate. She had the second highest number of kills on the team with 316, at a 43 percent success rate. She made 469 serves, including 75 points on aces, and she came up with 169 digs during infrequent appearances in the back row, for a 92 percent success rate.
She also ended the season with a 96 percent passing rate. "She got to serve-receive for the first time in her life," Wallstrum said, referring to alternate offenses the Honkers ran with Shantell Brekhus and Justice Brown setting while Munson hit.
Munson's numbers hint at her abilities as an all-around player. "We knew she was a good server," Wallstrum said, "and she was the first setter I've had who was also a good hitter. The big bonus was that she's a good blocker."
Munson knew she could serve and hit well, but she preferred the setter's role after eighth grade.
"It was a way for me to be in control of the ball," she said. "You can't really be a 'ball hog' in volleyball, but if you're setting you get to touch the ball almost every single time it comes over the net."
Wallstrum quoted a line from the football movie "The Replacements" that he uses with his players. "'Winners always want the ball,'" he said, "and Lexie wanted the ball."
For all her skill on the court, Munson displayed one consistent weakness on the team, especially as a senior captain.
"I don't think I ever had a kid who lost as many coin tosses as she did," Wallstrum said. "Her success rate is something like 20 percent, and her mathematical father will say the probability for a coin toss is 50-50. Most of the ones she did win were when the other team called it!"
Munson is not tossing a coin about her future. She is considering options for college and volleyball, and she intends to pursue school counseling as a major wherever she goes.
As she faces the beginning of girls basketball season, the All-State player has to put her volleyball career aside. She expressed gratitude to Wallstrum and Alexander for seeing her potential, her parents who encouraged her to work hard, and the KHS fans who provided their noisy support.
"I also want to thank all my teammates," she said. "I'm honored to have been part of such a great volleyball program. It was a blast!"