Emergency Snow Removal
Kenmare Residents: Please take a look at the Kenmare Emergency Snow Removal Routes. These routes are our priority when a major snow event occurs. All other streets will be cleared after the emergency routes, followed by alleys.
Pleas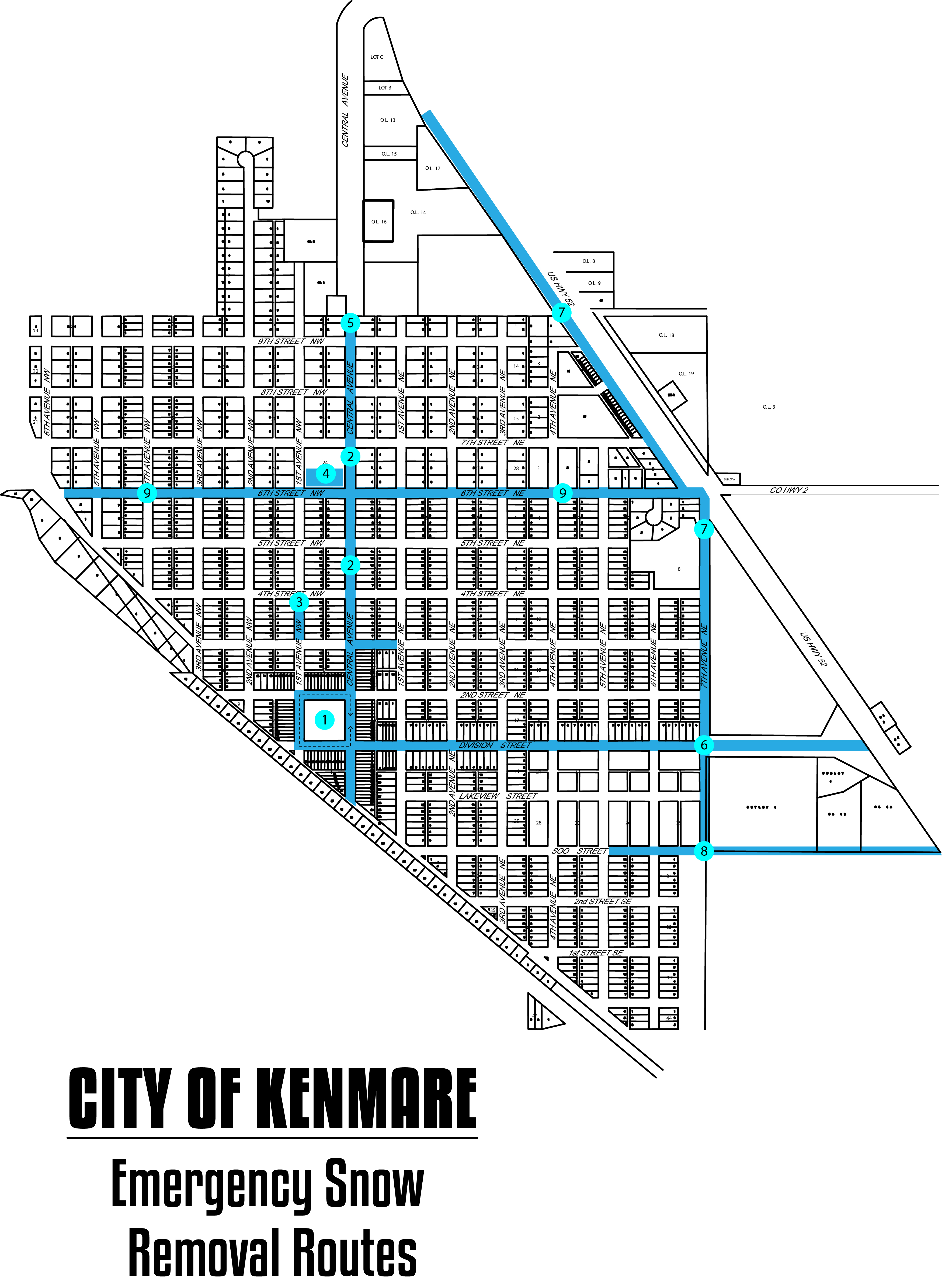 e note that the City is not responsible for snow removal on sidewalks. If after 48 hours any owner of any lot refuses of neglects snow and ice removal on sidewalk the city under the director of the Street Superintendent may remove the snow and ice and have the necessary expenses assessed to the property.
3.0210 Removal of Snow and Ice from Sidewalk
It shall be, and hereby is declared to be, the duty of the owner or occupant of each lot in the City to remove from the sidewalk in front of or along the same, any ice or snow which forms, accumulates or obstructs such sidewalk, within forty-eight (48) hours after the ice forms or the snow ceases to fall thereon. Where the ice accumulated is of such character as to make the removal thereof practically impossible, the sprinkling of ashes or sand thereon within the time specified for removal in such manner as to make such sidewalk safe for the travel of pedestrians thereon, shall be deemed a compliance with the provisions of this article.

3.0211 Removal of Snow and Ice by City

In case the owner of any lot in the City refuses or neglects to remove such ice and snow from the sidewalk in front of or along a lot therein, within the same time above stated or refuses to sprinkle ashes or sand on the same within the time specified for removal in such manner as to make such sidewalk safe for travel of pedestrians thereon, the same may be removed by or under the direction of the city engineer or street superintendent of the City, or ashes or sand sprinkled thereon, and the necessary expenses shall be charged against the abutting property by special assessment in the manner prescribed by law. (Source: North Dakota Century Code section 40-29-18)