Parks, Trails & Attractions
Danish Mill and
Park on the Square

The founders of Kenmare built the city around a park. This park now has beautiful trees, flowers, and benches to enjoy a summer day. Located in the center of this park is the Danish Mill. The Danish Mill was built in 1902 on a homestead, 11 miles north of Kenmare. It was used by area farmers for grinding grains into flour.

In 1959, the Mill was moved into the City of Kenmare and its restoration was completed in 1961. In 1965 the mill was moved to the city park and given a face lift in 1996.
Kenmare High
School Rocks

Tradition of setting class year into a hillside has been going on since 1945 What's up with those numbers on the hills? It is a question that countless strangers to the area have asked after driving through the valley south of Kenmare.

For more than 60 years, all but a few of the graduating classes of Kenmare High School have left their mark for posterity on the hillsides. Each spring the seniors select a hill, gather with shovels, trucks, and paint brushes, then get to work. An outline of their class year is staked out. Then the sod is dug out and hauling in of field stones begins. When the trenches have been completely filled with rocks, the project is finished off with a coat of whitewash or paint. For many years, Rock Day was an organized school event for seniors just before graduation.

Most of the KHS class-year rock monuments have taken shape on the hillsides from seven to eleven miles south of town along Highway 52.

Class years from '51 to present can be easily spotted as one cruises through the area of the Baden overpass. Years pass, but the numbers remain highly visible as the classes apply a fresh coat of paint during their reunions.

The first KHS rocks took shape in 1945. The students' rock graffiti on the hillsides was initially conceived as a diversion from less desirable graffiti painted on buildings and other structures around town.
Lake County
Historical Society's
Pioneer Village

Lake County Historical Society's Pioneer Village and Museum preserves the value of area history in a 5 acre, 22 building village.

Of special interest are a pioneer church, one room school house, 1904 home, town hall, homesteading shacks, and many early day businesses. Each are furnished to recreate their original settings.

The Village's newest structure is the Rytter Implement Museum, finished in 2011 to exhibit a variety of antique tractors, vintage machinery, and even a 1946 Ford car.

Young and old will enjoy touring the village. For some it is a glimpse of their ancestors lives, for others a reliving of old memories.

Celebrate the past during the annual Pioneer Day in July 2014. This popular event features an old-fashioned church service, children's games, log cutting contest, pig roast, live melodrama, and more!

The village is located along Highway 52, north of the Pizza Hub.

Summer Hours:
Wednesday - Friday, 4-7pm
Saturday - Sunday, 2-5pm; or by appointment any time.

Tours can also be arranged by calling Bryan Quigley at 701-467-3444 or 701-240-4505, Cindy Rytter at 701-385-4248.
Mouse River Park

This unique little riverside park has been attracting visitors since the early 1900's. Along with 56 campsites, there are additional primitive and electric sites throughout the park.

Mouse River Park is located about 5 miles north of Tolley. The park offers fishing, volleyball, softball diamonds, shower facilities, children's playground, and a beautiful public gazebo. Special events and entertainment are often scheduled during the summer season. Don't forget to check out the suspended walking bridge that crosses over the Mouse River, and stop by the renovated Country Mouse Bar for an ice cream treat.

Mouse River Park was flooded in June 2011. Residents of the Park continue rebuilding and restoration efforts.
Centennial Park

Originally built to celebrate North Dakota's Centennial, the park features a goose sculpture representing Kenmare's title as the "Goose Capital of North Dakota." It is easily visible from Highway 52. With its proximity to the high school and the sports field, the sculpture is also a nice complement to the school's "Honker" mascot.
Trails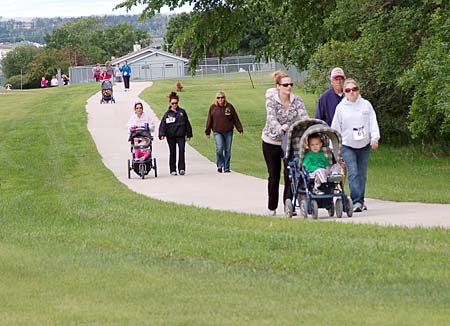 Walking & Biking Trail
The first portion of Kenmare's fitness path has been completed and is being walked, jogged, biked and rollerbladed daily. The trail circles around the high school grounds and along Hwy 52 for a length of about 3/4th of a mile. Extensions of the path are under consideration, with hopes for additional construction in the coming years.
Tasker's Coulee Wildlife Observation Area
The Tasker's coulee Wildlife Observation Area lies in a heavily wooded coulee south of the Des Lacs refuge headquarters and can be reached via Ward County Road #1A. This lighted area offers a covered shelter, picnic tables, grills, drinking water and restrooms -- all for the public's day use.
Numerous rustic hiking trails allow visitors to stretch their legs and enjoy the flora and fauna of the coulee. Bathroom facilities and running water are available.
Over night camping is not permitted.
Nearby woodlands are inhabited by forest birds such as vireos, black & white warblers, black-capped chickadees and downly woodpeckers.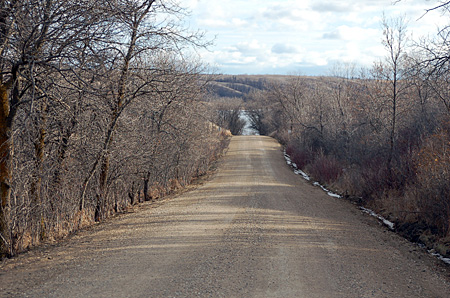 Scenic Lake Road
This road of approximately 12 miles runs along the Des Lacs Lake from near Baden overpass to the picnic area and former boat landing about five miles northwest of Kenmare. The south end of the road intersects with U.S. Highway 52. The north end of the road intersects with Ward County #1.
The section running south of Kenmare was once part of Highway 52. The scenic road offers great access for bird watching, observing wildlife, biking or hiking.
A new feature of this North Dakota Scenic Backway is the addition of 13 interpretive panels at pullouts and scenic overviews along the route.
Munch's Coulee Nature Trail
Located about five miles south of town just off the Scenic Lake Road, this trail is a designated National Recreation Trail. The first quarter-mile is paved, level and wheelchair accessible, with the remaining mile-long segment consisting of mowed grass with some steep slopes. The trail provides breathtaking views of the Lower Des Lacs Lake, and the upland portion offers one of the best places on the refuge to view native wildflowers and grasses.
Boat Dock Day Use Area
The gravel road leading north from Ward County #2 for 5 miles (known locally as the Boat Dock Road) winds along the upper Des Lacs Lake through the woodlands and coulee bottom habitat to a refuge Public Use Area - Boat Dock. Canoeing is permitted, following refuge regulations.
This area offers opportunities for picnicking, hiking, birdwatching and non-motorized boats in a beautiful lakeside setting. Primitive bathroom facilities and picnic tables are available.
The area is maintained by the Des Lacs Refuge. The area may also be reached via Ward County Road #1. Use is restricted to daylight hours only.
Canada Goose Trail
This 7 1/2-mile scenic trail located along the northeastern section of the Des Lacs Lake provides great opportunities to view migrating and breeding waterfowl.
The trail is open to hiking, bicycling, cross country skiining and snowshoeing, with motorized traffic allowed for two weeks each fall, weather permitting, to view the beautiful fall foliage.