KCDC Recent Projects
West Side Square Project
---
Phase 1: Complete!
Business's included in Phase 1 are Kenmare Drug, One Stop on the Square, First District Health Unit,
and a Laundromat.
KXNet - Bismarck/Minot/Williston/Dickinson
BEFORE
AFTER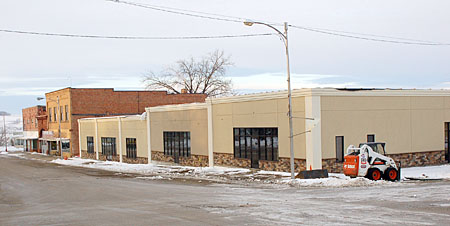 Phase 2: Complete!
Business's included in Phase 2 are Gathering Grounds, Boom Fitness and Kay Furniture.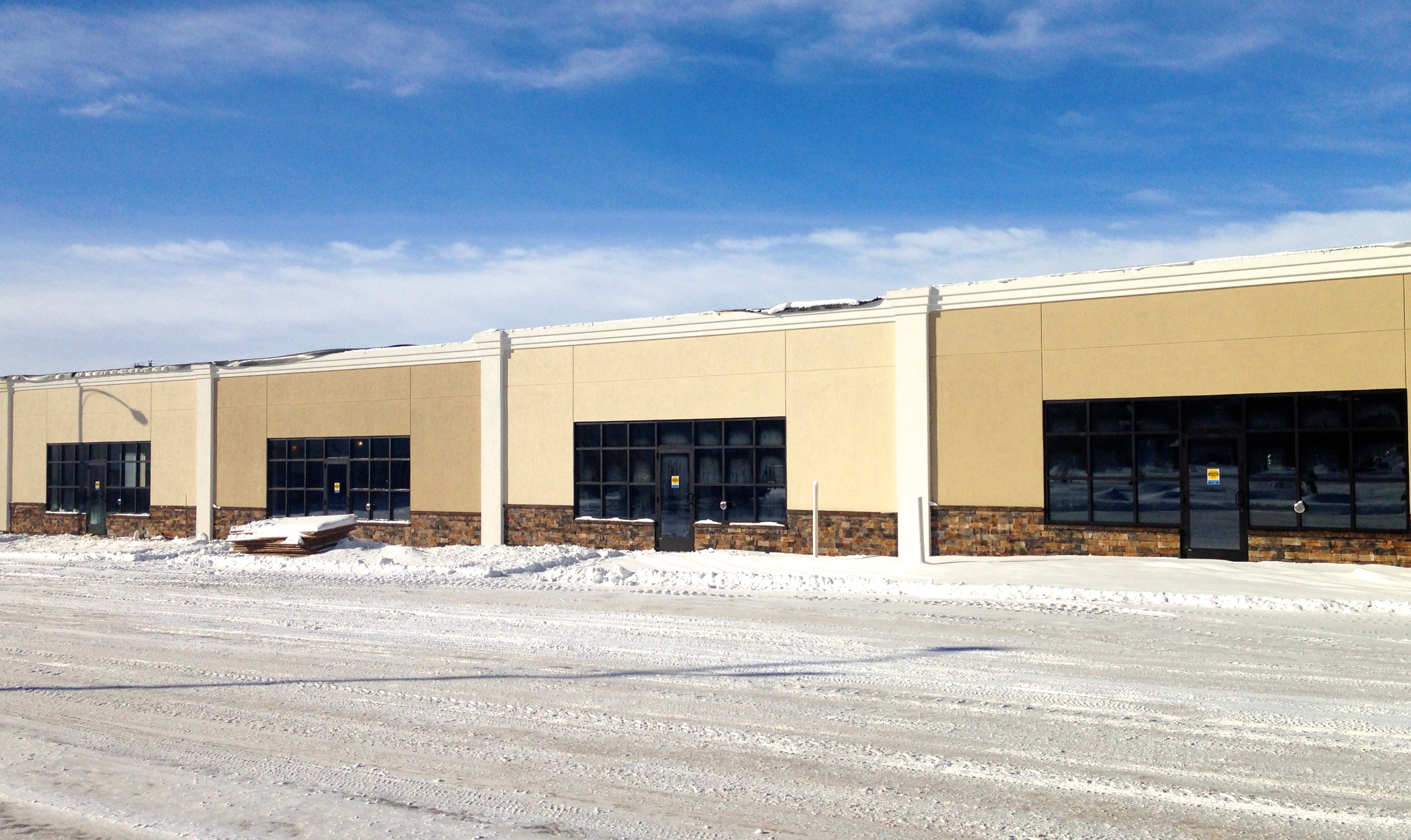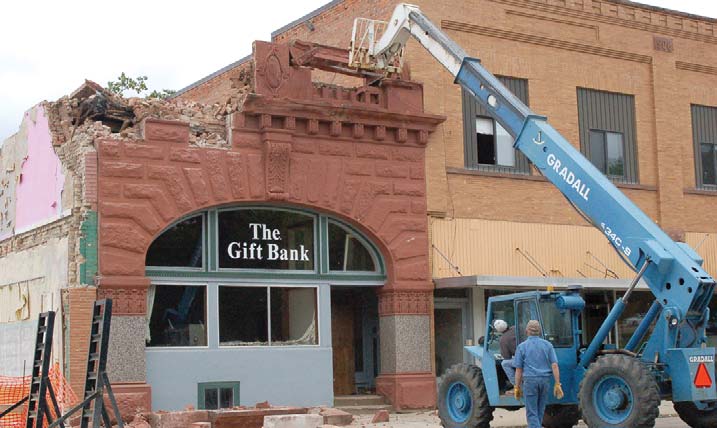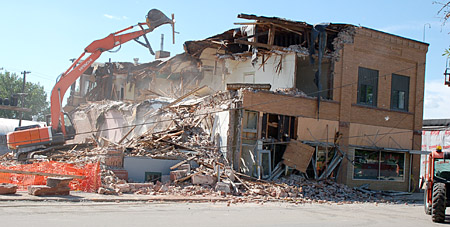 Old bank building demolished.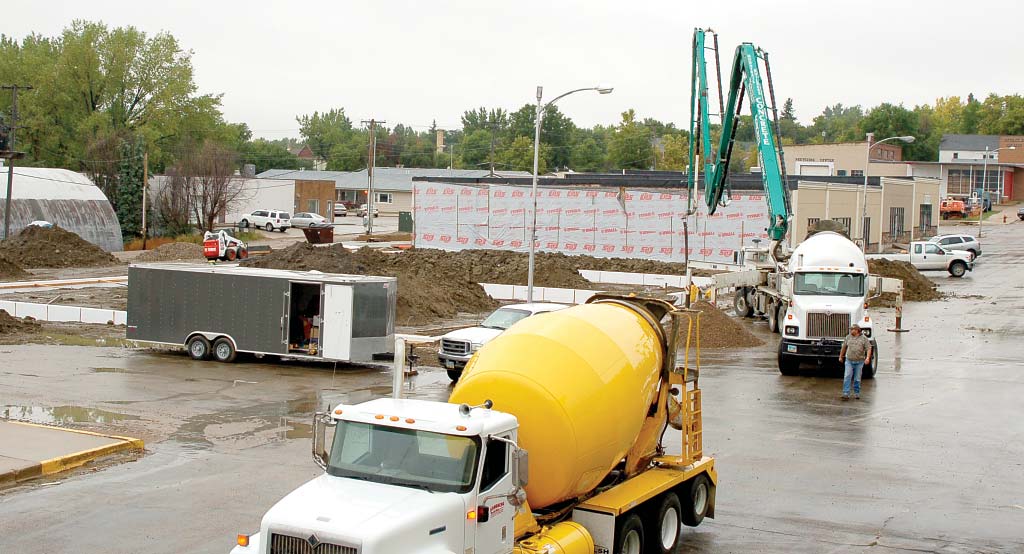 Cement footings were poured Monday at the site of the second phase of the new retail store development on Kenmare's downtown west side. A tentative completion date for the construction is set for July 2014.
12-Plex Housing Development
---
Ground Breaking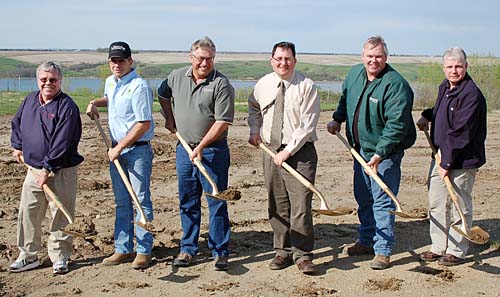 Breaking ground for housing in Kenmare . . . Tom Serie, left, of SW Design Build, Inc., provided shiny gold shovels for groundbreaking ceremonies held for the two new 12-plex units to be built along Division Street in Kenmare. Serie was joined by, l-r, Kevin Borud of Gooseneck Implement, Mayor Roger Ness for the city of Kenmare, Jamie Livingston of State Bank & Trust of Kenmare, Tim Harris of Farden Construction, and Jerry Essler of the Kenmare Community Development Corporation.
After months of discussion and planning, the first shovelfuls of dirt were finally moved at the location of the two new 12-plex apartment buildings along Division Street in Kenmare as developer Tom Serie of SW Design Build in Minnesota met with local business leaders to officially break ground on the project.
In Progress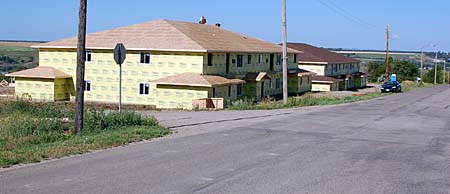 With one roof in place and the second roof scheduled for shingles, the two new 12-plexes along Division Street in Kenmare started taking shape.
A view from the back side of the apartment buildings prior to the unattached garages being constructed.
Completed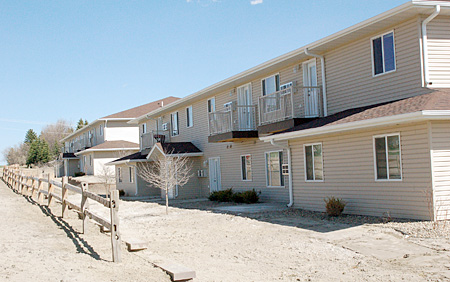 Each unit has four three-bedroom apartments on the first floor with 1 3/4 baths and 1,423 square feet of space, renting for $1250 per month at this time.
The first floor also houses two one-bedroom, one-bath apartments at 701 square feet apiece. One of the one-bedroom apartments has a handicapped accessible bathroom and will rent for $539 per month. The other one-bedroom apartment will rent for $900.
Those two apartments, as well as one of the three-bedroom apartments, require specific median income qualification and verification under the North Dakota Housing Finance Agency guidelines.
The top floor of each building houses six two-bedroom apartments. Four of those apartments have 1 3/4 baths and 1,215 square feet of living space, renting for $1,100 per month.
One of those apartments has a single bathroom and 946 square feet, renting for $831 under the required income qualification. The sixth apartment on the top story has one bathroom and 959 square feet for $1,100 per month.
Kitchen appliances for all the apartments are furnished, including a stove, refrigerator, microwave, dishwasher and garbage disposal. A laundry room with two sets of washers and dryers is located on the ground floor of each unit.
Optional detached garages are available for all renters at a rate of $50 per stall per month. Apartment residents may choose to rent more than one garage stall.
Terms of the rental agreement include a one-year lease.