Housing in Kenmare
Honkerville Apartments (12-plex) - APARTMENTS FOR RENT

These two buildings offer a mix of one-, two- and three-bedroom units, including one handicapped accessible apartment in each building.
Kitchen appliances for all the apartments are furnished, including a stove, refrigerator, microwave, dishwasher and garbage disposal. A laundry room with two sets of washers and dryers is located on the ground floor of each unit.
Optional detached garages are available for all renters at a rate of $50 per stall per month. Apartment residents may choose to rent more than one garage stall.
For more info, contact Cade Helmers at 701-217-0202.
Four-Plex Housing Authority of the City of Kenmare - Townhomes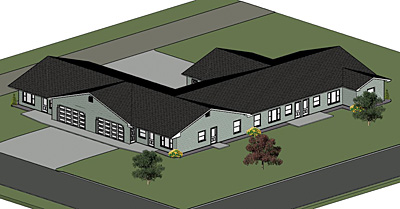 First month and security deposit equal to a month rent. Pets allowed
The single-level four-plex features one-bedroom unit with an attached single car garage, two two-bedroom units with attached two-car garages, and one three-bedroom unit with an attached two-car garage.
Each unit includes a full kitchen, separate dining and living areas, 1 3/4 baths, laundry hook-ups, walk-in closets and private entrances. In order to avoid exiting onto Central Avenue, two of the garages face Sixth Street and two face the alley.
The townhome with the single car garage has 1,195 square feet of living space and 300 square feet for the garage. The other two-bedroom units both have 1,298 square feet of living area, each with a 540 square-foot garage. The three-bedroom unit includes 1,447 square feet of living space.
Monthly rental fees for the townhomes are $750 for the two-bedroom, single garage unit, $825 for the two-bedroom, two-car garage units, and $900 for the three-bedroom unit.
For more info, contact Rick Harris at 701-848-6223.
or to check availability
Housing Authority to the City of Kenmare
Rick Harris, President
Chuck Leet, Secretary
Rick Harris, Property Manager
Phone: 701-385-4232
Fax: 701-385-3292
Email: rick.harris@kenmarefarmersunion.com
Other Housing Contacts
Sara Staskywicz
Kenmare Housing Corporation
701-385-3396
Kurt Heninger
Private Owner
701-385-4753