Thanks for reading some of the latest features about area people and events.
To view every page and read every word of The Kenmare News each week,
subscribe to our ONLINE EDITION!
Wrestling coach says KHS team has lots of talent and potential
After the first week of practice, the Kenmare-Bowbells wrestling squad seems intent on surprising everybody, including head coach and former KHS wrestler Dan Mogren.
11/28/12 (Wed)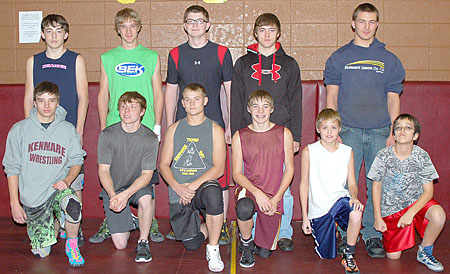 2012-2013 Kenmare-Bowbells Wrestling Team

By Caroline Downs
After the first week of practice, the Kenmare-Bowbells wrestling squad seems intent on surprising everybody, including head coach and former KHS wrestler Dan Mogren.
"I was told we might have eight or nine kids out," he said, "but when I showed up for practice, we had 13!"
Mogren is excited to be back coaching the team. "There's a lot of talent in here," he said as the wrestlers warmed up for practice with running drills and impossible stretches. "There's a lot of potential in the room."
The number of wrestlers, including two from Bowbells Public School, means the Honkers can compete in 10 weight classes at this point. Although the team has a week and a half to finish conditioning for their first tournament, Mogren is seeing openings only at the 113 lbs., 182 lbs., 195 lbs. and heavyweight classes.
"Dual-wise, it's going to be interesting," Mogren said, then grinned. "I've got expectations. I think we could place at least sixth at state!"
He noted the usual powerhouse teams in Region 3, including Velva, Minot Ryan and Stanley. "But with the numbers we've got, I'd like to be among the top four in the region," he said.
He also listed the Honkers' known quantities. "Individually, Zack Helmers, Briot Nehring, Ty Jesz, Xavier Maureaux and Tanner Egeberg could be at the top of the region in their weight classes," he said. "And Austin Manz has got a lot of talent. He could surprise some people."
Senior team captains Helmers, Nehring and Lucy know they have work ahead of them this season, but they were optimistic about the team's performance.
"We're young, but we're one of the bigger teams," said Nehring.
"We've got some new kids, but more variety for weights," Helmers said. "That's makes it a lot easier. We actually have a chance to compete for duals this year because we have the numbers."
The seniors, who lead the warm-up exercises and collaborate with Coach Mogren to run practices, want to see their younger teammates be successful. "With all these new kids, we have to go back to the basics," said Nehring.
"We need to make sure we're all in good shape," said Helmers. He wasn't looking ahead to the state tournament quite yet. "Right now, it's getting rid of some of the green we have and getting into wrestling condition."
Along with watching team members work on physical conditioning and wrestling skills, Mogren wants the wrestlers to support each other. "Everybody's energetic, everybody's healthy right now," he said. "We need to be working together more as a team."
Honkers wrestling roster
This season, the Honkers wrestling squad is led by seniors Zack Helmers, Briot Nehring and Casey Lucy.
Juniors wearing the maroon and gold include Riese Dignan and Dylan McGrath.
Sophomores storming the mat are Alex Giese, Xavier Maureaux and Tanner Egeberg.
Freshmen filling out the squad are Ty Jesz, Austin Manz and Brandon Burtch.
Eighth grader Paul Holter will challenge his opponents, and seventh grader Eric Burtch will test himself at the lower weights.
The team is coached by Danny Mogren, with assistance from Dennis Kaatz and Lars Christensen.
Competition begins
December 1
The Honkers will open the season on December 1st at the Velva tournament, then turn around to welcome teams to the Kenmare tournament on December 7th.
On December 11th, Kenmare High School will host a triangular meet, then the team travels to the Linton tournament on the 14th and 15th.
The Honkers' final home appearance will be December 18th in a quadrangular competition.
As the New Year begins, the Kenmare-Bowbells squad travels to the Harvey tournament on January 4th, the New Town triangular on January 8th and the Beulah tournament on the 11th and 12th.
The Honkers' schedule rolls along with the Rolla tournament January 19th, the Rugby tournament on the 24th and the East-West tournament in New Salem on the 25th and 26th.
The Region 3 team competition will take place February 3rd at Bishop Ryan, with the regional individual tournament scheduled February 9th at Stanley.
The Class B state tournament qualifiers will wrestle in Fargo February 14-16.
The senior wrestlers invited their families and fans to cheer the team during the season. "We always do better when we have a bunch of support," said Nehring.
"We only have three home matches this year, and they're all before Christmas," Coach Mogren added. "If they want to see the team this year, it would be really nice if they would come out then and support the boys."