Thanks for reading some of the latest features about area people and events.
To view every page and read every word of The Kenmare News each week,
subscribe to our ONLINE EDITION!
New KHS head basketball coach preaching "team"
Kacy Keysor, the new head boys basketball coach at Kenmare High School, knows exactly what he wants to see from his players.
12/05/12 (Wed)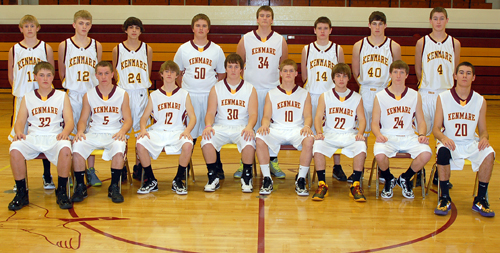 2012-2013 Kenmare High School Varsity Boys Basketball Team
By Caroline Downs
Kacy Keysor, the new head boys basketball coach at Kenmare High School, knows exactly what he wants to see from his players.
"They're starting to look like a team," he said halfway through the second week of practice. "Team, team, team. That's what we're preaching this year."
Many Honkers fans will remember Keysor from his years as a guard for the Honkers, playing from 2003 to 2007 under head coach and father Ken Keysor. Kenmare earned three district titles during those four seasons, in 2004, 2005 and 2007.
Keysor didn't mention that fact, but his senior players are very much aware the lineup of district championship plaques stops with their coach's final season as a player. "Hopefully, the team gets some more plaques up there, this year and in the years to come," said Jace Helmers as he pointed toward the display hanging on the north wall of the Kenmare gym.
Before any championships are considered, the team has to show some effort, and Keysor is all about pushing his players. He likes what he sees. "They're coming to practice with a positive attitude," he said. "I like their work ethic."
With a mix of three seniors, one junior, six sophomores and half a dozen freshmen, team chemistry is still a work-in-progress. "They need to gel as a team," Keysor said. "There are only a couple players returning with much varsity experience, and we have different guys stepping into different roles."
Some of those roles involve stronger defensive play. "We don't have a lot of height on our team," said Keysor, "so we're going to have to rely on our defense and hustle, and getting after the ball. We're going to be a very good defensive team, and you're going to see an up-tempo game."
The seniors agreed they'd been improving their defensive skills. "There's going to be more pressure defense this season," said Mason Ankenbauer.
While they want to see their younger teammates improve at fundamentals of the game, they also recognized a strong work ethic. "Everyone's pushing themselves," Ankenbauer said.
Tyler Ellsworth nodded and grinned as he watched the younger players run a conditioning drill. "We're going to be in good shape," he said.
"We're quick, and we're going to be a vocal team," added Helmers.
Keysor returns to
coach team and
promote Honker tradition
Keysor left KHS to play basketball for two years at Dakota College at Bottineau. While attending classes there, he helped coach the junior high boys basketball program for the school district. Keysor has also coached various elementary level basketball teams over the years, and he assisted head coach Thurstan Johnson with the KHS Honkers last season.
"This is about getting to know the kids and how to push them," he said, adding that discipline was important to the team.
He laughed as he talked about the response from the players, a few of whom have learned the hard way about testing his rules. "But they always seem to respond, and they know they have to work harder," he added.
The Keysor family basketball connections started with his father will continue among the Honkers as Kacy Keysor coaches his younger brother Konnor, a freshman on the team. "He listens to me," Keysor said, laughing again. "The advantage he has is that he knows how I am--when I'm serious and when I'm not."
When Keysor played for Kenmare, the coaching team included Curt Helmers and Randy Edwards assisting his father.
All three men will be in the stands this season, two of them watching sons play under the new head coach. "My dad has told me he's not here to tell me what to do," Keysor said. Then he smiled and added his three former coaches have all offered to help him out with advice if he wants to hear from them.
For Keysor, stepping back onto the KHS court wearing a tie and holding the clipboard feels right. "This brings back good memories of the Honker tradition," he said, adding that the teams he played on wanted to live up to the school's reputation on the court. "I want to keep that going and build off what we had in the past."
He knows the team has some work to do, but he's looking forward to the season, which started last night with a game at Ray. District 12 games begin in January, and Keysor expected to see strong play from Des Lacs-Burlington, Bishop Ryan, Berthold and Our Redeemer's Christian School, all of which are returning experienced teams.
However, he predicted Kenmare would be in the mix for a berth in the regional tournament. "My goal will be the same thing every year," he said. "Our goal is to be playing the last night of the tournament in the championship game for the district."
The seniors believed their coach's goal was reasonable. "We have really high expectations this year," Ankenbauer said.
"We have a responsibility to the coaches [as seniors]," added Helmers. "They have a lot of wins in their future."
"So we might as well start them out with a state championship," finished Ellsworth.
All three of the senior Honkers chuckled, but they agreed they wanted to get back to the regional tournament.
They also agreed they were prepared to make the transition to Keysor's style of coaching. "He ran some practices last year for Coach Johnson," Ellsworth explained, "and we could tell it would be more up-tempo this year."
"We were ready for it," Helmers said, "and looking forward to it."
He added the players are committed to winning more than the four games recorded last season. "Last year might have left a bad taste with some people," he said.
"Come out and give us a chance to show what we can do," said Ankenbauer.
The three seniors leading the Honkers this season are Mason Ankenbauer, Tyler Ellsworth and Jace Helmers.
The squad's lone junior on the court is Kirkland Melby.
Six sophomores wear the maroon and gold uniforms, including Brett Froseth, Levi Goettle, Hunter Harris, Spencer King, Tye Rasmusson and Jack Skjordal.
Six freshmen are testing their wings as Honkers, with Nolan Ercanbrack, Jordan Hanson, Konnor Keysor, Tanner King, Kyler Melby and Logan Rousseau.
Elsa Condit and Dani Kling will handle stats for the team.
Keysor is assisted by former KHS teammate Branden Nelson.
Schedule begins Dec. 4,
first home game Jan. 10
The Honkers began their season last night at Ray, with game results unavailable at press time.
Kenmare stays on the road through all of December, traveling to Parshall on the 6th, playing in the Velva Tournament the 11th through 15th, and going to Westhope/Newburg on the 20th.
The Honkers open the New Year at Bottineau January 4th, then host their first home game on the 10th against Our Redeemer's. New Town comes to the KHS gym on the 11th, Parshall arrives on the 12th and Bishop Ryan plays in Kenmare on the 15th.
The KHS team faces Berthold on the road January 18th, then plays Dunseith at the Minot Auditorium on the 19th. The Honkers close out January action against the Mavericks at Mohall on the 24th and at Surrey on the 29th.
The February schedule begins with Kenmare playing Glenburn at the Minot Auditorium on the 2nd. The Honkers will finish regular season play at home against DLB on February 5th, Divide County on the 8th and Stanley on the 11th.
The District 12 Tournament will be played February 14 through 16 at the Minot Auditorium.
Region 6 Tournament games will take place February 25, 26 and 28 at the Minot Auditorium.
The Class B boys basketball state tournament is scheduled for March 7, 8 and 9 at the Minot State University Dome.
Keysor invited Honker fans to encourage the boys as a team through the season. "We'd like you to cheer on the team and not just individuals," he said. "This is about keeping up the Honker spirit."
"Come out and support us," Helmers added. "Hopefully, the fans have as much fun as we do."