Thanks for reading some of the latest features about area people and events.
To view every page and read every word of The Kenmare News each week,
subscribe to our ONLINE EDITION!
Smoking in the bars ends today
"I'm waiting to see on December 5th how many people come in and smoke up a storm," said Donna Schlosser, owner of City Limits in Kenmare and Donna's Den in Northgate.
12/05/12 (Wed)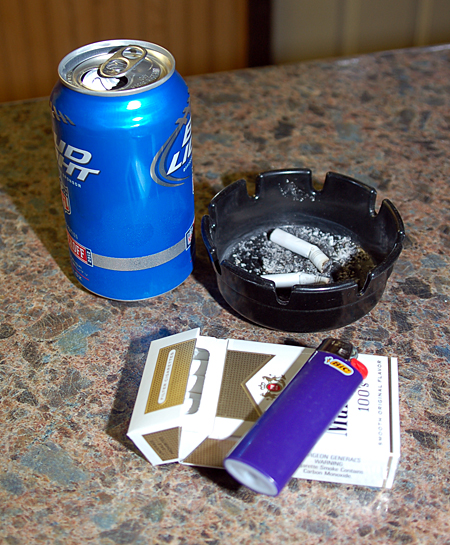 No butts . . . As of Thursday, December 6th, ashtrays in
the bars and other public places will be a thing of the past. More
than two-thirds of voters across the state approved a measure
during the General Eelction to prohibit smoking in all public places.
By Caroline Downs
"I'm waiting to see on December 5th how many people come in and smoke up a storm," said Donna Schlosser, owner of City Limits in Kenmare and Donna's Den in Northgate.
Schlosser was referring to North Dakota's new smoke-free law, which is scheduled to take effect tomorrow, December 6th.
Wes's Bar co-owner Ronda Zeltinger looks for the new law to be beneficial for her business.
"If it was up to me, we would have gone non-smoking before this law went into effect," Zeltinger said. "I've already heard comments from people who say, 'Oh, good, the cigarettes will be gone. Now I can come and play pinochle.'"
Zeltinger said a smoke eater was purchased to filter the air in the bar. "It's fairly good on some nights, but other nights, it can't keep up," she added.
Zeltinger is happy about the clean air in her bar, as is Schlosser. "Personally, I'm looking forward to having my bar smelling better," she said. "Not smelling like smoke every night and not having to clean the smoke eater will be wonderful!"
In fact, Schlosser believes the new law will save her money. "I'm anxious to see what my electric and my propane bill will be for the next six months," she said. "The smoke eater runs nonstop and sucks up the heat in the bar."
She paused and laughed. "I'm looking forward to not hearing the noise of the smoke eater!" she said. "I can start using my air fresheners now. It won't be a 'girly' bar, but it will smell a lot better."
Like Zeltinger, Schlosser may see different customers at City Limits because of the smoke-free atmosphere. She said some former customers told her they didn't come any longer because of the smoke smell in the bar. "So, I'll see if I get those ladies back," she said.
Schlosser has had an increase in business since last March, when both South of the Border and Beer Bob's prohibited smoking. "We've been the only place to smoke in Kenmare," she said.
She doesn't expect any lack of business at City Limits after the new law goes into effect on Thursday, but she does wonder about Donna's Den. "Ninety percent of my customers there are Canadian," she said, "and out of those customers, about 65 percent of those people come because they can still smoke."
Customers grumbling
Schlosser has been hearing outrage at the new law from her Kenmare customers.
She is frustrated to have another law imposed on her as a private business owner, but she intends to follow it. "I've had customers tell me they're going to come in and still smoke," she said. "I tell them they're going to pay my fine. The law is you can't smoke in the bar anymore."
One individual went so far as to say he would buy an exhaust fan, install it in the restroom, and then go in there to smoke his cigarettes. "They're just not going to get by with it," Schlosser said.
Zeltinger said she hadn't heard many complaints from customers. "We've had some positive and some frustrated comments," she said, "but it hasn't been that bad. All they say is, 'Are you going to build us a smoking hut?'"
Plans are in the works for a smoking hut at Wes's Bar, but Zeltinger warned the structure may not get built this winter. "We know it has to be so many feet from the entrance," she said, "but we'll try to make it comfortable."
Several employees among Wes's staff of 10 smoke, but they haven't confronted Zeltinger about the new law. "They understand," she said. "They're really courteous smokers, and now they're hinting about where we can put the smoking hut."
Zeltinger said some of her smoking customers have told her they may quit now, and Schlosser said she herself will quit completely, even though she only smokes when she's working. "Drinking and a cigarette go well together," she said. "I had one customer tell me, 'I don't smoke, but when I've had a beer, I love the taste of a good cigarette.'"
Schlosser plans to use the outdoor beer gardens area at City Limits for smokers, complete with a propane heater for the winter months. "At Donna's Den, they're going to have to go into the parking lot to smoke," she said. "They'll probably sit in their cars. Most of the people who smoke in the bar now smoke outside at their own houses anyway."
Bars to mark new law with
free feed, ashtray gifts
Schlosser and Zeltinger both anticipate a transition period for their customers. "I have a feeling some people might try to push it," Zeltinger said. "For the first few weeks, we might have to remind them about the situation."
"There are some customers who probably won't come in for a while," said Schlosser. "They've told me that. First District Health Unit said to use our own judgement about posting signs about it. Mine will start out with something like 'Another right has been taken away from us....'"
She continued, "We have to have a backbone. During the first month, I know there are people who are going to try it and light up anyway."
Schlosser said she knew of bar owners who planned to become non-smoking establishments as of December 1st. "Not me," she said. "I'll go till the last day and keep my customers happy. Then we'll put on a big feed for the last night of smoking!"
Zeltinger said Wes's Bar recently received a shipment of ashtrays ordered to replace the old ones in the bar. "They're nice glass ones," she said. "I'll give them to our customers as a smoking parting gift. First come, first served until they're gone!"
Dave's Place, Quilt Inn,
Beer Bob's have
already gone smoke-free
North Dakota's first smoke-free law, approved by the state legislature, was implemented in July 2005 and prohibited smoking in most public areas, with the exception of bars, truck stops, designated motel rooms and a few other places.
Kenmare's three bars and two motels retained smoking areas, but recent changes gave smokers fewer choices.
Dave Beck, owner of Dave's Place (South of the Border), ended smoking in the bar and grill when he opened last winter. "I had my doubts a couple of times," he said, "but I thought the change was inevitable."
By operating a smoke-free establishment, Beck is able to serve families with children in the restaurant. "We see them Friday nights, Saturday nights and sometimes on Sundays, which is really nice," he said.
Customers of all ages were able to enjoy the special menu he offered on Thanksgiving Day.
Beck is well aware of business he lost by prohibiting smoking in his business, but other customers have expressed appreciation for the change.
"The only thing the new law can do is help me," he said, adding that he hoped to see some of the former customers return to his establishment.
He plans to accommodate smokers on his staff of nine employees, as well as customers, by building a smoking shack behind the restaurant in the near future.
"I hear good and bad comments [about the non-smoking policy] from customers," Beck said.
"People tell me it's a pleasure coming in to a smoke-free place. I'd just like to thank everybody for supporting us. We're looking forward to another year."
Beer Bob's on Kenmare's downtown square changed over to a smoke-free bar in March, followed by a thorough cleaning and paint job inside. The Quilt Inn followed suit later in the spring.
"It's surprising how many people appreciate that we're non-smoking," said Quilt Inn manager Janeen Melgaard. "I'm so glad we went ahead and did it when we did."
"The cleaning crew loves it," Melgaard said, "and some of them smoke themselves. It's so much easier to keep everything clean."
At the time of the change, the Quilt Inn had designated six of the 42 rooms available for smoking guests. All six rooms were completely renovated with new furnishings and bedding when the motel started its no smoking policy. Guests who violate the policy and smoke in their rooms or bathroom are charged a $200 cleaning fee.
According to Melgaard, guests and employees alike step outside to smoke, with smoking posts in place at the east and west entrances to the motel. "More and more guests know we're non-smoking," said Melgaard. "It doesn't happen too often any more that someone requests a non-smoking room. It was definitely an improvement!"
Smoke-free information
leads to questions
Educational material on the smoke-free law has been mailed to businesses effected, but San Way Ve Motel owner Sandy Nelson found the information to be somewhat confusing.
"I didn't think it would affect my rooms because they all have their own doorways," she said.
In fact, each of the motel's 30 rooms has an outside entrance. Of those rooms, only seven have been designated as smoking rooms. "Every time we remodel a room, we make it non-smoking," Nelson said.
According to Nelson, most of the San Way Ve customers through the winter rent their rooms on a monthly basis, living in Kenmare away from their families and hometowns while they work in the area. As she has informed her customers about the change in the state's non-smoking law, a few have argued the law doesn't apply to private residences, and that the motel room essentially serves that purpose at this point.
Nelson contacted First District Health Unit Tobacco Prevention and Outreach Coordinator Holly Brekhus about the situation. "She told me the law includes motel rooms and hotel rooms, and that is my employees' workplace," said Nelson. "My customers argue with me they won't be in there smoking when [the staff] is in there cleaning."
As a former smoker who quit over 30 years ago, Nelson sees both sides of the situation. "A reformed smoker is the worst, and I hate [the smoke smell]," she said, "but I used to smoke, so I know how they feel."
Schlosser had even more questions after reading the letter she received about the new law from First District Health Unit. "I just got the information last week," she said Friday. "The law is that you can't smoke in the bar anymore, but now, can I still sell cigarettes in my bar?"
She has friends who own bars in Canada who cannot sell cigarettes in their establishments, much less have ashtrays available without risking a fine. "Can I still have ashtrays out, for customers to take outside with them so I don't have the [cigarette butts] everywhere?" she asked.
Schlosser's concern about the new law is two-fold. "I'm upset the law passed because that's another right they're taking away from the business owners," she said, "and I think they should have had the law and procedures put together. What is the fine? Who's enforcing the no smoking law? Will it be our local policemen or is First District Health Unit going to come in and enforce it?"
She continued, "I remember when the first law went into effect [in 2005]. They took six months to get everything together."
Schlosser held up the letter she received from FDHU. "There are a lot of unanswered questions here," she said.
Transition underway
at the San Way Ve Motel
Nelson realizes she has work waiting for her and her staff as they make over the remaining smoking rooms at the San Way Ve. "Those mattresses are shot," she said. "The carpet has to come out. Everything has to be painted. You can scrub the walls and [the smoke smell] won't come off them. The furniture is saturated with it."
Fortunately, even the smoking members of her staff support the new law. "Those rooms are horrible to clean," said Nelson.
Changing the former smoking rooms will take some effort. "I can put my current guests into non-smoking rooms," Nelson said, "but it's time-consuming to get those smoking rooms suitable for non-smokers, and I can't ever put people in there who have allergies."
Nelson will not be constructing any type of smoking hut for motel guests. "They can step out their doors and walk a few steps to smoke," she said. "I am going to set smoking posts out. The employees have had to go outside and smoke anyway because I won't let them smoke in the service room."
She fully expects some of her guests to remain resistant to the law. "They don't have any choices now, with this law," she said. "A non-smoker has choices about where they go. I've got people here, this is their home right now."
Nelson already charges a $100 cleaning fee to guests who smoke in a non-smoking room, and she expects to impose that fee more frequently for a while.
"It's going to happen, but we won't know it until after the fact," she said. "To enforce the law, we're going to have to be sure we have a credit card number for that person."
Law taking effect one month
after winning approval
by large margin
During the general election held November 6th, the initiated measure to make all of the state's public places nonsmoking was approved by more than two-thirds of voters.
The law, initiated by the independent organization Smoke-Free North Dakota, protects people from exposure to secondhand smoke in all enclosed public places and places of employment, including restaurants, bars, truck stops, guest rooms and common areas within hotels and motels, health care facilities, long-term and assisted living centers, and licensed adult day care facilities.
Smoking is also prohibited within 20 feet of entrances, exits, operable windows, air intakes and ventilation systems attached to enclosed public places and places of employment. The use of electronic cigarettes is prohibited in areas where smoking is not allowed.
According to information provided by Smoke-Free North Dakota, the Center for Tobacco Prevention and Control Policy and its local public health partners will provide educational resources to the public and businesses to assist with the transition into the smoke-free law.
Further information about North Dakota's new smoke-free law can be found online at www.breathend.com or from the First District Health Unit office.