Thanks for reading some of the latest features about area people and events.
To view every page and read every word of The Kenmare News each week,
subscribe to our ONLINE EDITION!
CP Rail Holiday Train to offer live music performances in Kenmare December 16
Kenmare area residents are invited to the downtown square the evening of Sunday, December 16th when the Canadian Pacific Railway Holiday Train makes the last of its 57 stops in the United States.
12/05/12 (Wed)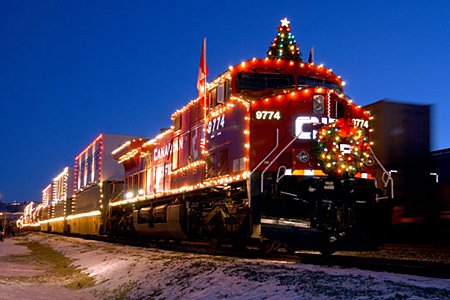 On its way to Kenmare . . . The CP Holiday Train consists of
14 brightly decorated railcars, and a special modified boxcar that
serves as the stage for a live music performance. The train will
arrive in Kenmare the evening of December 16th.
Stop will benefit local food pantry
By Caroline Downs
Kenmare area residents are invited to the downtown square the evening of Sunday, December 16th when the Canadian Pacific Railway Holiday Train makes the last of its 57 stops in the United States.
The train will roll into town about 9:45 pm on the tracks at the south end of Central Avenue, along First Avenue, approximately one block south of Hansen's Hardware. Everyone is invited downtown to enjoy the brightly decorated train, hear the free live concert from the boxcar stage, and donate to the Kenmare Food Pantry.
"I am thrilled the Holiday Train is stopping in Kenmare this year," said Jane Kalmbach, coordinator for the Kenmare Food Pantry. "It's such a fun event with a great concert and awesome Christmas lights. I know the kids here will enjoy it!"
The U.S. Holiday Train left Scranton, Pennsylvania, in late November. The train, with Santa Claus onboard, will rumble through Michigan, Indiana, Illinois, Wisconsin and Minnesota before crossing into North Dakota on December 15th.
Other stops in the state include Hankinson and Enderlin on the 15th, and Harvey and Minot on the 16th. Following the Kenmare stop and concert, the Holiday Train will cross the border at North Portal and continue to Estevan and Weyburn, Saskatchewan. A second Holiday Train travels east to west across Canada during December.
The CP Holiday Train program generates money, food and awareness for local food shelves. The program began in 1999 with a handful of communities and a few lights on a freight train. Today, with hundreds of thousands of festive lights and a live show featuring well known performers, the Holiday Train is one of Canadian Pacific's main ambassadors in working with communities in Canada and the United States and is the only fund-raiser of its kind for food banks in North America.
Now in its 14th year, the Holiday Train program has raised close to $6.4 million (Canadian) and about 2.6 million pounds of food for food shelves across the U.S. and Canada, including the Kenmare Food Pantry. Everything that is collected in Kenmare on December 16th stays in the community to benefit local families.
Live music performed
from the boxcar stage
Along with the one-of-a-kind light show and Santa's visits with children in the crowd, the Holiday Train offers a live show featuring top Canadian entertainers, including The Claytones and Tracey Brown in Kenmare.
Born in the heart of the Ottawa valley, The Claytones spin their melodic, vocal-driven brand of country-soaked roots music with old school sensibilities. These three full-time musicians have released over eight full-length recordings of original music under the names of Kelly Prescott, Prescott, Anders Drerup, The Van Meters and Adam Puddington. The National Post listed them as one of the Top 5 Canadian Acts to watch in 2012.
Tracey Brown was part of Canada's most awarded country group, Family Brown, before forming the Juno award winning, Prescott-Brown. The Family Brown toured extensively and had a syndicated TV show for 13 years.
During her career, Tracey Brown has released more than 20 albums and is a member of the Canadian Country Music Hall of Fame. She and husband Randall Prescott have been actively involved in production of the Holiday Train since 2004, as well as performing on many of the tours.
Local food pantry
serves about 30 families
At the heart of the Holiday Train festivities is the idea of meeting community needs. Kalmbach noted the Kenmare Food Pantry currently serves about 30 families per month and appreciates all donations received for that purpose.
"The Food Pantry has been so fortunate, again, this year to receive tremendous community support," Kalmbach said, "and the variety of donations from this event is always nice for us to share."
She noted the Kenmare Food Pantry would be happy to receive contributions of non-perishable food items, such as pasta products and rice, canned meats and fish, dry and canned soups and stews, canned fruit and vegetables, breakfast cereal, peanut butter, canned or powdered milk, fruit juices, pasta sauces, beans and legumes, and baby food.
The food pantry also accepts personal care items and monetary donations, which are used to purchase items from Kenmare stores to stock the pantry shelves. Kalmbach had suggestions for other items, as well. "This time of year, it's nice to have hats, mittens, and new and gently used coats for youth and for senior citizens," she said. "Movie tickets or restaurant and gas cards make a good gift for anyone, and a warm fuzzy blanket would bring a smile at any age."
Kalmbach will be joined that evening by members of the Kenmare Fire Department, who will assist safety awareness at the railroad tracks and collecting items for the food pantry. "The guys want to be involved in this," said Chuck Leet, secretary/treasurer of the Kenmare Fire Department. "Canadian Pacific Railway donated $5000 to our department toward the purchase of the new quick response truck from Carpio, and we want to show the fire department's appreciation by being at the Holiday Train stop to help and support the community."
Donations to Kenmare Food Pantry
will be matched for
Hurricane Sandy victims
Making this year's U.S. Holiday Train program even more important is the Hurricane Sandy disaster. At each U.S. Holiday Train stop, corporate and community donations made to the local food pantry will be matched by CP. The matching donation, up to $250,000 (U.S.), will be provided to Feeding America, whose member food banks are continuing to provide food and other supplies to those affected by Hurricane Sandy.
For additional information about the Holiday Train, musicians and 2012 schedules, visit www.cpr.ca.
Supporters can join the Holiday Train on Facebook and share Holiday Train photos to win up to $300 in CP prizes and a $500 donation to your local food bank. Enter the contest at www.cpr.ca or our Holiday Train Facebook page.
Anyone with further questions about the Holiday Train stop in Kenmare or the Kenmare Food Pantry can contact Kalmbach at 701-385-4528.
Join CP Railway in making a difference for local families. Come to downtown Kenmare the night of December 16th for lights, music and Santa when the Holiday Train pulls into town.