Thanks for reading some of the latest features about area people and events.
To view every page and read every word of The Kenmare News each week,
subscribe to our ONLINE EDITION!
Renville Elevator Company opens new fertilizer plant
The skyline of Tolley changed this fall with the completion of the new 26,000-ton fertilizer plant at Renville Elevator Company.
10/21/09 (Wed)
The skyline of Tolley changed this fall with the completion of the new 26,000-ton fertilizer plant at Renville Elevator Company.
Elevator manager Carl Zeltinger celebrated the grand opening of the plant last Wednesday with about 50 area landowners and residents.
They were joined by Jim Meyer of St. Louis, MO, president of Italgrani USA; Ruggero Benedini of Milan, Italy, owner of Italgrani USA; Massimo Ambrosio of Naples, Italy, board member for Italgrani; and Hank Thilmony of Minneapolis, executive vice-president for Mayco Export, Inc.
Meyer summarized Italgrani's 20-year presence in North Dakota, which began with the elevator facility in Benedict, ND, purchased in 1989, and expanded with elevator purchases at Tolley and Powers Lake in the early 1990s.
"We've been investing in the state of North Dakota for twenty years now," he told the group. "This [fertilizer plant] represents the single largest investment we've ever made, at $5 million. This improves our ability to service the farmers."
He explained that a fertilizer operation had been available at Renville Elevator Company for several years. "But we've never had sufficient storage to handle the needs," he said. "This 26,000-ton fertilizer facility is a testament to the confidence of the ownership. This gives us the opportunity to make you more successful in your farming endeavors."
The plant consists of three buildings, the largest of which measures 100'x400' and is partitioned into three concrete bins to hold urea, 11-52-0, ammonium sulfate, potassium and other materials.
Zeltinger stood dwarfed by a mound of fertilizer that had already been unloaded into the largest of the three bins. "That's 10,000 tons of urea," he said as he described the plant's capacity to unload a railcar of fertilizer in nine minutes or one hopper from a semi-truck in 60 to 90 seconds.
Five 100-ton bins are used for the plant's blending operations, which take place in the 60'x160' middle building and in equipment erected next to that section. "We can program the computer and type your blend in," Zeltinger told the group.
Loading operations take place in the smallest of the three buildings, which also houses the control room with state-of-the-art technology. Four scale bins stand in that section, each capable of holding 35 tons. "Your blend will be waiting for you," said Zeltinger. "You just pull in and we load it onto your truck."
Renville Elevator Company currently employs 13 staff members, with another one to be hired for the fertilizer plant operations. "We'll also be hiring part-time drivers for the summer," Zeltinger said.
Denny Smith of Ranco Fertiservice, Inc., Sioux Rapids, Iowa, and contractor for the project, described the Tolley plant as one of the larger ones his company has built in recent years. "When you're at that 26,000-ton storage capacity, that's termed as a mega-plant," he said. "[This] is able to unload 800 tons an hour."
One feature of the new plant he emphasized is the declining weight (DW) blender, using technology made available during the past four or five years. "It adjusts automatically for any density changes," Smith said, "and self-checks to maintain a proper and accurate blend."
Smith said construction on the project at Renville Elevator Company started late in the 2008 season and was tabled until weather conditions were favorable again this summer. Four thousand yards of concrete were poured for the plant. "And lots of tons of steel," Smith added, with a laugh.
He pointed out the light-colored tarp covering the roof of the entire plant. "That white color allows for 80 percent of light penetration," he said. "The electrical demand for internal lighting is minimal."
Like Meyer, Smith believed the new fertilizer plant would benefit farmers in the area. "There's the automation component that will run the prescription blend they want," he said, "and the ability of the equipment to convey and handle the product very expediently."
Zeltinger was pleased with the finished plant and the opportunities it provides for the elevator. "We can store [the farmers'] product, where we never could before," he said. "If we fill that [plant] with farmers' fertilizer, I'll be tickled to death!"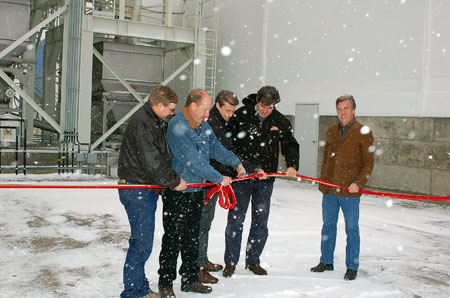 Grand opening in the snow . . . A little snow didn't dampen any spirits
on October 14th, when Renville Elevator Company manager
Carl Zeltinger, left, cut the ribbon to open a new 26,000-ton
fertilizer plant at Tolley with (l-r) Italgrani USA president Jim Meyer,
Italgrani owner Ruggero Benedini, Italgrani board member Massimo
Ambrosio, and Mayco Export executive vice president Hank Thilmony.
More than 50 area landowners and residents attended the ceremony,
toured the plant and celebrated afterward with a meal.