Thanks for reading some of the latest features about area people and events.
To view every page and read every word of The Kenmare News each week,
subscribe to our ONLINE EDITION!
Rail transport of oil enhances pipelines
Trains rumbling east and west out of Berthold have carried agricultural commodities for decades. Oil cars use the tracks now, too, hundreds of them each week since the Berthold Station Rail Loading Facility of Enbridge Pipelines came into service last March.
8/14/13 (Wed)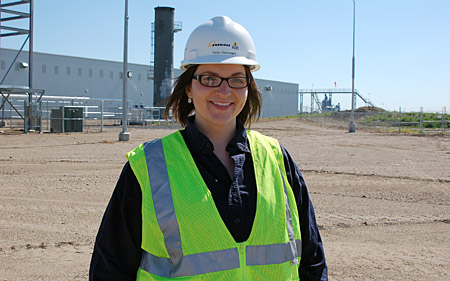 Enbridge opens the doors at Berthold . . . Katie Haarsager, community
relations advisor for Enbridge Pipelines (North Dakota) LLC at Minot,
extends an invitation to residents of Berthold and the region to tour
the new rail loading facility and enjoy lunch at the Berthold Station
on August 19th. The Berthold Rail Loading Facility transports
80,000 barrels of Bakken crude oil per day by train.

By Caroline Downs
Trains rumbling east and west out of Berthold have carried agricultural commodities for decades.
Oil cars use the tracks now, too, hundreds of them each week since the Berthold Station Rail Loading Facility of Enbridge Pipelines came into service last March.
On August 19th, residents of the Berthold and the surrounding area can see just exactly what happens inside the 900-foot metal building constructed west of town, along with a new 1.5-mile loop of track, when Enbridge Pipelines (North Dakota) LLC hosts a dedication ceremony and lunch at the site.
"This is an event for the public to come out and meet with the Enbridge people," said Katie Haarsager, community relations advisor for Enbridge in Minot. "We're excited to celebrate with Berthold."
Visitors that day are invited to park east of the rail loading facility at the former truck-to-rail loading site on 72nd Avenue, with shuttle service provided to the ceremony.
Photo displays and walking tours of the new facility will be available for individuals beginning at 10 am, and several representatives from Enbridge will speak about the work taking place at the facility. Lunch will be served from 11 am to 1 pm.
Tours available for
new rail loading building
Haarsager expects the tours of the new facility to be popular. "The building houses 14 railcar loading arms," she said. "They fill the cars there and continue to move the train through the building. One unit train has 118 cars and can fill that train in just over a day."
She noted the two loops of track now at the site can hold three unit trains. "And we're looking into the possibility of adding a third loop," she said, "to hold the trains in case of bad weather or other delays."
The new facility, which was developed in an agreement between Enbridge and Berthold Farmers Elevator, has a staff of 48, according to manager of rail operations Charlie Roehm, along with five Enbridge employees assigned to the site. Workers have been hired from Berthold, Kenmare, Carpio, Max and Minot, as well as from out of state.
"We run 24-hours a day," he said, "four shifts of five days on/five days off, with 12-hour shifts."
Local residents driving past the facility on 72nd Avenue have noticed plenty of trains making their way through the building. Haarsager said the public also sees the internal flare stack and the portion of the electrical and foam fire suppression systems that are housed outside the rail-loading building.
However, she said the most interesting part of the facility is on the south side, where the pipeline enters, carrying crude oil from the new 150,000 gallon storage tanks on the Enbridge site to the railcars.
"It's unique to go directly from pipeline to rail," she said. "That's one of the biggest benefits of this facility."
She explained that crude oil pumped from anywhere in the Bakken oilfield could be transported to the Berthold facility from one of many gathering points for Enbridge pipelines.
"We're doing the best we can to decrease the number of truck miles on the road," she said.
A network of 16" pipeline carries the oil from the storage tanks at the site to the rail loading building, where the cars are filled.
Rail takes oil
where pipelines can't
Oil loaded at Berthold is shipped across the country. "We're delivering to Washington state, Florida, Pennsylvania, and other places where pipelines can't access," Haarsager said. "Ideally, as production increases in western North Dakota, we'll utilize all the exit points available for producers, who want to get the oil out."
Roehm describes the system as a unique opportunity for western North Dakota. "Other companies are doing this with tank to truck to rail," he said. "They're limited by the number of trucks they can get to a facility. Here, we're hooked to the whole gathering system, and we're the first system out from Minot, so we're the first one to get a train."
He agreed with Haarsager about the versatility of shipping crude oil by rail. "Some people think rail is in competition with pipeline, but it's not," he said. "We enhance it."
He explained that topography, along with state and federal regulations, makes pipeline construction nearly impossible in some regions of the country. "Pipelines couldn't get oil to places like Oregon or Washington or California," he said, "but rail can, and this is all domestic oil."
Enbridge invests
$1.5 billion so far,
Sandpiper Project would cost $2.5 billion more
Haarsager described the tours and lunch as a wrap-up event for Enbridge's Bakken Expansion project. "That's something that has been three to four years in the works," she said.
She noted that Enbridge has had a presence in North Dakota since 1962, but the company involved itself more directly in the Berthold vicinity in 1996, when it purchased the Portal Link, which was reactivated and reversed to move crude oil out of the U.S. into Saskatchewan.
Since then, the transportation capacity from the Berthold Station has increased from 80,000 barrels per day, according to Haarsager, to 475,000 bpd, including 145,000 barrels flowing north to the mainline in Canada; 210,000 bpd moving east by pipeline to Clearbrook, MN, back into the Enbridge mainline; 40,000 bpd loaded at Stanley; and now 80,000 barrels loaded to rail at the Berthold facility.
"Enbridge has invested $1.5 billion in North Dakota infrastructure," Haarsager added, noting that storage and pumping facilities have been included in that investment.
The company's investment in North Dakota and transportation capacity may increase dramatically with the proposed Sandpiper Pipeline Project, which Haarsager said will be announced during the Berthold event on August 19th.
"This is a $2.5 billion project," she said, "consisting of approximately 600 miles of 24-inch pipeline running close to our existing right-of-way from the Beaver Lodge Station near Tioga to an existing terminal at Superior, Wisconsin."
She added that North Dakota crude oil would then be shipped on to refinery hubs in the U.S. and eastern Canada. "In western North Dakota, this would take even more trucks off the road," she said, "and the pipeline would provide an economic boost to communities along the route in North Dakota and Minnesota. With the Sandpiper Project, we're able to invest our dollars in a quality system that will last indefinitely."
The project is currently in the planning and permitting stages, with the company also meeting with landowners along the route. If Enbridge receives the necessary state and federal permits and approvals, construction could begin in late 2014, with a target in-service date in 2016.
Haarsager and other Enbridge representatives will hold a series of public open houses in North Dakota next week, beginning in Minot Monday and continuing in Stanley, Devils Lake and Grand Forks, to discuss the project with residents in those communities.
Doors open to
public Monday
Enbridge's first order of business on Monday, however, is to welcome the community to their expanded Berthold facility.
"We're so happy about this rail facility, and our doors are open on August 19th," said Haarsager. "Come in and see what's happening behind these doors!"
For more information about the Berthold Rail Loading Facility or the Sandpiper Pipeline Project, contact Haarsager at 701-857-0849 or katie.haarsager@enbridge.com.