Thanks for reading some of the latest features about area people and events.
To view every page and read every word of The Kenmare News each week,
subscribe to our ONLINE EDITION!
Greenwing Day as popular now as 18 years ago
Kids crowded around the table where Kory Richardson and Kelly Madsen stood gutting fish Saturday morning during the Greenwing Day event held at the Des Lacs National Wildlife Refuge.
8/07/13 (Wed)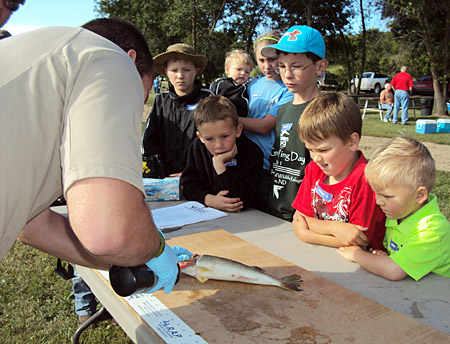 Making the first cut . . . Kelly Madsen, USFWS oil and gas biological
technician at the Des Lacs National Wildlife Refuge, captures the attention
of his young audience as he shows them how to fillet a walleye.
Madsen and Kory Richardson, Lostwood NWR refuge manager, demonstrated
the process from cleaning to cooking, with the kids tasting a sample
of fresh fried fillets on Saturday during Greenwing Day at the
boat dock area of the Des Lacs Refuge near Kenmare.
By Caroline Downs
Kids crowded around the table where Kory Richardson and Kelly Madsen stood gutting fish Saturday morning during the Greenwing Day event held at the Des Lacs National Wildlife Refuge.
"A northern has a mouthful of teeth, and these are needle-sharp teeth," said Richardson, Lostwood NWR manager, as he held up the head of the fish he intended to clean. "The walleye that we just had here, this guy could probably eat that walleye."
That group of 4- to 12-year-old children let out a collective, "Ohhhh."
Richardson slit the fish up the middle of its belly, then laid the two halves open so his audience could see the internal organs and egg sac of the female northern. He gently opened the fish's stomach and extracted a whole minnow.
The kids responded in unison, immediately, "Ooooh."
They were fascinated by the entire cleaning process, nodding as Madsen and Richardson talked about the best way to remove most of the bones. Fishing tales were exchanged back and forth while the two men worked through the entire cleaning process to the cooking phase.
Des Lacs NWR assistant refuge manager Jason Melin dropped the breaded fresh fillets into hot oil while his young audience waited and told even more fish stories. The group sampled the fried fish with enthusiasm and munched their pieces as the signal sounded to move on to the next station.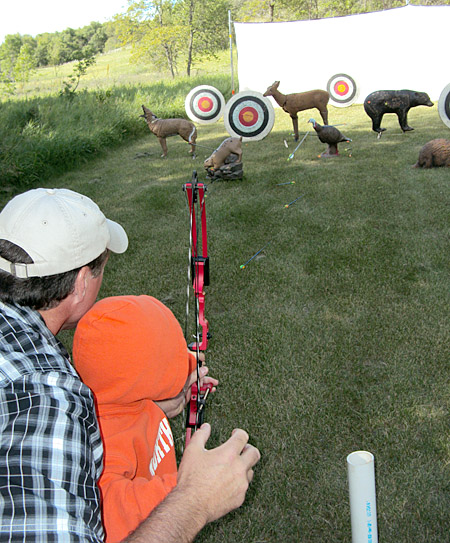 Choose your target . . . A young archer sends an arrow flying for
a direct hit on the turkey target. He received a little assistance
from a member of the Berthold Sportsmen's Club. Archery was one of
six outdoor activity stations available to kids at Greenwing Day
on Saturday on the Des Lacs National Wildlife Refuge near Kenmare.
Day for kids' outdoor
activities started in 1996
Six activity centers were set up for kids ages toddler to teen at the Boat Dock Day Use Area on Greenwing Day, including wild turkey hunting and calling with Dr. David Colby of Kenmare, a wildlife scavenger hunt designed by Jennifer Zorn of the USFWS, the Report All Poachers (RAP) trailer sponsored and staffed by the North Dakota Game and Fish Department, archery facilitated by members of the Berthold's Sportsmen's Club using the Tri-County Shooting Sports Trailer, and the game warden scenarios with NDGF and USFWS law enforcement personnel.
More than 65 kids participated in the 2013 event, according to volunteer Janet Leet, coming from Minot, Bowbells, Powers Lake, Flaxton, Tolley and Portal as well as Kenmare. Children from Los Alamitos, CA, and Ritzville, WA, who were in the area to visit relatives, also made Greenwing Day one of their vacation activities.
Leet has assisted with Greenwing Day for the past 18 years. She started when she still worked at the Des Lacs NWR, along with former project leader Fred Giese, now retired.
"We got it going for kids in the fall, to get kids interested in hunting and the outdoors," she said. "We wanted to get them some experience."
In subsequent years, Greenwing Day has attracted over 100 kids at times, but the average attendance generally seems to hover around 60 or so. Giese said he used to see the same kids returning year after year, growing up with the program. "Now, we seem to have more new, young kids and their parents," he said. "That's good, too."
Ken Skuza, NDGF district game warden at Garrison, helped start Greenwing Day when he was stationed in Kenmare, along with then-Des Lacs NWR manager Dan Severson. "It's nice to have the kids see us in a friendly situation," he said. "That first year, the participation was very high, and we had stations where kids could shoot crossbows and pellet guns. How many people actually get to shoot a crossbow in their lifetimes?"
He laughed as he described the learning curve for the Greenwing Day organizers. "We gave them duck calls before we held the classes," he said, "and we had more 'classroom' time with the kids instead of hands-on activities. We learned!"
Skuza was back in Kenmare on Saturday to take part in the game warden scenario station. He has returned to help in previous years, too, and he enjoys seeing how the program continues to evolve. "They have smaller groups of kids now at each station, which is better," he said, "and the people here in Kenmare have really stood behind this [event] and made it what it is."
He continued, "I'm glad to see kids having a good time, and I'm glad to interact with them in a positive way."
Likewise, current Des Lacs NWR manager Chad Zorn was pleased with the level of participation and interest. "The success to this comes from the committee and the people who come back every year and help it run smoothly," he said. "We're always trying to make things better."
He glanced around at the six stations bustling with kids and the doorprize tables, where adult volunteers arranged a variety of outdoor gear to give away to all the participants, along with free T-shirts. "We have people who've come a long way to help us out with this," he said, pointing out USFWS employees from the Lostwood, Upper Souris, J. Clark Salyer and Des Lacs NWRs and the Crosby Wetland Management District. "We also have people here from Bismarck, Garrison, Minot and Bottineau, along with Kenmare. All these people are valuable in helping with this event."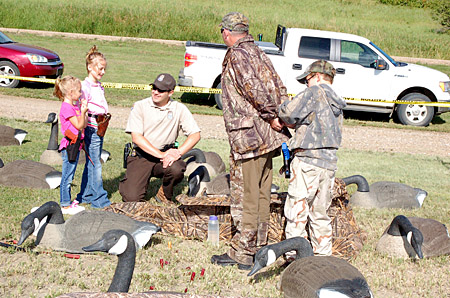 Following the letter of the hunting law . . . New "deputies" for the North
Dakota Game and Fish Department "arrest" goose hunters for illegal actions
at the game warden scenario station available at Greenwing Day,
held Saturday at the Des Lacs National Wildlife Refuge. The game warden
station is the only activity repeated from year to year at the event,
but Des Lacs NWR refuge manager Chad Zorn said kids always ask
for it. "When we started it, I never thought it would work,"
he said. "Now, we have to have it."
Parents appreciate
the lessons
The kids at Saturday's event could have cared less about how Greenwing Day started. They were too focused on that day's activities.
Bryce Hall, 9, of Minot was thrilled to be one of a handful of kids whose arrow hit a dollar bill pinned to an archery target.
His mother Noel Hall smiled to match her son's grin. "This is his first time here," she said. "I read about it in the Kenmare paper. He loves outdoor things, so we thought we'd come up."
Meanwhile, six-year-old Caleb Knutson bounced over to his mother after he finished shooting his arrows. "Did you see me shoot that coyote in the kill zone?" he asked her.
Sarah Knutson praised his skills and he returned to the line for another round of practice. Knutson, whose husband Chris was a volunteer at another station, said the couple brought Caleb and daughter Camy, 4, for the first time. "We wanted them to learn about the hunting rules and regulations and to have fun and to have a family day," she said. "They can have fun learning out here without knowing they're getting an education."
Shelly Mogren and Melanie Skar are both familiar with Greenwing Day, after bringing their families for years now. Mogren was watching daughters Kasey, 14, and Kiely, 12, and son Cole, 6, while Skar brought Sierra, 10, and Sheldon, 8.
"Our whole family is enthralled with the hunting and the fishing, and this is an easy way for them to learn how to do things the right way," Mogren said. "It's nice to get them interested in this type of thing. They love it!"
"They learn a lot out here," Skar said. "This is our fourth year, and both my kids like the game warden station. They like the bus ride [from the KHS parking lot], too."
Skar has volunteered to organize doorprizes during the past two years, but she laughed as she described her initial reluctance to attend. "The first time, Jason asked me to take them," she said. "I didn't want to go, but we had so much fun I had to apologize to him when I got home. Now, we wait for [Greenwing Day] every summer!"
Tim Mickelsen accompanied Adam Mickelsen who brought his niece Kyleigh, 6, and daughter Kennedy, 5.
Years ago, Tim brought Adam, his sister and his two brothers.
"I came to enjoy the day with them," Tim said, nodding toward the girls. "Just to see their faces! They're having a blast, and I think it's really good for the kids that they learn to enjoy these things."
Adam was back at Greenwing Day for the first time as a father. He talked about participating himself and recalled shooting black powder muzzleloaders and releasing young pheasants. "I came for five or six years," he said. "I know one year I won a 20-gauge shotgun."
Now, he wants Kennedy to develop a similar appreciation for outdoor activities. "I wanted her to learn some of these things and get her outside," he said. "Here, she can shoot a bow and arrow. We can't do that in our yard."
Adam tested Kennedy's interest last fall, when he took her goose hunting and made space for her to sit in his blind. "She loved it," he said. "She gets me up in the mornings when I tell her we're going to go hunting!"
Greenwing Day sponsors include Kenmare GooseFest, Kenmare Veterans Club, Inc., the City of Kenmare, Ducks Unlimited, North Dakota Game and Fish Department, and Kenmare Public Schools (for transportation), along with the Des Lacs NWR and USFWS.
The free event includes lunch and a one-year subscription to the Ducks Unlimited magazine Puddler. Kenmare's Greenwing Day is scheduled for the first Saturday in August each year at the Des Lacs National Wildlife Refuge. For further information, contact Chad Zorn at 701-385-4046 ext 225.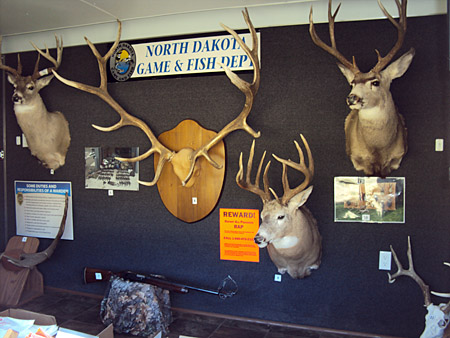 Illegal trophies . . . The Report All Poachers educational trailer, sponsored
by the ND Game and Fish Department, was new to Greenwing Day
this year, and the trophy game mounts made a big impression
on the young participants. Sierra Skar, 10, of Kenmare, said
the RAP presentation was her favorite activity of the day. "I learned
what poachers do and what I can't do when I hunt," she said,
"and they had lots of brochures I can read and learn more from."