Thanks for reading some of the latest features about area people and events.
To view every page and read every word of The Kenmare News each week,
subscribe to our ONLINE EDITION!
New appliance store opens in Kenmare
Just over seven years ago, Shane Harris stood in his 2,500-square foot shop on the east side of U.S. Highway 52 in Kenmare and talked about the orders he was getting as he opened his new business, Modern Woodworks.
8/07/13 (Wed)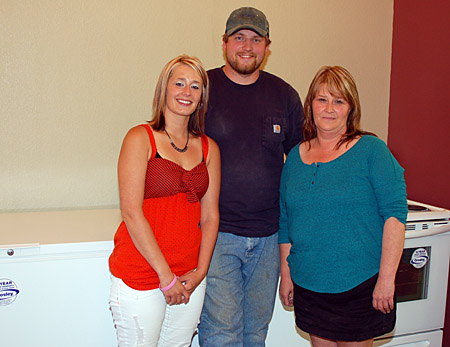 Amy and Shane Harris and Carol Stanley of Northern Appliances,
now open in Kenmare.
By Caroline Downs
Just over seven years ago, Shane Harris stood in his 2,500-square foot shop on the east side of U.S. Highway 52 in Kenmare and talked about the orders he was getting as he opened his new business, Modern Woodworks.
He had one part-time employee then and his mother was handling the bookkeeping.
Today, Shane is finishing an addition to that shop, which has grown to 10,000-square feet. He employs three people full-time and one part-time in his cabinet shop, while looking to hire one or two more to assist all his customers within a 100-mile radius of Kenmare.
This week, he also launches Northern Appliances, an offshoot of Modern Woodworks and a new venture with his wife Amy and his mother-in-law Carol Stanley.
"We've been thinking about this for a while," Shane said Monday as the finish work on a desk and fixtures for the new business were being completed. "This will be more convenient for our customers. As I'm working on their kitchen cabinets or planning a kitchen remodeling project, we can sell appliances at the same time."
"This goes hand-in-hand with what the [Modern Woodworks employees] have been doing already," said Amy.
Shane explained that he needs to know the dimensions of all the kitchen appliances when he designs cabinets for a customer. "It's happened where I've bought appliances for customers who didn't want to make a trip to Minot to do that," he said, "and half the time, I was putting the appliances in for customers anyway when I was installing their cabinets. I figured if I was already doing that legwork, we might as well sell appliances, too."
Once the idea took hold, the Harrises consulted with Allan Engh, former owner of Engh Hardware in Sherwood who retired earlier this year. "We heard he was retiring, so we thought it was a good opportunity to start up the appliance business," said Shane.
"We went to him for some guidance," said Amy. "We've had a lot of moral support from Allan."
Variety of inventory,
brands to fit every budget
Northern Appliances is now open in the Modern Woodworks showroom, with several items on display and additional catalogs which customers can browse to place orders. At this time, the Harrises plan to carry all major kitchen appliances along with washers and dryers, upright and chest freezers, gas grills and televisions.
Several brands will be represented in their inventory, including Crosley, GE, Whirlpool, Frigidaire and KitchenAid.
"We'll have a number of smaller brands, too," Shane said, "for some of the items like kitchen vents and countertop microwaves."
"We're dealing with two different distributors in Fargo," said Amy, naming Mid-State Distributing and Northern Plains Distributing. "One reason we're glad to be working with them is because they're North Dakota companies."
Inventory will be available across the price spectrum. "That way, if something's not in stock, we can order it in a customer's price range," Amy said.
Carol, who was the former manager of the MTI office in Kenmare and the COO at MTI's headquarters in Mohall, will serve as director of marketing and sales for the business. She has been working in that capacity since July.
"She has 17 years of experience in marketing," Amy said, "and she's been doing all the ordering for us so far."
"I've been in sales and marketing a long time," Carol added. "This is just a different product, and I'm learning a lot."
She has already met several of the Harrises' customers, made a few sales and taken orders, with turnaround time of only a few days on most items.
"Also, here they will be doing the delivery and installation," she said.
"We're hoping to offer a start-to-finish process," said Amy. "We think the customers will enjoy that and benefit from it."
Purchases from Northern Appliances include free delivery and installation. Old appliances will be hauled away at the same time. "There will be a small fee for the disposal of those," Shane said.
Repairs on appliances will also be done by the staff, with arrangements already made to work with a more specialized repairman on jobs that cannot be handled in-house. "We have that lined up so our customers can get everything taken care of in a timely manner," said Amy.
Eventual move to
the West Side Square
The Harrises are working this week to display their current inventory, and they have plans to attend an event scheduled at Mid-State Distributing soon. "We'll be able to see all of their products being showcased and also maybe take advantage of some close-out sales they're having," Amy explained.
Within the coming months, cabinets will be built in various styles in the Modern Woodworks showroom to display with the appliances. "That way, customers can come in and see complete kitchens," said Amy.
Eventually, Northern Appliances will relocate to one of the new stores soon to be constructed in Phase II of the West Side Square revitalization project in Kenmare. "We've already looked at it on the drawings," Amy said. "Starting the store now, though, will give us a chance to figure out what works and what doesn't work before we move down there!"
Modern Woodworks grows
Custom cabinet work will remain the focus of Modern Woodworks, with the new 24' x 84' addition soon to be completed. "We needed more floor space," Shane said. "It was tough to work on multiple projects at once, and we didn't have an assembly line flow."
He said appliances will fill the showroom space, with the north portion of the shop dedicated to staining and finishing custom cabinets. "All the dust will be at one end of the building," he added with a laugh.
He also installed air conditioning for the shop while involved in the building project. "The guys were pretty happy about that!" said Amy.
Attend a Business After Hours
event on August 19th
Modern Woodworks and Northern Appliances will be the site of a Business After Hours event planned for Monday, August 19th, with the Kenmare Association of Commerce and the Kenmare Community Development Corporation.
"It'll be nice to have people come up here and take a look at our operation," Shane said.
"We've grown so much since we first started," Amy said. "This way, we can show customers what we do at Modern Woodworks and what we're able to do with Northern Appliances."
The Harrises look forward to the expansion of their business and the long-term plans to locate on the downtown square. "We've had such good support from the community," said Amy. "Come in and take a look at what's available in stock right now, or look at the catalogs to place an order."
Northern Appliances is located in the Modern Woodworks shop and open Monday through Friday. For more information, contact Carol, Amy or Shane at 701-217-0070.