Thanks for reading some of the latest features about area people and events.
To view every page and read every word of The Kenmare News each week,
subscribe to our ONLINE EDITION!
Support is overwhelming and growing for fundraiser to benefit McNeiley family
A simple plan between two friends to hold a fund-raising benefit for the Ron and Tami McNeiley family is growing into a major community event.
8/14/13 (Wed)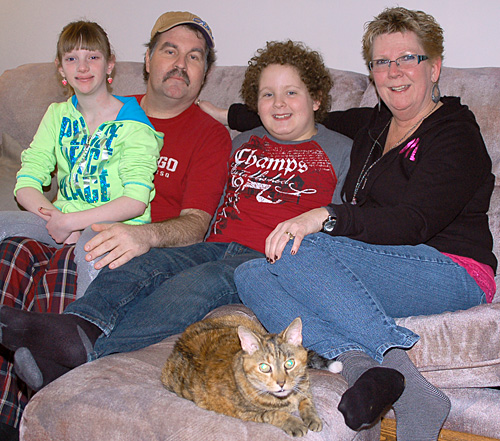 The McNeiley Family of Kenmare with (l-r) Abigail, Ron, Jaden and Tami.
By Caroline Downs
A simple plan between two friends to hold a fund-raising benefit for the Ron and Tami McNeiley family is growing into a major community event.
"When we heard the diagnosis for Tami, we wanted to help out," said Amy Harris, a local Zumba instructor who is planning the August 25th fund-raiser with Zumba instructor Chris Christensen.
The two women collaborated on a successful Zumba marathon last year when they set out to raise a few hundred dollars to donate to the Kenmare Theatre for the purchase of a new digital projector in order to keep the theatre open. Their efforts resulted in over $6,500 collected for the theatre project.
This time, the fund-raising stakes are higher. Tami, a teacher for Kenmare Elementary School, was diagnosed with breast, liver and bone cancer in May, and Ron, a mechanic at Farmers Union Oil, is managing Churg-Strauss Syndrome, a rare autoimmune disorder that can be life-threatening. The couple has two children -- Jaden, soon to be a fifth grader, and Abigail, who starts third grade next week.
Several successful, smaller fund-raisers have already taken place to assist the McNeiley family, but Harris and Christensen have been overwhelmed by the interest shown across the community for this event.
"This is one of those couldn't-happen-to-a-nicer-family situations," said Christensen.
"Chris and I met one day and decided we wanted to do this for them," Harris continued, "and since then--"
"It's spiralled out of control," Christensen finished, with a laugh. "Everybody has been so good about coming together."
In fact, the two-hour Zumbathon has grown into a four-and-a-half hour event filled with various activities, all taking place at Kenmare High School, which has donated use of the space for the day.
The action begins with lunch from 11:30 am to 1 pm, served by Nazareth Lutheran Church for a freewill donation. "We asked the church if they would do a benefit lunch in the same place we have the Zumba party so people can see there are so many other things going on," said Christensen. "Right away, they said yes."
Harris laughed as she talked about attitudes toward Zumba. "Some people don't want to deal with the exercise part of the event," she said. "They're not comfortable with public exercise, but you don't have to do Zumba to be involved that day. Come up and be part of the crowd cheering us on!"
In fact, a bake sale, organized by Holly Kohler, will also start at 11:30 am at the school. "That'll go until we sell out or close the event at 3 pm," said Christensen.
A silent auction will take place at the same time, along with several bucket raffles good with tickets purchased that day. All items for the auction and bucket raffles have been donated by local businesses and individuals for the fund-raising effort.
From 1 to 3 pm, Kenmare artist Jane Kalmbach will offer an art session for children in grades 1 through 12, working with clay. "There'll be ladybugs involved," Christensen said, referring to the research project Tami McNeiley started with some first grade students that resulted in a 2011 state law designating the ladybug as North Dakota's official insect. "I know that's one of Tami's favorites."
Cost for the art class will be $10, with all proceeds given to the fund-raiser for the McNeileys. "Jane is donating her time and the supplies for the day," said Harris.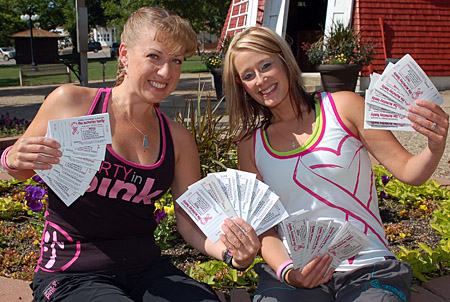 Zumba Party in Pink for a cause . . . Zumba instructors Chris Christensen,
left, and Amy Harris have a few raffle tickets left for the Zumba Fundraiser
for the McNeiley Family scheduled on August 25th in Kenmare.
The event has grown from a simple raffle and Zumba workout session
into a community activity including a lunch, bake sale, silent, auction,
kids' craft workshop and more, with all proceeds from the day
directed toward medical, travel and other expenses
for local residents Ron and Tami McNeiley.
Zumba fun
to raise funds
The Zumba party, featuring the popular mix of dancing and aerobics with high-energy Latin and international music, kicks off at 1 pm, with registration fees of $20. "We welcome anyone who wants to come and work out with us or just try Zumba for the first time," said Harris.
"You can even just do a couple of songs or watch and check it all out," Christensen added.
"We're going to have different instructors, from Kenmare and from other communities," Harris explained. "That'll be nice for the people who work out with us all the time. They can see different choreography and different styles. We're also going to choreograph a couple of Tami's favorite rock-n-roll songs for this. That'll be something fun to make it special."
She and Christensen suggested anyone coming to exercise be prepared with a water bottle, towel and comfortable clothing, as well as dance sneakers or cross trainers.
The names of all the Zumba participants will be entered for special doorprize drawings to be held during the dance session.
"That's a bonus for them for coming to work out with us!" Christensen said.
4,000 raffle tickets
could bring in $20,000
For all those attending the August 25th event, and for those who can't, one of the easiest ways to support the McNeiley family is by purchasing raffle tickets being sold in conjunction with the Zumba party.
Again, Harris and Christensen were pleased by the local response as they organized the special raffle for a 39" LED HDTV, gas grill, 16 GB Apple iPad Mini, 34" slate and marble fire pit, and a $225 full vehicle detailing package. State Bank & Trust of Kenmare, Farmers Union Lumber, Farmers Union Insurance, MW Industries, Quilt Inn and Kleen Ride Auto Spa & Detailing stepped in to donate the prizes.
The lucky ticket winners are not required to be present to claim their prizes.
The women established an initial goal to raise $10,000 to assist the McNeiley family with various medical and travel expenses. "But the tickets were going so fast, so we altered that goal to set it at $20,000 in ticket sales," said Christensen, adding that 4,000 tickets have been printed.
"Once we experienced all the support from the community, we challenged ourselves to shoot for a $30,000 goal for the whole day," Harris said, "but we do have a lot of tickets left to sell--"
Christensen interrupted her, "We're going to sell them all, and we'd like to thank all the businesses that are selling tickets for us!"
As final details fall into place for the event, the two friends want everyone in town to join in the fun planned for August 25th.
"People are willing to do whatever they can to show the McNeileys they make a great impact in the community," said Harris. "Come up and have fun, spend your money and support a great cause!"
For more information about the Zumba fund-raiser to benefit the McNeiley family in Kenmare, contact Christensen at 701-848-6305 or Harris at 701-217-0065.