Thanks for reading some of the latest features about area people and events.
To view every page and read every word of The Kenmare News each week,
subscribe to our ONLINE EDITION!
One Stop Burger Shop reopens in new facility
The re-grand opening was delayed four days and not all the dining booths were in place, but as of Sunday morning the Kenmare One Stop Burger Shop was operating in its new building.
10/26/11 (Wed)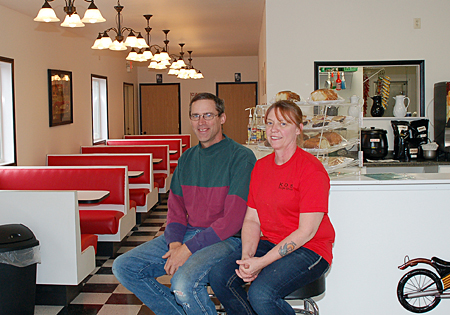 David and Penny Sigloh sit in their new restaurant,
featuring indoor seating.
The re-grand opening was delayed four days and not all the dining booths were in place, but as of Sunday morning the Kenmare One Stop Burger Shop was operating in its new building.
The restaurant has both a drive-through window and indoor seating, and features the menu much beloved by customers of the old Burger Shop, formerly known as the Chill-N-Grill and Liver's Drive-In.
Penny Sigloh, co-owner of the business with her husband David, just shook her head last week as work continued around her. "I want it done," she said.
Meanwhile, workers installed kitchen fixtures, painted trim around bathroom doorways and unwrapped some of the newly-arrived stools for customer seating along one stretch of the gleaming white counter.
"Here's what I've learned," Penny said, glancing at the checkerboard floor of black-and-white tile. "It's a lot of floor to sweep."
The Siglohs purchased the former Chill-N-Grill from Alicia Livingston last spring and operated it as the Burger Shop through early October. They always had intentions to construct a new building on the site, but their plans were revised and influenced by the building demands in Minot after the Mouse River Flood during the summer and by their experiences in the old facility.
"It was good to open in the other building," Penny said. "We got a feel for our customer base. We got a feel for what we like. We got a feel for what we need and what we don't need."
She glanced around at her new building. "I'm sure it's not perfect," she said.
Maybe not perfect from her perspective of delays in materials and construction, but the broad white walls, large windows and newly re-covered red booths invite customers to enjoy themselves in the relaxed diner atmosphere.
And plenty of customers can fit into the new Burger Shop at 30'x62', with seating for 52 people once the new tables show up.
"It started out to be the size of the other building," Penny explained. "Then everybody said, 'You'll be sorry if you don't make it bigger.'"
So Penny listened to the suggestion. She also designed the kitchen layout with an island, pantry, furnace room and separate staff bathroom, then created the serving counter out front and arranged for seating on two sides.
She kept her Burger Shop staff busy at the new building for two weeks after closing and demolishing the other facility, paying them to clean, paint and, especially, strip, refinish and re-cover the restaurant booths she purchased.
"I may have stretched my employees to their limit," she admitted, with a smile. "I think they're sick of me and my ideas."
However, her ideas should pay off. The drive-in, which was open for lunch and supper only during late spring and summer and offered picnic tables under a metal canopy for seating, will now serve customers year-round indoors. Breakfast is served beginning at 7 am, with the dining room staying open until 8 pm.
She's added a morning crew for a total of eight employees, including separate managers for the Burger Shop and the One Stop. Penny herself will continue to see customers at both businesses.
"I'll be part-time here," she said, indicating the new restaurant, "and part time over there," as she nodded her head in the direction of the successful One Stop that specializes in work clothing, custom embroidery and laundry services. "I told her to put me on the schedule here when you need me and I'll work!"
The new building opened with some of the best features of the old drive-in, including the grills and fryers. "We kept the speakers off the roof because we liked those," said Penny. "We added a few pieces and we have another grill coming, but we kept the old cedar fridge because it's so cool."
The refrigerator functions well, and Penny wants the storage space. She will be moving an eight-foot antique Coca-Cola cooler into the main dining area later this fall, to hold ice cream and add to the vintage décor.
"It still operates, and it's beautiful!" she said. "I think people will like it."
Penny also hopes customers will like the menu, which includes all the burgers, sandwiches and ice cream treats served at the old Burger Shop through the summer. "We'll be adding specialty burgers, like a mushroom Swiss burger and a pizza burger," she said, "and we'll still use 100 percent fresh Angus beef."
New additions to the fare include breakfast wraps and sandwiches made fresh, homemade pies, and the soup of the day. "We're putting in our specialty coffees," Penny said, "and we'll keep the Chester-Fried chicken."
Performance Homes of Burlington served as the contractor for the project, and Penny is looking ahead to next summer when their building crew will return to finish a 24'x48' addition to the west side of the restaurant. "That will be a meeting room and seating area," she said. "It's already framed in."
Penny will also establish a fenced area with tables and chairs in front of the restaurant so customers can enjoy outdoor dining in the mild spring and summer weather.
With those future plans in mind, customers should park on the west side of the restaurant, which faces the steps and handicapped- accessible ramp leading to the front door. Penny wants to keep the east side of the building clear for easy access to the drive-through window.
"People can pull up and order there," she said. She believed most of the drive-through customers would call in their orders, though, like they've always done. The Burger Shop's phone number stays the same at 701-385-4370.
With any luck and a loyal following, that number will be ringing throughout the fall and winter months in Kenmare now that the new One Stop Burger Shop is open for business and ready to welcome customers.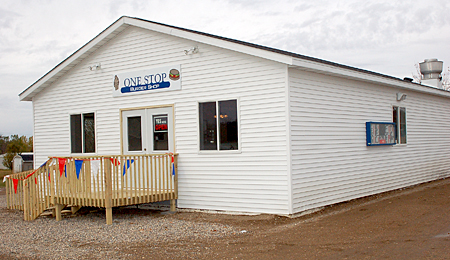 A new feature of the One Stop Burger Shop
is the drive-through window at right.