Thanks for reading some of the latest features about area people and events.
To view every page and read every word of The Kenmare News each week,
subscribe to our ONLINE EDITION!
Kenmare kids ask firefighters their own questions about fire prevention
How long do you have to go to school to become a firefighter?
10/19/11 (Wed)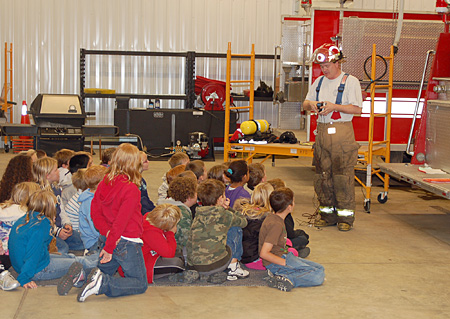 Fire safety for students . . . Kenmare Fire Department assistant
chief Nate Condit shows second and third grade students the appropriate
way to use an electrical outlet, rather than creating an "octopus"
of cords and plugs that can lead to a fire hazard. Students from
Kenmare Elementary School and Little Learners Preschool visited
the Kenmare Fire Hall October 13th, during Fire Prevention Week.
How long do you have to go to school to become a firefighter?
Do you have to take all the trucks on a fire?
How do you fill the trucks with water?
How old is the Fire Hall?
Members of the Kenmare Fire Department hosted the students from Little Learners Preschool and grades kindergarten through three at Kenmare Elementary School on October 12th, but the firefighters weren't the only ones asking the questions about fire safety that day.
The second graders arrived with two books filled with pages of questions and pictures drawn by each student. Teacher Peggy Balvitsch explained she and teacher Kara Keysor designed the lesson to prepare the students for the Fire Hall visit and to practice a variety of writing, proofreading and computer skills.
"They each typed up five questions they would ask a fireman if one walked through our classroom door," said Balvitsch. "Then they drew their illustrations. They each have a page in the book, and they enjoy typing and printing and then seeing a finished product."
The students were excited to present their books to the firefighters, and the firemen who hosted the visit took turns paging through the questions and pictures.
In fact, assistant chief Nate Condit incorporated the students' work into his regular presentation. He talked about smoke detectors, kitchen stove safety, proper use of electrical cords and the other usual fire safety topics, but he also addressed many questions from the books.
"Do you get a coffee break?" he read. "Well, that depends on how long the fire is. Sometimes, we even get sandwiches and the odd donut."
The students cheered Ron Jensen's demonstration of the hose system installed in the fire hall to fill the water tanks on the trucks, and they agreed they could all remember when the Fire Hall was built two years ago.
Then Condit turned to the question, "Do you have a firefighter dog?"
He looked at the students very seriously. "No, we have a stuffed coyote for a mascot instead. He's easy to train and he doesn't run away and he never makes messes on the floor."
The students giggled and laughed as fire department secretary/treasurer Chuck Leet showed them the miniature, fur-covered coyote mount that serves as the mascot for the department's annual coyote tournament fundraiser.
The kids all left with fresh reminders about not playing with matches and calling 9-1-1 to report a fire, as well as their own red fire helmet and a bag of stickers, coloring pages and other fun materials to help them remember the fire safety lessons.
The two books of questions for firefighters, as well as an oversized, full-color thank you card signed and presented by the third graders, will be on permanent display at the Kenmare Fire Hall.
Condit was pleased at the interaction with the students and the ongoing education the firefighters can provide about fire prevention and safety.
"From what I can see, they are remembering these things more and more," he said as he described the way the older students repeated various fire safety rules learned over the years. "We've been doing this with them since preschool and kindergarten, and the teachers go over it with them, too. We don't want to get lax on it. If something does happen in their homes, they know what to do because we've been talking about it, and hopefully they go home and say something to their parents."
Other firefighters who helped with the presentations included Chief Doug Skjordal, junior truck captain Trevor Melin, Scot Ness, Christian Standard, Dale Hanson, Adam Schumacher and Kent Neubauer.
Condit finished his talk with the third graders by answering their question, "How much do you guys like your job?"
He explained the Kenmare firefighters are all volunteers and none receive any pay when they go to fires and other emergency calls. "We really like doing this," he said, "because we really like you guys and other people in our community."