Thanks for reading some of the latest features about area people and events.
To view every page and read every word of The Kenmare News each week,
subscribe to our ONLINE EDITION!
Dog and kennel stolen from new Kenmare residents
New Kenmare residents Joey and Brianna Matejovsky hardly lived in town a week when their beloved pet, an English mastiff named Koa, was taken Friday night or early Saturday morning.
10/26/11 (Wed)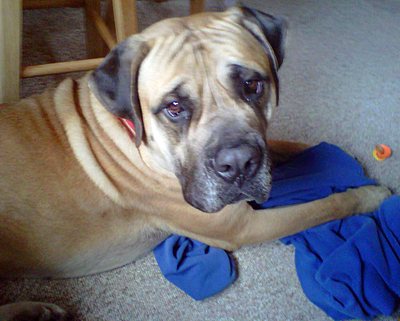 Koa, a 4-year-old English mastiff, was stolen Friday evening
from his family staying at the campground in Kenmare.
Veterinary clinic knows of eight dogs stolen at Powers Lake
New Kenmare residents Joey and Brianna Matejovsky hardly lived in town a week when their beloved pet, an English mastiff named Koa, was taken Friday night or early Saturday morning.
Not the sort of welcome they expected.
The couple arrived at the Kenmare campground with their children and dog. After losing a house to the flood in Minot, the Matejovskies are waiting for construction to begin east of Kenmare on their new home and Great Northern Trucking shop, where Joey serves as operations manager. Their home and shop will be built near Bryce Boughton's repair business just east of town.
The Matejovskies are also interested in becoming active in the community, so Joey volunteered as a checker for the GooseFest Goose Shoot early Saturday morning.
The couple had made plans to bring their three-year-old son and nearly five-month-old daughter to friends in Minot to stay the night.
They left for Minot late Friday afternoon. Brianna said employees at M&K's Pizza Hub reported still seeing Koa outside in his kennel at about 6 pm.
When the Matejovskies returned to their motorhome around midnight on Friday, Koa was gone.
So were his oversized gray and blue plastic kennel and a leash tied to the picnic table at the campsite.
Koa is a four-year-old English mastiff wearing a red collar. His coat is fawn-colored, but his face is marked with a black mask. He is not neutered, weighs over 150 lbs., and stands close to three feet tall.
Koa has lived with the Matejovskies for the past two years, after they adopted him from an Air Force Base couple who had to leave for a deployment.
Brianna said she and Joey are concerned that someone was watching the dog and their campsite. Earlier during the week, a new blanket showed up in Koa's kennel. Brianna believed Joey added the blanket, but Joey said he had not and thought Brianna had done so.
"It made me think, how long has this person been watching us?" Brianna said. "That made me worry about the kids being here, or having a babysitter with them."
Brianna asked neighbors at the campground if they saw or heard anything that night. She also contacted the Kenmare Police Department.
Gary Kraft, KPD chief, said this is the first dog theft reported to him. He was on-duty when the Matejovskies contacted him, and he said he did not see a vehicle hauling the large kennel while he was patrolling, which he believes would have attracted his attention.
"This is bizarre because they took that big kennel," he said. "It may have been someone who was watching their campsite or knew their schedule, or it could have been someone who didn't understand the situation or thought the dog should be handled differently."
Residents of the Powers Lake area did experience a string of dog thefts during the spring and early summer months. Staff members at the Northwest Veterinary Service said eight stolen dogs, mostly registered purebreds, were reported to their office, including border collies, a St. Bernard, a Great Dane, a Labrador retriever and an English mastiff like Koa.
So far this fall, the clinic has not received any reports of thefts, but none of the stolen dogs has been recovered. Clinic staff members suspect the dogs were moved out of state, perhaps by transient workers in the area.
Brianna hopes Koa is with someone living or staying in Kenmare. "If it was someone thinking we'd be leaving him behind at the campground, that we weren't taking care of him, that's not it," she said. "We've only been here for a week, and we're waiting for our house to get done."
She noted that Koa is a friendly dog who may be shy or cautious around men, but will respond to his name. "He's really gentle," she said. "We've got two little kids who jump on him all the time."
Anyone who has information about Koa's current location is asked to contact the Matejovskies at 701-509-1772 or the Kenmare Police Department at 701-385-4411. The family is worried about their pet, and a cash reward is offered.
"At the start of summer, we had two dogs and a house," said Brianna, adding that the other dog was accidentally run over by another person early in the summer. "We still don't have a house. Now, this. Our little boy doesn't know what to think."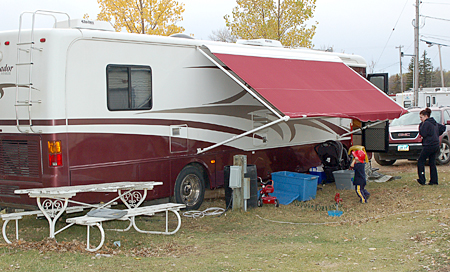 Scene of the crime . . . The Matejovskies' dog was taken from outside
their motorhome parked in the campground near M&K Pizza Hub.