Thanks for reading some of the latest features about area people and events.
To view every page and read every word of The Kenmare News each week,
subscribe to our ONLINE EDITION!
Marvin Gravesen and Gil Rauschenberger impressed with Roughrider Honor Flight
6/09/10 (Wed)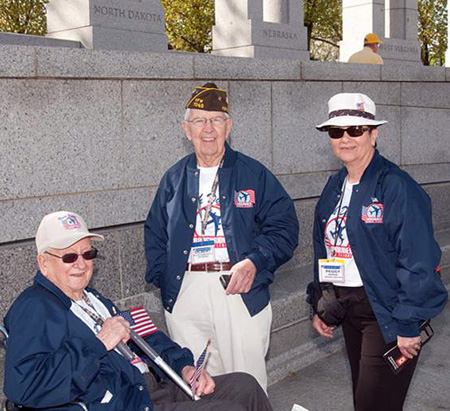 First veterans, now Roughriders . . . Marvin Gravesen, left,
Gil Rauschenberger, center, and a volunteer with the Roughrider Honor
Flight pause for a moment at the North Dakota pillar of the
World War II Memorial in Washington, D.C. Gravesen and Rauschenberger
were among the 90 WWII veterans from North Dakota who were treated
to a two-day trip to see the Memorial and other sights in Washington, D.C.,
as part of the Roughrider Honor Flight from Bismarck in April.
By Caroline Downs
Former Kenmare residents, Marvin Gravesen and Gil Rauschenberger, stood among 90 World War II veterans from North Dakota gazing at the fountains and pillars of the World War II Memorial in Washington, D.C. on a lovely April day.
It was a sight neither had ever expected to see. The two men and the other veterans traveled there courtesy of the Roughrider Honor Flight on April 16th and 17th, grateful for the opportunity.
"It's really something. It's huge!" said Gravesen. "There were also veterans from Michigan and Wisconsin while we were there."
Rauschenberger was impressed with the design and size of the Memorial, as well as the response from other visitors. "There were many civilians there on vacation," he said. "They'd come up to you and shake your hand and give you a hug."
The two men visited Washington, D.C., with the third Roughrider Honor Flight from Bismarck, which also sponsored veterans' groups in May and September 2009. Veterans travel free of charge, with volunteer doctors, nurses and some family members joining them to provide assistance as needed.
Gravesen applied for the Honor Flight with the encouragement of his daughter and son-in-law, Linda and Jim Potter of Kenmare. "I was a little bit leery of going," he said, describing how he wasn't certain he could do all the walking. "But they had nurses and doctors aboard, and a lot of wheelchairs, so I used one. And there were people available to help push!"
One of those people was his old friend Rauschenberger, who wheeled Gravesen's chair around many stops on the trip. "I was so glad there was somebody else there from Kenmare," said Rauschenberger. "We got along just fine. Nobody was in any big rush to get anywhere."
Rauschenberger was encouraged by his family to join the flight, so he completed the application. A few weeks later, he was pleased to attend the group's meeting at the state capitol building to receive his official Roughrider Honor Flight cap, T-shirt and jacket. "Whoever's idea this was, we'll all be very thankful for that," he said, agreeing with Gravesen that the plans and details for the trip were fabulous.
"They're trying to get as many veterans down there as they can," Gravesen said, "to see the World War II Memorial."
Gravesen with
the 10th Armored Division
Gravesen and Rauschenberger did not know each other during the war years, but they both served in Europe and saw action at the close of the war.
Gravesen was drafted in October 1942. "They came after me," he said, with a slight smile. "I had my 21st birthday in the service."
He was assigned to the 10th Armored Division in the U.S. Army, trained at Fort Benning, Georgia, and serving under General Patton in the Third Army across Europe.


"At first, I was a truck driver," Gravesen said. "When we got overseas, I mostly chauffeured for a lieutenant colonel. I was fortunate I had a good job."
Gravesen drove his superior officers around France, Belgium and Luxembourg. "When the war ended, I ended up in Austria," he said.
Gravesen was modest about his service with the famed "Tigers," as the 10th Armored Division was known. The group landed in France in September 1944 and fought in the Battle of the Bulge that December, only to start a blitz across Germany by February. The "Tigers" moved forward quickly, capturing thousands of prisoners as they advanced deep into Nazi territory. They finished their work in Bavaria on April 30, 1945, with Victory in Europe Day declared May 8th.
The "Tigers" also overran one of the subcamps of the Dachau concentration camp on April 27th and liberated prisoners held there by the Nazis.
Following his discharge from Camp McCoy, Wisconsin, on January 1, 1946, Gravesen returned to Kenmare. "I worked with my dad on the farm until he turned the farm over to me in 1947," he said. "Then I farmed until I retired in 1985 and stayed there until 1998!"
He was married to the former Irene Hansen of Kenmare, with whom he had six children. Irene passed away in 1997, and in 1998 Gravesen married Eva Tollefson of Steele and moved to Bismarck.
Rauschenberger in
the 130th Medical Unit
Rauschenberger, who lived in Kief, North Dakota, as a boy, was drafted in March 1944. "I turned 18 on the first day of January that year, and it wasn't very long after that I got greetings from FDR," he said with a chuckle. "It said, 'You are now being inducted into the U.S. Army.'"
He trained in South Carolina and other places, then went overseas later in 1944 where he saw action in France, Belgium, Germany, Luxembourg and Austria.
Rauschenberger started as a medical assistant with the 130th Medical Unit, attached to the Third Army, and later became a driver. "Our job was to help the wounded and transport them to field hospitals," he said.
One particularly memorable assignment came near the war's end, when Rauschenberger's unit helped liberated the Mauthausen Concentration Camp complex near Mauthausen, Austria, on May 5, 1945. Some 335,000 people had passed through there, including Roma, Jews, Poles, POWs, Spanish Republicans, German Socialists and other prisoners, including a group of women, held by the Nazis. An estimated 119,000 people were executed there, while thousands of others were sent to their deaths in nearby camps.
"We had to get those people out of there," Rauschenberger recalled. "It was such an awful situation. We pitched tents and set up cots for them, and finally moved these people from their concentration camp to other facilities. We did this until the war ended."
He returned to Fort Bragg, North Carolina, in 1946 and waited to be discharged with his company. The group passed the time by playing basketball, which led to a problem for Rauschenberger. He recalled the day with detail.
"We were playing in the Rec Hall and chose up sides. I happened to steal the ball on one play and dribbled, going in for a lay-up," he said, then paused to describe a stage built at one end of the hall, behind the basket.
"I could see I was going to hit the stage, so I stuck my leg out to take care of my fall," he continued. "That's when it broke."
The compound fracture on his right leg sent him into shock, and he was confined to the hospital even as the rest of his company received their discharge paper and came to say goodbye to him. "I had to stay there until my leg healed!" he said.
He was allowed to go home for a brief furlough, wearing a cast up his thigh and a walker on the cast, but he had to return to the hospital. Finally, he walked away with his discharge papers in August 1946.
Honored for their service
The Roughrider Honor Flight gave these two veterans an opportunity to see the Memorial built in their honor, as well as tour other memorials in Washington, D.C. Gravesen had seen the city years ago while visiting relatives in Virginia with his wife Irene, while Rauschenberger's last trip to the nation's capitol took place during a furlough from his military service.
"We went through there by train and stopped for two hours," he recalled. "I walked up to the Capitol building. In those days, you could go up to the door and walk in!"
This time, buses transported the veterans to several of the city's highlights, including the Korean War Memorial, the Iwo Jima Memorial and the Vietnam War Memorial, where Rauschenberger told Gravesen he was going to locate the name of former Kenmare resident Larry Jacobson. "I knew him," said Rauschenberger. "He graduated with our oldest son."
Using the guidebook of names provided, Rauschenberger found Jacobson's name in the seventh section of the wall. "It was on the bottom, near the base of the Memorial," he said.
The Roughrider veterans also spent time at Arlington National Cemetery, where they witnessed the changing of the guard ceremony at the Tomb of the Unknown Soldier. "That was very impressive to see," said Gravesen, adding that the ceremony was his favorite part of the trip after seeing the World War II Memorial.
"Everything was so precise," said Rauschenberger. "There is no excuse for any error. It's a lot of heel clicking and quite a procedure. I wish everybody could go and see this."
The men enjoyed the whirlwind tour, complete with a banquet and overnight stay at the Hyatt Regency Hotel. "There was a program and a speaker," Gravesen said about the dinner in the veterans' honor, "but there were no politics involved in this."
The Roughrider Honor Flight returned to Bismarck the evening of April 17th. "We arrived about 9 pm," Gravesen said. "They kept us busy the whole time we were there, and we were all so played out and tired."
The Honor Flight committee had one more surprise, however, with a special homecoming celebration scheduled at the Bismarck airport for veterans who returned from the military 65 years ago to little fanfare. The reception included North Dakota Governor John Hoeven's welcome to the veterans and expression of gratitude for their service.
"It was out of this world!" said Rauschenberger. "The Century [High School] band was playing and they had the Honor Guard. There were other people greeting us, clapping and making all kinds of noise. Our neighbors even came, three different couples, who shook my hand and welcomed me back. It was quite an emotional feeling!"
The two men agreed the trip had been worthwhile, and they encouraged other veterans to take advantage of the next Roughrider Honor Flight, planned for September 10, 2010.
An estimated 6,000 to 8,000 of the 69,000 men and women from North Dakota who served during World War II are still living, and the Roughrider Honor Flight intends to transport as many of these individuals as possible to see the Memorial built in their honor on the Mall in Washington, D.C. The organization relies completely on private donations. Persons with questions about the program or veterans who would like to apply to join future flights are welcome to find more information at
www.rrhonorflight.com
or by calling 701-373-5416.
Photos from the April Honor Flight, with several that include Rauschenberger and Gravesen, can also be seen at the
website
.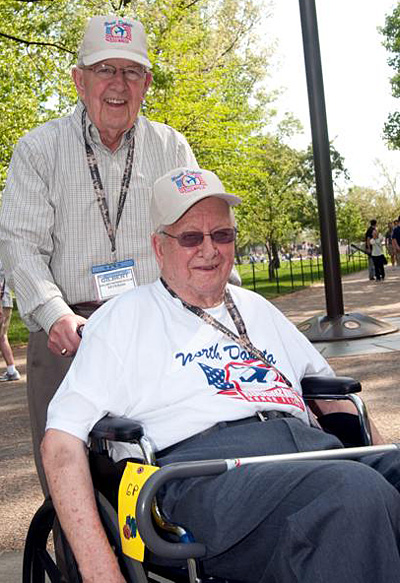 WWII veterans Gil Rauschenberger and Marvin Gravesen
in Washington, D.C., for the Roughrider Honor Flight.