Thanks for reading some of the latest features about area people and events.
To view every page and read every word of The Kenmare News each week,
subscribe to our ONLINE EDITION!
Honkers are State Champs
For several weeks through the volleyball season, Kenmare's junior middle hitter Katie King carried around a small slip of paper she received in a fortune cookie after a meal she and senior defensive specialist Meghan Essler enjoyed at Ying Bin restaurant. Before breaking the cookie open, the two of them joked about a fortune predicting Kenmare would defeat Hazen in the Class B state volleyball tournament.
11/25/09 (Wed)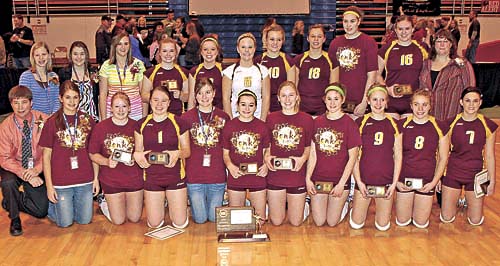 North Dakota Class B state champions -- for the second time in three years!!
By Caroline Downs
For several weeks through the volleyball season, Kenmare's junior middle hitter Katie King carried around a small slip of paper she received in a fortune cookie after a meal she and senior defensive specialist Meghan Essler enjoyed at Ying Bin restaurant.
Before breaking the cookie open, the two of them joked about a fortune predicting Kenmare would defeat Hazen in the Class B state volleyball tournament.
The actual fortune came pretty close. King and Essler were astounded to read "Keep an eye open for an opportunity in the field of sports" printed on the paper.
That opportunity came for the team on Saturday night, when Kenmare did indeed face, battle and defeat the Region 7 Hazen Bison in the Class B state volleyball championship match, 3-2 with set scores for Kenmare of 25-21, 25-19, 16-25, 22-25 and 15-4.
Kenmare's second state title in three years and four state tournament appearances was made sweeter by the fact the Bison had beaten the Honkers in the championship round of the Coal Country Tournament played in Hazen to open the 2009 volleyball season, and the semi-finals of the Des Lacs-Burlington tournament.
The two teams went on to win in their respective regions and enter the state tournament with nearly identical records.
Hazen's only losses of the season were to larger schools, namely Billings West, Dickinson and Bismarck Century high schools.
Kenmare's only losses of the seasons were against Hazen.
That history was on the minds of the Honkers and their fans as seats in the Minot State University Dome started to fill an hour before the 6 pm match on Saturday. A group of grade school boys lined up to get their faces painted by parent Shawn Froseth, while several team mothers distributed feather boas, beads, pom-poms and megaphones in school colors as the crowd trickled in.
Tina Zietz, mother of senior defensive specialist Chelsey Zietz, was excited to see the Honkers return to the championship round. "This is awesome," she said. "After last year, losing three key players, nobody thought we'd be here. They've worked hard to get here, and they're out for blood, without the mess!"
As senior libero Macie Harris and outside hitter Dayna Froseth met with the officials and Hazen team captains, Honkers' fans streamed out of their seats to create a human tunnel that extended from the Kenmare bench across the court to where the Honkers waited to begin their warm-up routine. Alan Munson, father of freshman setter Lexie Munson, led the group in cheering "Go, Honkers, go!"
Hazen fans formed a solid wall of green, gold and white on their side of the Dome, complete with a fuzzy Bison to lead the cheers. A loud booing echoed from their side of the dimmed court when the Kenmare team stepped on for formal introductions, but the Honkers grabbed hands and stood unified, shoulder to shoulder, while highlights from both teams' seasons were shown on a large screen in the Dome.
The battle begins
Championship action started with Harris serving the first point in the first set. Kenmare scored when Steph Bohrer's kill attempt for Hazen hit out-of-bounds, but Allison Opp hit for the Bison on the next serve, after a long volley.
The score inched ahead with points for the Honkers on both a kill and a tip by King, two Kenmare blocks, and three missed serves from the Hazen side. Tied at 7-7, Ashley Barnhart blocked one of Opp's kill attempts to give Kenmare the advantage and the Honkers' fans a reason to cheer, only to see one of Opp's hits bounce off Harris's face in the next play. Hazen went on a short scoring drive for a 12-9 on aces served by Opp and Sarah Grimm, but the Honkers responded with a rally of their own for a 13-13 tie.
The back-and-forth battle resumed until the Bison charged ahead 20-16 on a couple of kills by Opp and a couple of Kenmare errors. A violation on the Hazen side gave Kenmare the point and the serve, though, with Froseth knocking down a kill on a set by King, then turning around to cheer her team on the court as the offense was off and running for kills by King and Froseth again.
With the scored tied at 21, Froseth pounded down another hit, then took the serve, shouting encouragement at her teammates as Munson's strategic tip gave the Honkers a two-point lead.
Hazen called a time-out, to no avail. With Froseth still serving and cheering, King's hit found its mark, and then the Bison missed their own kill attempt to give Kenmare the first win.
That momentum carried the Honkers through the second set as they opened up a 9-3 lead on kills by King, Kortni Miller and Erika Lemere. The Bison gave away more points on missed digs and serves, then Froseth hit two in a row and King added another for a 14-7 advantage.
With Kate Berg serving for Hazen, the Bison came back with five straight points, including two hits by Opp and two misses on the Kenmare side. But Munson's ace, followed by her tap into the back row that was mishandled by the Bison put the Honkers back on track. They held down Hazen 25-19, winning as the Bison misread each other and bobbled the ball on game point.
Hazen changed its serving rotation for the third set, beginning with Opp and her fiery jump serve. The action mirrored the first set, with both sides earning a point or two at a time, after long volleys.
At 5-5, the Bison scored three unanswered points with Bohrer at the service line. Grimm made one kill, but the Honkers had trouble handling some returns and setting up their offense. Hazen pulled ahead, capitalizing on kills by Opp and Grimm and misses on the Kenmare side.
The Honkers held in there with hits from Lemere and Barnhart, but Hazen scored two or three points to each one for Kenmare. Long volleys followed several of the serves as both teams worked to dig up hits from the other team, but the Bison prevailed and sealed the victory on a kill by Opp for the 25-16 win.
Opp launched the fourth set on an ace, but the Honkers dug in and set up their plays to take a 7-4 lead. The Bison responded with four unanswered points to tie the set, then went ahead 12-10 on hits by Opp and Berg and back-to-back aces by Opp.
Kenmare kept hitting, though, with points from Froseth, King and Lemere as the Honkers persevered with their offense and took a 20-16 lead. Kenmare's fans cheered wildly as the Bison called a timeout. Hazen's strategy cut into the Honkers' run as the Bison scored the next three points.
Fans on both sides of the Dome shouted their support as the two teams hit hard and made seemingly impossible passes on off-balance digs. Hazen inched forward for the 22-21 margin, then went up 24-21 on a kill by Opp. Froseth scored for Kenmare on her own kill in the next play, but the Bison took the fourth set when they successfully blocked one of King's attempted hits.
With a fifth set in the works, the crowd may have expected more of the seesaw action they'd already seen, but the Honkers completely dominated the court for the win.
Harris opened at the line and served 6 straight points as Hazen gave up the first two points on errors and King made her mark with four consecutive kills.
The Bison managed two points on Kenmare bobbles, but the Honkers' offense ran like clockwork with passes from the back row to Munson for the set, and King came back with another pair of hits.
Bohrer halted Kenmare's 9-2 charge by faking a hit and tipping the ball onto the Honkers' court, an action reflected by King for a point on the next play. Munson took the serve, and Miller merely bumped the return to King for a kill and the 10-3 margin that sent the Bison into a timeout.
The Honkers played with tremendous patience, as one of King's next hits was returned, only to be slapped down by Miller for the point. The Hazen players looked troubled, however, and they gave the next point to Kenmare on a missed hit.
Munson missed one of her serves for
Hazen's fourth point, but the Honkers simply got into position to serve-receive from Bohrer and set up the play for King's next hit, which sent King back to serve. Lemere stood ready at the net and tipped the ball into a hole on the Bison's side for a 14-4 lead and game point.
With Froseth hopping up and down on the court in excitement, King served. Hazen set up Opp, their top player, only to watch her kill hit outside the court boundary and send the Honkers into a championship frenzy.
"I never thought they'd get this one," said fan Merle Wallstrum, who was grinning and shaking his head at the same time.
"I knew [the Honkers] would win," said Sam Essler, mother of senior Meghan Essler, "but I figured it would take five to get it!"
Julie King, mother of Katie King, announced she was heading to the tattoo parlor. "I told these girls last year, 'You win, and I'll get you a tattoo!'" she said.
Dayna Froseth admitted she had mixed emotions about the victory. "We were ready," she said. "This was our game."
She also acknowledged Hazen's comeback in the third and fourth sets. "It's hard to beat that good of a team," she said about the losses. "You have to get fresh and just start the next game."
From Macie Harris's perspective, the Honkers showed an outstanding team effort for the win. "Those first two games, we came out ready to play," she said. "The next two went their way. After all, we're playing this amazing team in the state championship!"
She smiled as she talked about her long serving run in the fifth set. "I was hoping we would just skunk them," she said, then shook her head and laughed. "I knew I couldn't miss my serves and give them a point, and we tried to keep Katie in the front row."
Meghan Essler said the Honkers concentrated on picking up the Bison's blocks and hits. "We were diving for anything," she said.
Chelsey Zietz added that Opp's jump serve was a factor, but the Honkers' back row worked to receive several of those and then set up their own hitters. "We had to keep up the intensity," she said.
Essler referred to a text message sent to several Honkers' players earlier in the day by one of their classmates. "We have the bigger heart," she said. "We wanted this more."
Sophomore Ashley Barnhart, standing 5'4", finished with several blocks against Opp. "She was my job tonight," Barnhart said. "I was a little nervous, because she's really good and really tall! But the seniors helped us to get fired up and ready to go for the match."
Despite the fortune cookie prediction she'd been carrying around for weeks, King said she was still nervous before the championship. "I just really wanted to come out and win," she said. "We've wanted to beat Hazen since the beginning of the year, when we lost to them."
King talked about her job on the court, especially in the fifth game. "Lexie [Munson] just set [the ball] to me, and I knew I had to get it in," she said. "I was just focused. That was my
goal
."
And even with her name mentioned repeatedly by the announcer for points scored, King directed the praise back to the rest of the Honkers. "The back row did an amazing job, and Ashley had to slow down Allison Opp," she said. "I am so proud of our team!"
KHS head coach Tim Wallstrum emphasized several factors in the Honkers' win. "We passed the ball well and we didn't make that many errors," he said. "A lot of people didn't give us a chance, but we played with a lot of heart throughout the tournament."
Events appeared to go the Honkers' way in the fifth set just before the action started. "Dayna came back [from the coin toss] and said we won the toss," Wallstrum said. "We
never
win the toss! That means we serve and Katie King stays in the front row a little bit longer."
He had confidence in Harris's serves. "I told her to stay down and low and be sure everything hits their side," he said, adding he was glad the match was televised and recorded so he could watch the action again just to see what really happened.
Even as he said hard work was simply expected of the team, Wallstrum praised his players. "That back row, the seniors, they're the workhorses of the team," he said, "and Lexie Munson, coming in as a freshman setter. How many teams have won the state tournament with a freshman setter?"
He continued, describing Barnhart set up to block Hazen's Opp "They put [Opp] over the top of our small hitter," he said, "but then she had to start trying to hit balls around the block."
Barnhart's performance against Opp, according to Wallstrum, was augmented by the work of Lemere, Miller and Munson, who also worked the net. He paused and laughed as he quoted another coach in the tournament who told him, "Coming in, I knew about Katie King, I knew about Kenmare's defense, but I did not know about Kenmare's block."
Wallstrum noted the Honkers' errors as a factor in the third and fourth games. "When you play tough teams, it usually comes out that whoever makes the fewest errors wins," he said. "On the other hand, I told the girls tonight they couldn't play carefully, that they can't play to not lose."
For the match, King posted 24 hits, Froseth 9, Lemere 6, Miller 5, Barnhart 3 and Munson 2.
At the net, Barnhart logged 6 blocks, King 3, and Munson, Froseth and Lemere 1 apiece.
Munson finished with 42 assists, while Barnhart, Miller and King each had 1.
The Honkers scored on 2 aces by Munson and 1 from King.
Harris set a championship match record with 50 digs, toppling the old record of 29 set by former teammate Kendra Miller in the Kenmare-Hillsboro bout in 2006. She also finished with 80 digs for the tournament, besting teammate Froseth's record of 71 set last year.
In the championship match, Froseth had 15 digs, Munson 10, Zietz 8, Lemere 7, Essler 5, King 5, and Miller 2.
Harris finished with 35 passes, while Zietz had 15, Froseth 12, Essler 5, Lemere 2 and Miller 2.
The Honkers served with 97 percent accuracy and passed at 93 percent.
All Tournament
and All State teams
King, Froseth and Munson were named to the Class B All-State Tournament Team, along with Allison Opp, Payton Borud, Steph Bohrer and Jenna Maas of Hazen, Allison Schick of Flasher, Moriah Skroch and Nicole Hulm of Wyndmere-Lidgerwood, Lexi Erickson and Courtney Rehovsky of Park River-Fordville-Lankin, Sheyenne Schneider of Harvey, Lacey Ryckman of Linton and Jasmin Pappa of Stanley.
King was selected for the Class B All State Team, which also included Opp and Maas of Hazen, Erickson of Park River-F-L, Hulm and Skroch of Wyndmere-Lidgerwood, Courtney Jacobsen of Our Redeemer's, Kali Olson of Lisbon, Madison Gegelman of Central Cass, Katelyn Paulson of Hatton-Northwood, Eli Benz of Kidder County, McKenzie Hart of Langdon, Jenny Erhardt of Center-Stanton, Brittney Thingstad of Velva, Jordyn Bender of New England, and Samantha Heier of Ray.
Opp was honored as the Class B Outstanding Senior Athlete and Brenda Lang of Harvey as the Class B Coach of the Year.
In Saturday's other action, Stanley rallied to defeat Linton 3-2 for third place, Wyndmere-Lidgerwood held off Park River-F-L 3-2 for fifth place, and Harvey swept Flasher 3-0 for seventh place.
It's the fans
The fans greeted their state championship Honkers Monday morning at the high school, but Coach Wallstrum turned the spotlight back to the crowd and expressed his gratitude. "It's the Class B fans who make that atmosphere," he said, listing support through posters, door and hallway decorations, providing cookies and other snacks for the team, clowning around and cheering at the matches, and escorting the team around town when they returned.
Assistant coach Faye Alexander said the players had come together as a new team this season, learning to communicate with and dedicate themselves to each other. "I'm proud of how hard they worked every day, and they never complained," she said, then listed a variety of aches and bruises the girls endured, including broken fingernails, until the crowd laughed.
The four senior defensive players each took a few emotional moments with the microphone. Froseth repeated her appreciation for the fans, coaches and her teammates. "It's great to have so many people behind you," she said.
Zietz referred to King's fortune cookie prediction. "We finally got the opportunity to play Hazen again," she said, "which most of us wanted to do!"
Essler thanked the fans and the high school boys, including her brother, who dressed in old cheerleading uniforms and led the chants behind the team bench. "I also want to thank my teammates for getting us back to the state championship, playing us through and helping us win," she said.
Harris wiped away her tears and quipped, "I know we talk about our back row a lot, but we couldn't have done it without our front row either!"
Ultimate finish
to great season
Kenmare finished the 2009 season with a 44-3 record and the Class B title.
Stuff blocks are added as kills, so King led the team with 527 kills. Froseth finished with 282 kills, Lemere 171, Barnhart 168, Miller 119, Munson 42 and Halie Nelson 20.
From the serving line, Munson served 56 aces, Froseth and King 50 each, Harris 44, Essler 29, Lemere 22 and Zietz 14.
In the back row, Harris notched 381 digs and 596 passes. Froseth had 301 digs and 221 passes. Zietz had 111 digs and 210 passes. Essler completed 95 digs and 121 passes. Lemere had 89 digs and 89 passes. Munson had 82 digs and 4 passes. King made 76 digs and 6 passes. Miller completed 25 digs and 54 passes. Barnhart had 14 digs and 38 passes.
The Honkers served at 93 percent, dug at 85 percent and passed at 94 percent accuracy for the season.