Thanks for reading some of the latest features about area people and events.
To view every page and read every word of The Kenmare News each week,
subscribe to our ONLINE EDITION!
Honkers on their way to fourth straight State B Volleyball appearance
The North Dakota High School Activities Association lists 111 teams participating in the 2009 season for Class B volleyball. Eight of those teams are still holding practices this week in preparation for the state tournament that begins tomorrow. For the fourth consecutive year, the Kenmare Honkers (41-3) are among those elite eight teams, after clinching the Region 6 championship in a battle with Our Redeemer's Christian School last week.
11/18/09 (Wed)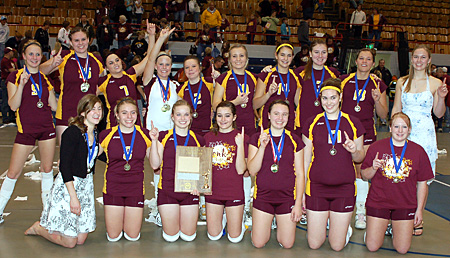 By Caroline Downs
The North Dakota High School Activities Association lists 111 teams participating in the 2009 season for Class B volleyball.
Eight of those teams are still holding practices this week in preparation for the state tournament that begins tomorrow.
For the fourth consecutive year, the Kenmare Honkers (41-3) are among those elite eight teams, after clinching the Region 6 championship in a battle with Our Redeemer's Christian School last week.
Kenmare won the match 3-0 in dramatic fashion with set scores of 25-22, 25-22 and 25-15.
State Class B volleyball action begins Thursday, November 19th, with Kenmare playing in the first match scheduled for 12 noon at the Minot State University Dome. The Honkers will face Region 1 champions Wyndmere/Lidgerwood.
Coach Tim Wallstrum said the Kenmare team has not seen the Warbirds play yet this season. "They sound really good," he said. "They're tall, they're athletic, and they beat both Central Cass and Lisbon, who are good teams, but I don't know a whole lot about them."
He referred to last year's state tournament, when Dickinson Trinity, defeated twice during the season by the Honkers, came back to top Kenmare in the semi-finals. "Any team can just step it up against you at state," he said, then smiled. "That's what I hope we do against Wyndmere/Lidgerwood!"
Despite the early match, the Kenmare players are hoping to see their noisy and loyal fan base at the Dome. "It still means a lot for us," said Froseth, "and the fans are great. We really do have great support."
"I hope everybody comes back to support us," Harris said, adding that she didn't mind the fact that the state volleyball tournament extended into the first week of girls basketball practice. "I love basketball, but I'm not ready for it yet."
"We're ready to do some damage at state," Froseth added. "We love to look up and see a crowd. We love screamin', and when our fans are screamin', that's what's fun for all of us!"
In other opening round action, Linton/HMB of Region 3 will play Flasher of Region 5, and Park River/Fordville-Lankin of Region 2 will face Region 7 champion Hazen. Thursday's final match will feature Region 8 champion Stanley playing Region 4 winner Harvey.
The tournament continues Friday, with consolation matches played at 12 noon and 2 pm. The semi-finals are scheduled for 6 and 8 pm Friday.
The 2009 Class B champion will be determined in a 6 pm match played Saturday, November 21st.
The Class B third place match will take place at 2 pm, consolation championship at 12 noon, and seventh place match at 10 am that day.
Energy ran high on both sides of the court as the Kenmare and Our Redeemer's ran through their warm-up drills at the Minot Auditorium Thursday night prior to the Region 6 Championship game.
The Honkers had already faced the Knights 14 times this season, losing only three individual sets and sweeping them for the District 12 title a week earlier.
The record didn't seem to matter as senior Courtney Jacobsen scored on the first serve for Our Redeemer's with a kill that couldn't be handled. Honkers' senior Dayna Froseth responded on the next play with a well-placed tip into a Knights' weak spot. The fight began as the two teams inched ahead point by point, trading leads held by narrow margins six times and tying the score 13 times.
The Honkers gave up two points on net violations and two points on missed serves, while the Knights fumbled two serves and gave away two points with miscues on their own side of the net. With the score standing at 18-18, Kenmare pulled ahead 21-18 on a tip by Lexi Munson, a missed hit by the Knights, and an ace served by Meghan Essler.
Freshman Ashley Koppinger struck back for ORCS with one of her 8 kills for the night, but Ashley Barnhart knocked down one of her 7 kills in the match for the 22-19 advantage. The Knights gave Kenmare another point on an out-of-bounds hit, called a time-out to organize themselves and came out with a pair of kills by Koppinger and Jacobsen and an ace served by Koppinger to pull within a point at 23-22.
The Honkers stopped the action with their own time-out and roared back to win the set on a Katie King kill, followed by a King block.
The Knights didn't take the loss lightly, and they opened the second game with a vengeance, running up a 11-6 lead that included kills by Jacobsen, Sarah Christopher and Mataya Grigsby. Kenmare staged its first rally in the set with an Erika Lemere serve that couldn't be handled by the Knights, as well as a pair of Froseth kills followed by a third Froseth spike that pulled Kenmare within two at 10-12.
The back-and-forth battle resumed, each team scoring a point, then yielding the serve until the Knights pulled ahead by five points again at 18-13.
King grabbed a point with a hit, then Ashley Barnhart surprised the Knights with her jumping ability as she spiked the ball from the middle and again from the side. Chelsey Zietz took the serve, and the ORCS team set up and missed three kill attempts in a row while Kenmare came back to tie the score at 19-19.
The teams locked up the set twice more before Kenmare blocked a Jacobsen shot and inched ahead 23-21. The Knights scored their final point as the Honkers mishandled the ball, while kills by King and Froseth propelled Kenmare to the win column.
With two sets down, the Honkers went to work in the third game, running up a 9-4 lead that included kills and blocks by King, Froseth, Kortni Miller and Barnhart before the Knights knew what hit them. Billie Bangen served a pair of aces for ORCS and Emily Van Lith scored on a tip, but Bangen missed her next serve and the Honkers were off and running again, with Barnhart scoring twice.
The Knights pulled within two points at 14-12 on a Jacobsen tip and a mishandled ball by the Honkers, but Kenmare scored six unanswered points for a 20-12 margin on kills by King and Halie Nelson, a block by King and Miller, and an ace served by Munson. The momentum built for the Honkers as the regional championship came within reach again, and even though the Knights managed three more points, Kenmare rolled ahead to claim the title.
KHS head coach Tim Wallstrum's first words about the match came in praise of the Knights. "They played unbelievable tonight," he said. "They were blistering the ball, and they played like they had nothing to lose. That's what makes it fun!"
He noted the ORCS strategy to have outside hitters working from each pin on the net, near the court boundaries. "They had two good hitters going pin-to-pin and that forced our middle hitters to block," he said, then shook his head. "[Ashley] Koppinger hits just fantastic for a freshman!"
Wallstrum credited the Honkers for playing the match well as a team. "The 'big name' girls, like Courtney Jacobsen for them and Katie King for us, tend to cancel each other out in a match like this," he said. "They were ahead by five points in the second game, Katie King was on the bench for us, and we caught up to them. Our other girls won the game for us."
He described Miller as a strong player in key games, and chuckled at Barnhart's kills and blocks in the match. "People do not realize she's 5'4"," he said. "You take Katie King out of our line-up, and we're small. Everybody thinks we're big, but we just get up [at the net] well."
Longtime senior players Froseth, Essler, Zietz and Macie Harris, who will make their fourth trip to the state tournament in as many years, said the thrill of the Region 6 win had not diminished. "I was excited and nervous to play tonight," said Zietz. "We just wanted to [qualify for state] again!"
"This is awesome!" added Essler. "We played together as a team. We just do our jobs like Mr. Wallstrum says."
Harris, who fills the libero role, said the match passed quickly and that she never worried the Honkers would lose, even when ORCS had the lead in the second set. "They did amazing," she said about the Knights. "I just kept telling [my teammates], 'One point at a time.' Everybody worked together. The coach did a good job, too!"
Harris believed she would enjoy the 2009 state tournament more than last year's event, when the Honkers entered as the defending state champions with an undefeated season. "Last year, there was so much pressure," she said. "This year, we worked so hard to rebuild our team. This is where we want to be."
"I kind of knew we had the third set," Froseth said. "I knew we were going to come through. We showed a lot of heart. Mr. Wallstrum always tells us the second game is the most important, and that closed the deal for us."
She quoted Wallstrum again. "Good teams find a way to win," she said. "Ashley, Kortni, Lexi, Erika, they all stepped up huge! That's what pulled us through."
Wallstrum praised both teams for their play and intensity, but he was obviously delighted in the Honkers' success. "We were down five points in the second game, and we could have just fallen apart," he said. "People said we were in a rebuilding year and I had a little freshman setter. People said, 'It's going to be a long season.'"
He paused and laughed. "Well, yeah, it is a longer season now!" he said.
King finished the match with 10 kills, while Froseth had 9, Barnhart 7, Miller 5 and Nelson 2.
Munson set up her teammates 27 times, with Miller stepping in for 3 assists and Barnhart for 1.
From the serving line, Munson scored on 2 aces.
At the net, King finished with 4 blocks, while Froseth and Barnhart posted 1 apiece.
In the back row, Harris had 7 digs and 17 passes in the match. Zietz finished with 6 digs and 5 passes, Froseth with 4 digs and 9 passes, Munson with 4 digs and King with 2 digs. Essler had 7 passes for the night, while Miller made 3.
The Honkers served with 96 percent accuracy and passed at 93 percent.
Region 6 honors
Macie Harris, Froseth and King were honored as members of the All-Region 6 team, as selected by coached in the region. They joined Jacobsen of ORCS, Kaya Engen of Drake-Anamoose, Brittney Thingstad of Velva, Kiah Smith of Glenburn, Deidre Karhoff of Des Lacs-Burlington, Krystal Erickson and Kelsie Grenier of Bottineau, Anne Schmaltz of Rugby and Addie Thompson of Newburg-Westhope.
Players were also selected for an All-Region 6 Tournament team, including Munson, King, Harris and Froseth of Kenmare, Koppinger, Jacobsen and Grigsby of ORCS, Whitney Page and Krystal Erickson of Bottineau, Megan Limke of Lewis & Clark, Smith of Glenburn, and Thingstad of Velva.
Jacobsen received the nod as the Senior Athlete of the Year, with Velva's Diana Thingstad named Region 6 Coach of the Year.
In Thursday's third place match, Velva handled Bottineau 3-0, with set scores of 25-15, 27-25 and 25-15.
Honkers soar over Stars
For the first few minutes of the semi-finals match between Kenmare and Bottineau, played November 10th, the Stars were shining on their side of the court. Whitney Page had 4 kills and Kelsie Grenier 1 in Bottineau's 10-9 lead over Kenmare. King, Erika Lemere and Miller had spikes for the Honkers, but Kenmare was being challenged on every play and sending free balls across the net for the Stars' advantage.
At that point, Wallstrum called a rare time-out for the Honkers, who stepped back onto the court to take a 12-10 lead on a Froseth kill and two serves by Harris that the Stars couldn't handle.
Bottineau managed only four more points while Kenmare cruised to a 25-14 win in the first set, with kills from Lemere and Miller highlighting the Honkers' dominance.
Lemere, King, Froseth and Barnhart capitalized on the passing and setting abilities of their teammates to help Kenmare cruise to a 25-8 win in the second set. Munson, King and Essler each served aces in the game, while the Stars fumbled with missed hits, net violations and miscues. Krystal Erickson scored for the Stars with one of her hits, only to watch Froseth knock down the final kill to win the set on the next play.
The third set went the Honkers' way, too, on a 25-15 victory. Bottineau scored first on an ace by Page, but King answered with back-to-back kills. The Stars scored on a few Honkers' errors and kills by Chelsey Derr, Page and Erickson, but the Honkers responded to each Bottineau point with three or four points of their own, including more kills by King, aces from Essler and Harris, and hits from Kiah Bauer and Barnhart.
The win set the Honkers up for a rematch of the 2008 and 2009 District 12 and 2008 Region 6 championships against Our Redeemer's Christian School, who edged Velva 3-2 in semi-finals play with set scores of 12-25, 25-18, 25-22, 16-25 and 15-10.
KHS assistant coach Faye Alexander described the time-out in the first set as necessary because King's hits were consistently getting blocked and the offense was becoming frustrated. "Sometimes, just stepping off the court for a minute settles them down," Alexander said, adding that she trusted the girls to come through with the win.
For the match, King posted 10 kills, Lemere 7, Froseth 5, Barnhart 4, Miller 1 and Bauer 1.
At the net, King had 1 block.
Munson provided 21 assists for her teammates, while Miller made 2.
Several Honkers' points came on aces, with 2 apiece from Munson, Harris, Froseth and Essler, and 1 from King.
Froseth finished the night with 12 digs and 6 passes. Harris logged 7 digs and 7 passes, while Essler had 5 digs and 2 passes, Zietz 4 digs and 1 pass, Munson 3 digs and 1 pass, Lemere 3 digs and 1 pass, King 2 digs, and Miller 1 dig and 3 passes.
Kenmare served with 96 percent accuracy and passed with 83 percent accuracy.
Honkers are amassing outstanding
individual statistics in their careers
By Caroline Downs
Members of the Kenmare Honkers volleyball team realized that many people doubted the ability of the 2009 squad to repeat as the Region 6 winners, after graduating two talented middle hitters, a consistent server and defensive specialist, and the team's longtime setter last year.
However, head coach Tim Wallstrum and the players believed they could continue to represent the winning volleyball tradition at Kenmare High School with honor and skill.
Wallstrum noted that among the Honkers' strengths this year are their team speed, their ball handling, and their chemistry on the court. "We don't miss many serves, we don't miss many passes, and we get the ball set up and then we don't miss a lot of hits," he said.
He emphasized a little-known statistic about the team's serve reception for the season, with senior libero Macie Harris serve-receiving 532 balls with only 27 errors, senior Dayna Froseth 190 balls with 11 errors, and senior Chelsey Zietz 176 balls with 11 errors.
"Serve reception is the hardest skill in volleyball," Wallstrum said. "To have that few errors is pretty good."
Offensively, junior Katie King leads the team in kills with 449 for the season and 838 in her career, while Froseth has 239 season hits and 523 in her career. "We've got a pretty powerful hitter in Katie King," said Wallstrum, "and when she rotates to the back row, we have Dayna Froseth in front."
Junior Erika Lemere is third for the season in hits with 152, followed by sophomore Ashley Barnhart at 148, junior Kortni Miller at 108 and sophomore Halie Nelson, who saw limited varsity play, at 20.
Another asset for the Honkers is freshman setter Lexi Munson. "Having a new setter was something we were all worried about," Wallstrum said, "and that gal stepped up and did a heck of a job. How many freshmen lead their team as the quarterback?"
To date, Munson has 831 assists. She also served at 91 percent for the season, with 53 aces.
King and Froseth are the most consistent servers on the squad, at 95 percent accuracy and with 49 aces each. Harris served with 94 percent accuracy and finished with 42 aces, while senior Meghan Essler served at 94 percent with 26 aces. Lemere served at 92 percent with 21 aces, and Zietz finished with an 85 percent serving rate and 14 aces.
Coach Wallstrum's abilities are another factor for the team's success, and have been recognized this year with a nomination for a national award by the National High School Volleyball Coaches Association and selection as the co-chair, with Lisa Strand of Thompson, for the 2010 Optimists North Dakota All-Star Volleyball Tournament.
In Wallstrum's 23rd season with the Honkers, Kenmare has compiled a 681-195 record. Only three seasons saw split records, at 11-11 in both 1988-89 and 1989-90 and at 19-19 in 1998-99. Two years have been marked by a single loss, including the 1991-92 and the 2008 seasons. Ten years have seen the Honkers finish with 10 or fewer losses.
No one should be doubting the Honkers in 2009, with a 41-3 season record, a district championship and a regional title to show for their work.