Thanks for reading some of the latest features about area people and events.
To view every page and read every word of The Kenmare News each week,
subscribe to our ONLINE EDITION!
Honkers top Warbirds and Lions to advance
While fans may be replaying Kenmare's Class B state volleyball championship match against Hazen over and over in their minds this week, the Honkers had to win two other matches to advance to the title round.
11/25/09 (Wed)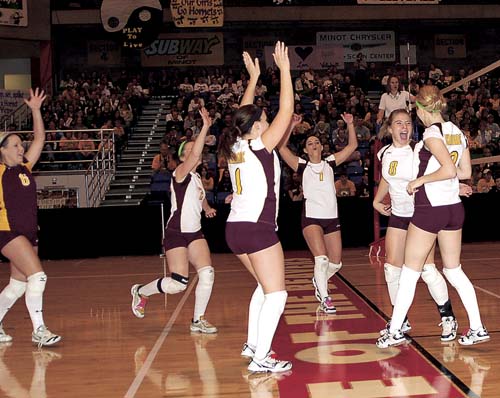 The Honkers celebrate a point in the semi-finals match against Linton.
Kenmare swept the Lions 3-0.
While fans may be replaying Kenmare's Class B state volleyball championship match against Hazen over and over in their minds this week, the Honkers had to win two other matches to advance to the title round.
On Friday, Kenmare faced Region 3 Linton in the semi-finals, and dispatched them 3-0, with set scores of 25-14, 25-20 and 25-12.
With both teams having the same school colors, the Honkers played as the home team in white, while the Lions wore maroon.
The semi-finals represented a hurdle of sorts for Kenmare, having lost to Dickinson Trinity on the same court in the same round at last year's state tournament. Linton fans apparently remembered the history, too, and hoped for a repeat of Kenmare's fate as the Honkers gave up the first two points in the match on a net violation and a missed hit.
Kenmare settled into their game with kills from Dayna Froseth and Katie King tying the score at 2-2. Kayln Schneider made a kill for the Lions, along with Christa Nagel and Robin Weber, but Lemere and King answered back, with more points coming from King, Ashley Barnhart, Erika Lemere and Froseth as the Honkers took a 16-8 lead.
Linton's time-out gave the Kenmare players time to catch their breaths and score twice again. King, Lemere and Barnhart combined for the next points, with a kill by King on a Macie Harris serve giving Kenmare the first win.
The second set opened with points from Jessica Weiser and Nagel for Linton, but Kenmare responded on hits from King and Kortni Miller, with Harris, Froseth and Chelsey Zietz demonstrating their digging skills as they frustrated the Lions.
Linton had a 9-5 lead, but Kenmare kept pushing back, despite some out-of-bounds hits that gave points to the Lions, and tied up the score at 15. Alexis Jasper and Weber hit for Linton for an 18-16 margin, but Froseth and King discovered the Lions' weakness in picking up tips and scored points accordingly to edge ahead 20-18. The Honkers' offense returned to their hard-hitting ways after that, with kills by Froseth, King and Lemere sealing the victory in a 20-minute session.
Kenmare controlled the third set, despite the first point going to Linton on Katelyn Kalberer's ace. Froseth, King and Lemere, along with a Lexie Munson ace, gave the Honkers a 9-3 margin and unsettled the Lions enough to generate several mistakes. Nagel and Schneider managed to drop balls on the Honkers' side, but Kenmare continued their patient play and their offensive strategy that gave Froseth more opportunities to score on her tip.
With the score at 19-8, the Lions took a time-out, followed by a King kill from the outside. She scored on another hit for a 22-9 advantage, but the Honkers stumbled at that point as Lacey Ryckman and Nagel combined for three unanswered points to push the Lions to 12.
Kenmare settled back into their game, with King pounding down a kill for the team's 23rd point, and the Lions mishandling the ball during Munson's next two serves for the Honkers' win.
Froseth described the team as having fun during the match, while staying focused. "We set up the ball and we were getting passes to the setter," she said.
"And we didn't miss any serves," added Harris. "We did not want to do what we did last year!"
"We just really wanted to make it back to the state championship," said King. "You could tell we wanted to win."
KHS head coach Tim Wallstrum said the Kenmare team had also been motivated by comments made by Linton players and fans. "They told our team host they were so glad to be in this pool, because it's weaker," he said, then laughed. "You really don't want to tick these girls off. Our girls never let them have a chance."
Another factor in the Honkers' win had to be the crowd support, which included the players' fathers squeezing into jerseys from the 1996-2002 seasons, wearing their daughters' numbers, and leading the cheers.
"Don't let me loose. I go wild!" said Alan Munson, father of No. 1 Lexie Munson. "When our girls saw our support, I think that fired them up. They know I support them, but not always in this fashion!"
"I did my job," said Ken Barnhart, father of No. 8 Ashley Barnhart. "I embarrassed my daughter!"
He described the Linton crowd as organized and loud with their cheers, too. "But nobody else's dads are out there like we are," he said. "I think that makes a difference."
A group of high school boys decided to add their own show of support by wearing old Honkers cheerleading uniforms and carrying an array of maroon and gold flags. The group included Mason Ankenbauer, Jace Helmers and Tyler Ellsworth, led by Jonathan Essler and Chris Colby.
"We did this on our own," Colby said. "The girls needed some extra support, so we needed to bring the heat!"
Essler's sister Meghan is a senior defensive specialist on the team, and he has been watching her volleyball matches for four years without complaint. "It's just fun to come and watch the girls play," he said.
Colby's older sister Lexi graduated from the team last year. "It's not about who's on the court all the time," he said. "It's also about who's on the bench and who's on the sidelines to support them. I feel like I've got to do my part."
King said she appreciated the crowd's participation in the match, although she admitted she wasn't always aware of what was taking place behind her. "You're focused on what you need to do," she said. "When you get it done, then you hear the crowd!"
King finished the match with 19 kills. Froseth had 13, Lemere 6, Miller 4 and Barnhart 1.
At the net, Barnhart put up 5 blocks, while King had 3.
Munson set up her teammates with 38 assists, while Miller added 1. Munson also had the team's only ace serve for the match.
In the back row, Harris made 7 digs and 27 passes. Froseth finished with 9 digs and 4 passes, Zietz 6 digs and 5 passes, Essler 4 digs and 2 passes, and Lemere 2 digs and 5 passes.
The Honkers served at 99 percent and passed at 97 percent accuracy.
In other semi-finals action, Hazen swept Stanley 3-0. In the consolation bracket, Wyndmere-Lidgerwood topped Flasher 3-0 and Park River-Fordville-Lankin beat Harvey 3-0.
Honkers stop Warbirds
As the Class B tournament opened Thursday, Kenmare started the day's lineup with a match against Wyndmere-Lidgerwood from Region 1. "We had never seen their faces, never seen their team colors," Froseth said, "only a picture. You've got to go out and expect anything and play your heart out."
The Honkers did just that, but it took them five sets to claim the win, with scores of 25-15, 25-17, 22-25, 22-25 and 15-9.
Kenmare started strong, backed by a sea of fans dressed in maroon and gold and team hosts Selmer Flom and former Honkers players Keri Nelson and Kara Schumacher.
Lemere and King had kills for the Honkers for a 5-3 lead, but the Warbirds tied the score at 5. Kenmare rolled ahead on kills by Froseth and powerful blocking in the front row, while W-L struggled to organize themselves.
Kenmare could hardly do anything wrong, as Froseth dug up a Warbirds hit with a one-handed hit to Munson, who returned the ball to Froseth with a single-handed hit of her own. Froseth put that ball down for the Honkers 17-9 lead.
Moriah Skroch got in three scattered kills for the Warbirds and Jenni Wettstein added one, but the Honkers couldn't be stopped with King and Lemere hitting. Froseth punctuated the first victory with a kill for game point.
The second set was all about Kenmare, with the back row consistently digging up kill attempts by Skroch and passing to Munson to set up hits by King and Lemere. In the meantime, W-L couldn't manage their offense, and the margin widened from a 5-2 contest to 19-11, when Barnhart leaped up to pound a Warbirds lob back down on their side of the net.
The Honkers stumbled slightly during a five-point Warbirds' rally, but Barnhart came through with a hit to refocus her teammates. Lemere served two aces, Barnhart added another hit and Froseth again sealed the win as the Kenmare fans stood and cheered.
Having won the first two sets, the team and fans wearing maroon and gold could be forgiven for assuming the match was in hand, but W-L came back and demonstrated the reason they were the Region 1 champions. Kenmare opened the third set with four unanswered points, including two hits by Froseth and an ace served by Harris, but the Warbirds stayed patient, with hits from Nicole Hulm and Danielle Buskohl adding to their score. King found a sweet spot three times in the back corner of the W-L court for an 11-6 lead, but Skroch and Buskohl narrowed the margin to 13-12.
Kenmare rolled ahead 17-12, with a hit by King and a block by King and Munson, but the Warbirds' time-out resulted in a string of hits by Skroch, Buskohl, and Hulm while the Honkers' momentum wavered.
With the scored tied at 19, Coach Wallstrum called a time-out, but Hulm came out to score on three consecutive hits for the Warbirds, followed by two from Skroch. Froseth's kill pushed Kenmare to 22, with W-L at game point, but Essler's serve-receive attempt of Nicole Mauch's serve looked like an illegal hit to the officials, which gave the Warbirds a mark in the win column.
The Warbirds controlled most of the fourth game, starting with hits from Wettstein and Hulm. King was involved in four of the first six points for Kenmare and a block by Miller and Barnhart tied the game at 7, but W-L pulled ahead on Honkers' mistakes and hits by Hulm and Buskohl. Kenmare came back for a 15-14 lead on a rally featuring a King hit, two King blocks and a brilliant tip by Lemere into an empty spot on the Warbirds' side of the net, but then Skroch went to work.
Despite kills by Barnhart, Froseth and King, the Honkers couldn't make up a four-point gap, with Skroch answering back every chance she had. With W-L serving game point, King scored on a kill, but sent her next hit attempt out-of-bounds for the Warbirds' second win.
Both teams launched into a battle for the fifth game, with King scoring a pair for Kenmare, followed by Hulm scoring two for W-L. The lead teetered back and forth, with more points from Skroch and Hulm for the Warbirds mirrored by hits from King, Barnhart and Froseth for Kenmare.
An ace served by Essler, followed by miscues among the W-L team led to a 9-6 lead for the Honkers and a time-out by the Warbirds.
Buskohl returned to the floor and scored on two tips to narrow the margin to a single point, but the KHS crowd stayed loud for their Honkers and shouted encouragement as Kenmare scored on a Froseth hit, a Harris ace, a King hit, and a block and a tip by Lemere to reach game point. As the W-L fans stood silently watching, King pounded down a kill for Kenmare's first match win of the tournament.
Froseth credited the victory to the intensity of the Honkers' fans. "I don't know if we could have done it without them," she said, adding that she thought the Kenmare team may have dropped their own intensity level during the third and fourth games.
"They're a good team," Harris said. "They came out nervous and by the third game, they were a whole new team. You could tell they wanted it, too. Our confidence and knowing this is what we want helped us, and the girls who hadn't played [at the state tournament] before stepped it up."
She paused and smiled. "That was a little too close for me!"
Harris's mother Kristi admitted all the cheering takes its toll. "I haven't been through this since last year," she said. "I was on the edge of my chair. It was painful almost, but I'm proud of the girls. The louder we can yell, the better they do."
Seventh grader Hunter Harris said he wasn't tired of cheering for his older sister Macie at state tournaments. "It's fun to come back every year and have the girls win," he said.
Jean Barnhart said she was working in the stands almost as hard as her daughter Ashley was on the court. "Lenny Rodin said, 'No one sit down, We've got to keep it going!'" she said. "And we did! That's a relief to have that one out of the way."
Wallstrum said the Honkers concentrated on taking care of the Warbirds' two middle and one outside hitters. "We may have taken it too lightly in the third game, then we lost our composure," he said. "But in that fifth game, we came out to play."
King logged 26 kills in the match, while Froseth had 20, Lemere 6, Barnhart 3, Miller 2 and Munson 1.
At the net, King finished with 3 blocks, while Barnhart and Munson made 2 apiece.
Munson completed 48 assists, with 1 each from Barnhart, Miller and King.
Essler served 3 aces, Harris 2, and Froseth and Lemere 1 apiece.
On defense, Froseth finished with 27 digs and 15 passes. Harris made 13 digs and 29 passes. Lemere had 12 digs and 8 passes. Zietz finished with 6 digs and 14 passes. Munson made 9 digs.
The Honkers passed and served with 96 percent accuracy in the match.
In other opening round matches, Linton swept Flasher 3-0, Hazen beat Park River-F-L 3-0 and Stanley defeated Harvey 3-1.