Thanks for reading some of the latest features about area people and events.
To view every page and read every word of The Kenmare News each week,
subscribe to our ONLINE EDITION!
Honkers are state champs
The Kenmare High School girls golf team made a little local history last week by winning their first Class B state golf title. They also earned their second state championship for 2009-2010, the first time KHS girls varsity sports teams have won two such tournaments in one year.
6/09/10 (Wed)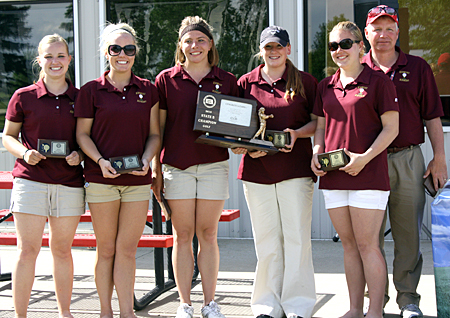 2010 Class B state golf champions . . . After improving their finish from
8th to 4th to 3rd during the past three years, the Kenmare Honkers girls
golf team won the 2010 Class B state touranment at Jamestown with,
l-r, Meghan Essler, Macie Harris, Ashley Barnhart, Alix Kling,
Brittany Harris and Coach Jerry Essler.
The Kenmare High School girls golf team made a little local history last week by winning their first Class B state golf title. They also earned their second state championship for 2009-2010, the first time KHS girls varsity sports teams have won two such tournaments in one year.
And they did it in fine style as a tie with rival Central Cass was broken with Kenmare's 5th scorer, Brittany Harris, who logged the best round of her lifetime on the tournament's second day. Defending state champion Hazen, the favorite to grab the title again, settled for third place by one stroke.
"I don't know if any of us expected to get first," said senior Meghan Essler. "We knew there were a lot of good teams out there, but it made [the win] even more exciting that we won such a close tournament!"
Kenmare claimed the tie-breaker and the tournament, played June 1 and 2 at Hillcrest Golf Course in Jamestown, with a 738. First day scores included sophomore Ashley Barnhart with a 91, Meghan with 92, senior Macie Harris 94, junior Alix Kling 102 and senior Brittany Harris 113, for a total of 379. The Honkers trailed Central Cass by five strokes at that point and Hazen by two strokes.
The second day saw Meghan shoot an 82, with her 174 total good enough for a seventh place tie. Macie and Ashley both shot 91, and Alix and Brittany had 95 each.
The Honkers are no strangers to the podium at state golf tournaments, having placed 8th in 2007, 4th in 2008, and 3rd in 2009. Meghan has played in five state tournaments, while Macie has played in four and Brittany and Ashley three. Alix is new to North Dakota and the KHS squad this year, but she played in the South Dakota Class B state tournament three times with the Bison High School varsity golf team.
Trailing after the first day's performances only served to motivate the Kenmare golfers. "We saw where we ended up," Meghan said. "We all knew where we could do better and shoot better."
"My first day was not very good," said Alix. "I struggled and I was really nervous, but on the second day I was trying to put it all behind me. I kicked it into gear on the second nine and shot a 43."
"I'd rather be behind," said Macie. "We knew we could golf better. In that second round, we were playing to win. I was more focused, and less nervous."
Brittany
shook her head. "I was more focused and more nervous!" she said.
The golfers agreed Brittany's 95 on the second day served as the key to the Honkers' victory. "We were tied for first place by our scores, and they went to the fifth score," said Macie. "Brittany brought us through."
Brittany
noted that her goal for the entire season had been to shoot under 100. "That's the reason why I was nervous!" she said. After the first day, she was ranked 99th among all golfers in the state event, which Coach Jerry Essler called an omen.
She credited her improved score to the presence of her parents at the tournament. "They made the difference," she said.
She also admitted she didn't know just how well she shot the second day until she finished. "I don't try to add my score as I go," she said, "so when I finally added it up, I got excited!"
"She got a little ambitious on Tuesday night," Meghan recalled. "She said she didn't want just a 99, she wanted a 95. It was nice to use her score for this. She helped us win!"
The tournament included another new experience for a Kenmare golfer, as Ashley hit her first hole-in-one on No. 8 the first day, the only one scored by any player in the tournament. She laughed as she talked about her father, who always maintained he would quit golfing if she hit a hole-in-one before he did. "I called my dad after the ninth hole and told him," she said.
Coach Essler didn't know about the feat until Ashley started the ninth hole by searching for her ball. He went to assist her, then teased her about making him walk all the way out to help find a lost ball. "No," she countered, "I made you walk all the way out here to tell you I shot a hole-in-one!"
Ashley was quick to confess, however, that her performance on the first day was less than stellar. "I shot a 10 on Hole 16," she said.
Macie laughed. "That hole was a killer!" she said.
Experienced players
take on new course
The Honkers entered the state tournament with only one practice after winning the regional tournament at Stanley the previous week, and relatively few meets played together as a team because of weather problems throughout the season. "We took what we could when we could," said Coach Essler, adding that the team's only loss of the season had been to Watford City at one meet.
The Hillcrest course was new to everyone except Meghan, who qualified for the state tournament there as an 8th grader. "The front nine were pretty easy," said Brittany. "That was flat. The back nine were a different story!"
"Yeah, climbing those hills to get to the last three tee boxes!" added Ashley.
The Honkers generally liked the course, even though one hole had to be changed from a par four to a par three to accommodate the wet conditions. "It was nice weather for golf," Macie said. "It wasn't windy, and it didn't rain or snow!"
The Kenmare team also drew on literally years of experience from its players. Macie and Ashley began golfing at the Kenmare Country Club with their parents at the age of five or six. Alix also started golfing as a youngster, and she now describes the sport as her favorite hobby. Meghan learned to golf at the Kenmare Country Club with her grandparents 12 years ago during visits from her former home in Minot.
Brittany
is a relative newcomer to the sport. "I started in seventh grade," she said. "I wanted to do a spring sport and I wasn't a runner. I'd only golfed once or twice at that point!"
Team members thanked their parents for support during the season and especially at the state tournament, attended by all the players' parents except for one who was on call at Kenmare Community Hospital those days.
Even as the Honkers knew they'd improved their scores and stayed competitive on the second day, the final verdict wasn't released until the scores were added and re-added several times. In fact, the team didn't return to Kenmare until nearly 11 pm June 2nd because of the delay in announcing the tournament results. "Ashley's dad and my dad were sitting there, adding numbers," said Macie.
"They had every scenario figured out," said Coach Essler.
"I was nervous," Meghan said as she described waiting for the last golfers to turn in their scores and for all the calculations to be finished. "I walked back and forth and around the picnic tables!"
In fact, even as each of the 18 teams in the tournament realized the Honkers had edged Central Cass, the announcer first read his card wrong and called Kenmare to receive the runner-up award, only to be corrected by Coach Essler.
All the players admitted to being excited about the victory, although they stayed calm as they received their plaques and the team trophy. Newcomer Alix was delighted she could help the team. "I'd heard what they'd done in past years," she said. "They made it a lot of fun for me!"
Hazen was the clear tournament favorite, which left the Honkers to do their best work. "Hazen was the team we heard the most about," said Meghan, "We came in and thought, 'Let's just do what we do and show everybody.'"
The Kenmare girls' strength is their team balance. "We're consistent all the way through," said Coach Essler, who has worked with the team for seven years. "We didn't win with one super golfer. We won with five who were right in there. We had one in the top 10 and the rest are all up on the top page. When someone had a poor round, someone else picked them up."
Meghan agreed as she listed the first day's scores again. "On the second day, we had our balance back, which helped," she said.
"You've always got to have a little luck, too," added Coach Essler, with a smile.