Thanks for reading some of the latest features about area people and events.
To view every page and read every word of The Kenmare News each week,
subscribe to our ONLINE EDITION!
Grain bin rescue equipment donated to Berthold Fire Dept.
"Time is of the essence," Dale Ekdahl told members of the Berthold Fire and Rescue Department and employees of Berthold Farmers Elevator as they prepared for a grain bin rescue training session at the elevator last Wednesday.
3/21/12 (Wed)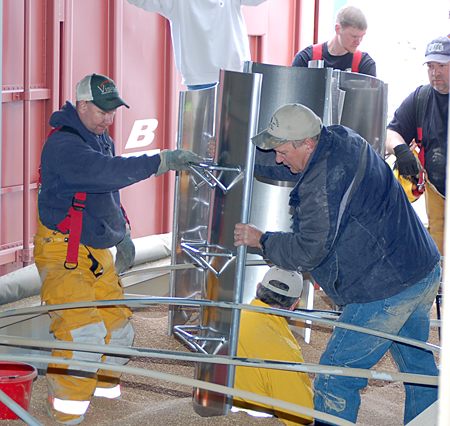 Grain bin rescue training . . . Outstate Data manufacturer Dale
Ekdahl, right, sets the first panel of his grain bin rescue tube
equipment in place behind victim Joel Rademacher while members
of the Berthold Fire Department prepare to add more panels to build
a tube so Rademacher can dig himself out of the grain and escape.
Ekdahl conducted a training exercise with the firefighters and
Berthold Farmers Elevator employees last Wednesday after BFE
donated the equipment to the fire department.
By Caroline Downs
"Time is of the essence," Dale Ekdahl told members of the Berthold Fire and Rescue Department and employees of Berthold Farmers Elevator as they prepared for a grain bin rescue training session at the elevator last Wednesday.
Ekdahl looked up at the grain truck filled with wheat and parked in the elevator's unloading dock, with light winds, bright sunshine and temperatures in the mid-50s. "These will probably be the easiest conditions you'll ever have, if you do have to do a rescue," he said. "When you think about being inside a bin, it's going to be dark and dusty and noisy."
The 16 firefighters and elevator employees gathered to learn to use the grain rescue tubes sold by Ekdahl's company Outstate Data, based in Elbow Lake, MN. The tubes consist of interlocking aluminum panels, 18 inches wide by 5 feet long, with rungs attached to the outside of each panel as a ladder to enter the tube. One panel in each set also has rungs welded to the interior side for use by rescuers and the accident victim.
The panels are sold in sets of five and can pivot at the connecting points to build a structure in various shapes to accommodate a victim. Panels can be added to build larger tubes, providing space so two or more emergency workers can attend to a victim.
Berthold Farmers Elevator purchased two sets of the panels and a slide hammer for the local fire department, at a cost of $2000.
"This equipment is being donated for rescue or extractions of any of our neighbors or area producers," said Les Simons, BFE assistant manager.
The training session accompanies the equipment and while there was plenty of good-natured joking as the firefighters climbed into the bed of the grain truck, the men listened carefully as Ekdahl explained the cautions related to grain bin rescues. "There are a lot of reasons guys get buried," he said, listing augers, other health conditions and sudden shifting of the grain as examples. "One thing to remember is the pressure of the grain on the victim's chest. Every breath he would take would be shorter than the one before. That's why there's a time frame here."
Firefighter Joel Rademacher volunteered as the first victim, still conscious but partially buried in wheat and unable to move. Ekdahl used the situation to discuss the need to check vital signs and stabilize the victim, as in any emergency response.
He also asked the firefighters to think about the physics of stored grain. "You have to consider the slope of the grain here," he said, adding that rescuers should use plastic milk crates in the bins to provide stable footing on the slippery surface. "If there are too many people going into the bin and causing more grain to slide, you'll end up covering your victim. About 50 percent of the time, the people who go in to help victims buried on family farms end up being a victim, too."
With Rademacher buried above his waist in grain, Ekdahl started the rescue with the first panel set into the grain directly behind and as close to him as possible. Four more panels were added, each one sliding into the groove of the adjoining panel until the final panel locked in place with the first one. Firefighters then used a specially-designed slide hammer to pound each panel deeper into the grain, below Rademacher's knees, until the tops of the panel were level.
At that point, plain plastic buckets were handed to the victim in relay fashion, and Rademacher scooped wheat out of the space until he could climb up the interior ladder of the tube.
Ekdahl recommended the rescuers be prepared with at least two buckets, a grain shovel, rope or strap, blanket, face masks, hard hats and ear protection, keeping in mind they would share some of those items with the victim. He also suggested the firefighters wear their self-contained breathing units to perform a rescue in a bin.
The training session featured two other accident scenarios, including an unconscious victim and a victim whose legs were bent at angles. In both cases, rescuers used a broom handle to locate the position of the victim's arms and legs before setting the first tube panel in place. The firefighters also built larger structures with the panels that allowed one or two people to enter the tube, check the victim, and relay out the grain before removing the victim from the scene.
Ekdahl is serious about training others to use his grain bin rescue tubes. He worked as a grain elevator safety consultant before retiring to manufacture this equipment.
"We dealt with the confined space issue all the time," he said. The concept of grain bin rescue tubes has been in place for about 10 years, he explained, but the deaths of an adult farmer and a 13-year-old boy in separate accidents in his own county spurred him to consult with local fire chiefs to design equipment that could be adapted to a variety of situations.
The Outstate Data grain bin rescue tubes have proven popular with emergency personnel in several states, including Washington, Idaho, Montana, Nebraska, South Dakota, Indiana, Michigan, Wisconsin and Iowa, as well as Minnesota and North Dakota. The tubes are designed to be effective with all types of crops, including corn, soybeans and cereal grains.
Ekdahl stays concerned about bin safety because bin size continues to increase. "As a kid, we had 1000-bushel bins," he said. "That means an avalanche in there would be about 30 bushels. Now, it's 100,000-bushel bins. That's why there are more deaths."
Sharon Mollerud, who serves as BFE safety coordinator, agreed with Ekdahl about the risks posed by larger bins. "We've heard about more grain bin accidents lately and thought it was a good piece of equipment for the local community to use," she said. "You just never know."
Berthold Farmers Elevator has not had to conduct a grain bin rescue operation, and Mollerud wants it to stay that way at the elevator as well as farms in the area.
"Be safe when you go into your bins," she advised producers.
Berthold fire chief Richard Blahut said several volunteers with the department have been trained in grain bin rescue operations at the state fire school, but the donation of bin rescue tube equipment from Berthold Farmers Elevator was a proactive plan and a welcome gift. "It's always good to add pieces to the puzzle," he said. "This is another tool you don't want to have to use, but you're happy to have."
He noted the partnership with the elevator. "They approached us with the idea for this equipment," he said. "This is an example of area businesses working with EMS to provide the best response possible, and we'll be working with our mutual aid partners on this."
Anyone with further questions about the grain bin rescue tube equipment is welcome to contact Blahut at 701-833-5734.
"The department certainly appreciates when donations are made," he said, "whether it's monetary or equipment."