Thanks for reading some of the latest features about area people and events.
To view every page and read every word of The Kenmare News each week,
subscribe to our ONLINE EDITION!
KHS junior gets his chance to compete for the fans
Chad Perry, a junior at Kenmare High School, is one of the biggest fans for any Honkers' sport. He can be seen at the home events, cheering teams from seventh grade through the varsity level, but his physical condition prevents him from wearing one of the maroon and gold uniforms on the court, field, mat or track himself.
3/21/12 (Wed)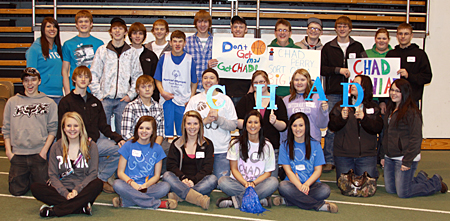 Chad-mania . . . Chad Perry is well-known for beind a dedicated Honkers'
sports fan, but his classmates and friends showed up in Minot on March 9th
to cheer his team in the state Special Olympics basketball tournament.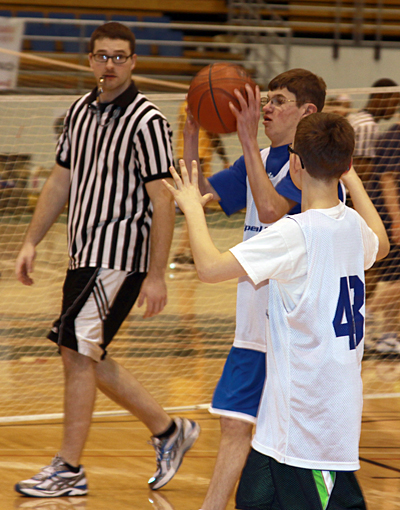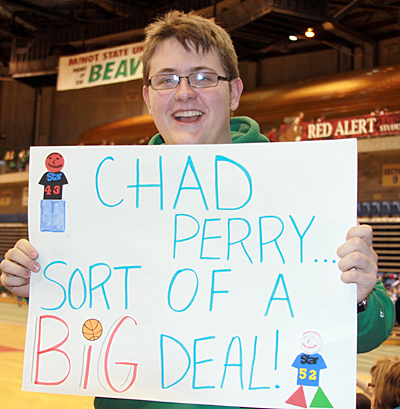 By Caroline Downs
Editor's note: Chad Perry's comments are quoted directly as he voiced them, in accordance with his wishes and the request of Kara Smalls, his teacher at KHS.
Chad Perry, a junior at Kenmare High School, is one of the biggest fans for any Honkers' sport. He can be seen at the home events, cheering teams from seventh grade through the varsity level, but his physical condition prevents him from wearing one of the maroon and gold uniforms on the court, field, mat or track himself.
Instead, he put on the blue uniform of the Bismarck Thunder Special Olympics basketball team and competed March 9th and 10th at the state tournament held at the Minot State University Dome, where his team finished in fourth place and where his friends and classmates turned out to cheer him for a change.
"Fun," Chad said, with a huge smile as he recalled the signs waved and T-shirts worn in his honor those two days.
A good move,
from Idaho to Kenmare
Chad arrived in Kenmare with his mother Tami in November 2010 to join his father Mike, already employed in the North Dakota oil patch. The family moved from Midvale, Idaho, where they owned a small ranch and raised Angus cattle. "We were in construction there for 30 years and owned our own business for 16 years," Tami said.
Changes in the economy forced the couple to relocate. Their two older sons stayed in Idaho, but Mike found work in North Dakota. "At age 50, we found ourselves starting over," said Tami.
She and Chad ran the ranch for the first year Mike worked his new job, but the couple found a house to purchase in Kenmare and took the risk to move Chad to a new school.
The decision didn't come easily. Chad was born with trisomy 8 mosaicism, meaning that several types of cells throughout his body have three copies of chromosome 8, while others have the normal two copies. The Perrys knew nothing of his condition until he was born, two months early. "He was in a coma, with no heartbeat and he wasn't breathing," Tami said about Chad's birth. "The doctors expected him to be brain-dead."
Because of her own health complications with the birth, Tami was unable to hold or even see her son for four days. "My only sister took over," she said. "She sat and sang to him for six hours until she lost her voice. Then he woke up."
There were further problems with Chad's spinal fluid not draining, resulting in a cyst on the back of his head, but after three weeks that situation was brought under control. He weighed three pounds at the time. "And it's been uphill from there," Tami said.
The family has handled Chad's circumstances, including a skeletal system impacted by the trisomy 8 condition, limited speech abilities possibly resulting from that first cyst, and various other health and developmental issues. "Cognitively, he knows everything and he's very social," Tami said. "He's just limited in how he can express it."
Chad has always been as active as his body would allow, riding horses and his four-wheeler in Idaho. He also helped his mother feed cattle during the year his father spent away from the family. "He drove the forklift and helped with moving bales," Tami said. "If I wouldn't have had Chad helping me, I couldn't have made it."
The move to Kenmare and Kenmare High School proved to be good for Chad, who made friends easily and literally greets each student by name as he walks the hallways. "And if you have a really special place in Chad's heart, he probably has a nickname for you," said KHS teacher Kara Smalls, with whom Chad spends much of his school day.
Chad enjoys his schedule at KHS, where he takes P.E. and horticulture classes in the morning before joining Kara Smalls and Joan Bodmer for core classes like English, social studies and math. He participates in the work co-op program through the school and works Tuesday and Thursday afternoons at Gooseneck Implement, where he handles everything from basic cleaning duties to complex parts inventory.
He enjoys sports, but has been limited in his ability to participate, so he's one of the most prominent fans for all boys and girls sports. "He was the water boy for football and the ball boy for the boys and girls basketball home games," Kara said.
"Help," Chad said when asked why he liked to participate.
He has responsibilities at home, too, which he enjoys. "Dogs out," he said about his black Labrador retrievers. "Two dogs."
He keeps a busy social schedule in addition to the school sports events. He likes movies at The Kenmare Theatre and sees most of the shows playing there on weekends. He attends Teen Night Out in Minot on many Tuesday evenings.
"Play games, watch movies," Chad said about the program. "My dad, too." The organization offers a variety of social and recreational activities for teens with learning or developmental disabilities.
He and his family are also considering joining the Dream Catchers program in Minot this summer, where he would play baseball.
Chad joins the Thunder
Special Olympics basketball is a new activity for Chad, although he competed in Special Olympics events in Idaho. "He was on the equestrian team there and would do the regional competitions," Tami said. "He won two gold [medals] and a silver on his horse, and he was pretty proud of that."
In order for Chad to join the Thunder, the Perrys drove him to practice at Horizon Middle School in Bismarck once a week, starting when the season began in January. "He's always had to sit and watch the other kids," Tami said. "His brain wants to play, even though his body won't let him. The more social stuff we can do for him, the better, and he feels great to be part of a group."
In an arrangement with KHS, Chad left school each Wednesday at 2 pm to travel to practice. "Then on Thursdays, he was allowed to arrive at school an hour later," explained Tami. The Thunder played some weekend games through the winter. "Mandan," Chad said. "Dickinson."
He worked with three coaches and accepted the blue and white jersey. "My jersey 54," he said.
For Chad, the easy parts of practice were the passing and dribbling drills. "Miss it, basket," he said about shooting, but he noted other players on his team were good at that, so he played the guard position most often. "My dad tell me, guard."
The Special Olympics state tournament in Minot was the culmination of the season, with teams competing from Grand Forks, Fargo, Belcourt, Jamestown, Dickinson, Mandan, Harvey and Valley City as well as Bismarck. Chad had his weekend planned around the event. "Friday game, Minot," he said. "Friday, Saturday, sleep in Sunday."
He was also looking forward to playing in front of his friends. "My parents here, good luck, Chad," he said. "My friends come watch me game."
Chad Perry fans in the Dome
Just the fact that Chad could run up and down the court this winter was a victory for him. "He's a kid who's had multiple surgeries in the past year," Kara said.
"Neck, back, leg," Chad added.
"Last April, they fixed his back in four different places, and he had two steel rods put in," said Tami, smiling as she added that her son was full of hardware. "Then, his right leg has been shorter than his left one, so they fixed that. He bounced right back, and he never complains."
His teachers, classmates and other friends at KHS supported his efforts on the Thunder basketball team and prepared a wall-sized sign wishing him well at the state tournament, with nearly every person in the school signing his or her name and adding a "good luck" message for Chad.
He expected some of his friends to watch him play in Minot, but he was unprepared for the sheer number of students who showed up waving signs and wearing T-shirts with his name written across them. "Some kids stay school," he said. "Lot kids out school."
In fact, KHS English teacher and class advisor Stephanie St. Croix made arrangements with principal Robert Thom for the junior class and a few other students to spend that Friday at the MSU Dome, cheering Chad's team and volunteering their time to keep score for other games during the tournament.
"They like to do a couple of service projects each year," Thom said. "They accomplished two things in one trip, by cheering for Chad and helping with the tournament."
"Chad didn't know all the kids were coming," Tami said, adding that he got excited when they all walked in together, along with several members of Kara Smalls's family in Minot. "It was the talk of the arena. The state director for Special Olympics came and talked to me afterward and said that's the story of the day, to have so many members of his class involved."
Chad had a fan section the next day as well, including a few KHS staff members along with former KHS athlete Katie King and members of her family. "That was a big deal for Chad," said Tami. "She made a special trip from school in Williston. He said, 'My friends happy.'"
Kara Smalls agreed with Chad about making his friends happy. "The Junior Class has really accepted him as one of their own," she said.
Chad nodded as he listened to his teacher talk about his participation in the class meetings, fund-raisers and concession sales. "And he goes to the prom," Kara finished.
"Late, late, four o'clock in the morning," added Chad.
Kara continued, "Chad is a student who has brought so much light to this school. He's taught us way more than we've taught him."
The Perrys appreciate the way Chad has been welcomed to Kenmare and the school. "We're just very grateful for the community support with Chad," Tami said. "If things hadn't gone so well for him at the school, I don't think we could have stayed here."
As for Chad, he said he was happy to see his friends, but he stayed focused on his team's basketball games and kept track of his own statistics for the tournament, including a pushing foul called on him. "Friday, one point," he said. "Saturday, two baskets, four points, one foul."
And the schedule didn't wear him out for Sunday as much as he anticipated. "Got up nine o'clock," he said. "Not sleep in longer."
Chad enjoyed his season with the Thunder, with the support of his Honker friends, and he hopes to play Special Olympics basketball again next year.
"Thank you," he said. "People watch me games."