Thanks for reading some of the latest features about area people and events.
To view every page and read every word of The Kenmare News each week,
subscribe to our ONLINE EDITION!
Ward County Library and Kenmare Branch have new administrator
Ward County Public Library's new administrator Kerri Tyler has come home to her job.
3/21/12 (Wed)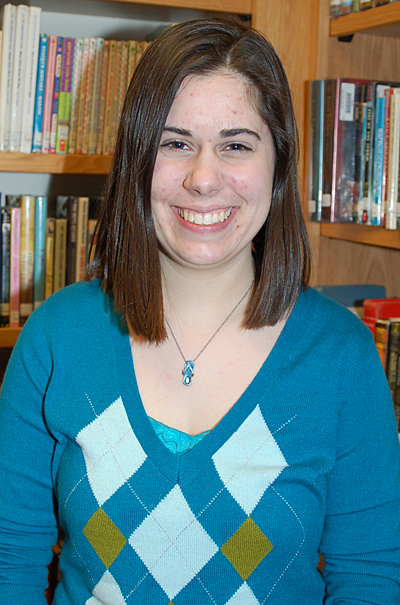 A true North Dakota librarian . . . New Ward County
Public Library administrator Kerri Tyler, originally from Lansford,
welcomes people from around the county to the library's
Kenmare and Minot locations, as well as to the bookmobile.
By Caroline Downs
Ward County Public Library's new administrator Kerri Tyler has come home to her job.
"I enjoy being back in North Dakota," she said during a visit to Kenmare for the library's board meeting March 13th. "It's probably my favorite place on earth."
Tyler grew up and graduated from high school in Lansford, where her parents and one brother and his family still farm. She earned a bachelor of science in middle-level and elementary education at the University of North Dakota, then moved on directly to graduate school.
"I decided I wanted to do more for kids outside of the classroom," she said.
She earned a master's degree in library and information science in December from St. Catherine University in St. Paul, MN. On January 3rd, she started her position overseeing the Ward County Library, Kenmare Branch Library and bookmobile.
"We feel like a small town library here," she said. "It's a true North Dakota library."
Tyler, who lives in Minot, traces her interest in books and reading to her childhood. Her school librarian in Lansford, Mrs. Rudd, had a particular influence in her life. "She also worked part-time in Mohall," Tyler said. "She was friendly, she was nice, and she brought books from Mohall for me to read. We had a great library."
Tyler has her own great library now, and she is delighted with her career choice. "I think being in the library and being around people is more exciting for me than being in the classroom," she said. "I like working with the people around me and the patrons."
She wants to increase traffic at the Ward County Library, and she especially invites residents throughout the county to come in and explore the variety of materials available for their use. "I'd like to get the library to the point where it's more accessible to people who don't know about it," she said.
She has already worked in Kenmare to assist Kenmare Branch librarian Pauline Nielsen with preschool and elementary classroom activities to commemorate Dr. Seuss's birthday, and she looks forward to additional visits. She is also anticipating the summer reading program for children throughout the Ward County communities.
"I remember doing that as a kid," she said. "I'm excited to see how it will go."
The plans for the summer's "Dream Big Read" program include performances by the Groove Club kids' entertainers in both Kenmare and Minot on June 4th, along with several other activities at both libraries and on the bookmobile until the program ends July 30th. "People can talk to Pauline in Kenmare for more information or contact us at the Ward County Library," said Tyler, "and the ladies on the bookmobile will have information about the reading program closer to the summer."
Tyler is an avid reader herself, of course, and points toward historical fiction and supernatural romance as some of her current favorites. "I read a variety, though," she said. "It depends on the mood that I'm in."
She recognizes the library's patrons have similar reading and resource needs, and she wants to hear from residents young and old across Ward County regarding selections for books and other materials.
She invites patrons to stay informed about events and activities at the two libraries and on the bookmobile by following Ward County Library on Facebook and Twitter. Information can also be found online at www.co.ward.nd.us/library, or by calling the Kenmare location at 701-385-4090 or the Minot location at 1-800-932-8932.
"If anyone has comments, questions or concerns, call me," Tyler said. "And please tell me what you'd like to see here. That's what I want to know."