Thanks for reading some of the latest features about area people and events.
To view every page and read every word of The Kenmare News each week,
subscribe to our ONLINE EDITION!
Garden Grove Farm opens for lodging
If you need lodging for your deer hunt in northwestern North Dakota or you're looking for a comfortable retreat setting, consider Garden Grove Farm, located 16 miles northeast of Kenmare.
10/28/09 (Wed)
If you need lodging for your deer hunt in northwestern North Dakota or you're looking for a comfortable retreat setting, consider Garden Grove Farm, located 16 miles northeast of Kenmare.
The area's newest site for accommodations is a family venture by Betty Johnson of Kenmare, daughter Barb Scherbenske of Kenmare and son Ron Johnson of Mohall. "It was just sitting here," said Barb, "so my brother and I thought maybe we should try a hunting lodge."
She continued, "Our family home was built by my father and grandfather. Mom and Dad lived in it for 35 years before retiring to Kenmare. Now, we'd like you to enjoy it, too."
To welcome guests, Garden Grove Farm features three bedrooms and a full bathroom. The large dining and kitchen area is equipped with a stove, refrigerator, microwave, coffee maker and toaster, with pots, pans and various utensils available.
A spacious living room is made comfortable with sofas, lamps and end tables, and a bookcase stocked with an extensive collection of Louis L'Amour paperback novels. A few original landscape and wildlife paintings by Barb are exhibited on the walls, available for sale. "It's easy decorating for hunters," she said, with a smile.
Several beds and one sleeper sofa allow up to nine people to sleep comfortably.
Deer and waterfowl hunters coming to the area will appreciate the two-car attached garage with a freezer, a half-bath for washing up, and space for hunting dogs to sleep. Barb has even set up an place outdoors with running water and a table for cleaning game.
Bedding, towels and paper products are furnished, along with heat and rural water. The smoke-free home offers peace and quiet, with no connections for telephone, Internet or television, although a VCR is set up to play videos.
Guests at Garden Grove Farm will immediately notice the extensive cupboards in the kitchen area and closets in the bedrooms, all built by the late Mel Johnson. "My dad was a carpenter, and my mom had years to plan this," said Barb. "It's such a pretty place, so hopefully other people will enjoy it."
She paused and laughed. "It's got to be somebody who likes solitude, though."
The house will be open to guests year-round, including the winter months for quilting, scrapbooking or other types of retreats. "In the summer, I could family get-togethers out here," said Barb.
Farm dates back to 1900
One wall in the kitchen features a bit of the farm's history, including a photo dated 1909 showing the original house, outbuildings and windmill, and an aerial picture of the farm taken in 1968 when Mel and Betty Johnson received a Soil Conservation Award.
The farm has been in the family since 1900, when Mel Johnson's grandfather Lars Edwardsen arrived to file a homestead claim in Fairbanks Township and build a house on his new property. His wife Anna Marie and their children came then from their previous home in Sleepy Eye, Minnesota, filling a boxcar with all their belongings as well as enough lumber to build a barn for the new place.
Later, the Edwardsens' son William, a bachelor farmer, took over the farm until his death in 1952. Because he left no will, the farm was put up for sale, and Mel's parents Johannes and Ida (Edwardsen) Johnson purchased it, although they lived and farmed in Rockford Township at the time.
Mel and Betty moved to the Edwardsen homestead in the fall of 1954 to raise their family and farm until Mel rented out the fields and worked full-time in his carpentry shop.
According to Betty Johnson, her husband Mel came by his passion for trees naturally, with family stories about trees planted by his grandfather Lars and about his grandmother throwing out chokecherry seeds to start new bushes. "We have chokecherries growing all over that farm," said Betty.
When Mel and Betty moved to the place, many of the original trees planted by Lars were dead or dying. "We replaced them with shelterbelts," Betty said, adding that they planted some directly and others with the help of local conservation and wildlife agencies, including a semi-circular plot of 18 rows of trees that had to be hoed and cultivated on a regular basis.
Betty laughed as she described her late husband's interest in trees. "Mel was forever sticking trees in [the ground], after he'd pick up seedlings somewhere," she said. "He did love trees, and he liked working in them."
Lodging available now
Today, those trees harbor memories for Barb, along with a host of wildlife that visitors are likely to see, including deer, foxes and coyotes, raccoons, pheasants and several types of songbirds. "We have apples, pears, chokecherries and plums around the yard," said Barb.
The apple trees suffered a little damage earlier in the summer, courtesy of a young bull moose named Morris by Barb and her husband Al, who also tend a large garden on the property. "We've seen him for the last two or three years, or at least his tracks," said Barb as she pointed out the broken branches "attacked" by the animal.
To catch a glimpse of Morris, walk among the trees, or enjoy a quiet night's sleep at Garden Grove Farm after a day of hunting on the prairie, reservations can be made by contacting Barb at 701-385-4412 or bscherbe@gmail.com. Individual and group rates are available.
Additional information can also be found online at gardengrovefarm.webs.com.
Garden Grove Farm has been licensed as a hunting lodge--accommodations only--by the First District Health Unit and the State of North Dakota.
"We hope to meet some new people," said Barb. "We hope we make a good impression so we can keep it going. Let our home be your home, for a while."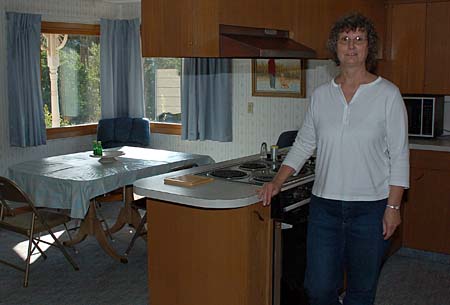 Hunters and other guests welcome . . . The kitchen and dining
area at Garden Grove Farm are set up to accommodate hunters,
family gatherings or retreat weekends. Hostess Barb Scherbenske
invites inquiries about individual and group rates at her family's
farm, northeast of Kenmare.