Thanks for reading some of the latest features about area people and events.
To view every page and read every word of The Kenmare News each week,
subscribe to our ONLINE EDITION!
Eating ribs, riding hogs and cruising classics
A distinct rumble could be heard from the streets of downtown Kenmare late Saturday afternoon as classic cars and gleaming motorcycles arrived in town for the annual Classy Car and Hog Roundup.
6/23/10 (Wed)
A distinct rumble could be heard from the streets of downtown Kenmare late Saturday afternoon as classic cars and gleaming motorcycles arrived in town for the annual Classy Car and Hog Roundup.
This popular event attracted drivers from Powers Lake, New Town, Ross, Surrey, Tioga, Bowbells, Donnybrook, the Carpio-Berthold area and Minot. Several members of the Dakota Cruisers club from Minot made the trip, while other individuals polished their rides and put them on display for the public.
The west side of the downtown square was transformed into a parking center for the exhibit, as a few hundred fans of all ages looked over the vehicles and motorcycles and chose their favorites.
More than 30 cars and trucks were parked for the show. The oldest models dated back to 1929, with DuWayne Gilseth sponsoring the appearance of a shiny Ford Model A Sport Coupe owned by his uncle Terry Roberts of Minot. Oliver Skinningsrud showed his 1929 Ford Model A Roadster, still sporting the original hunter green paint job and black running boards.
A Ford vehicle also proved to be the newest car in the show, with Jerry Black and Linda Black parking their white 2007 Mustang convertible in the display row.
A few Kenmare drivers brought out their treasures, including an ivory 1976 Lincoln Continental Coupe owned by Troy and Stacie Hedberg parked next to the ivory 1976 Cadillac Coupe DeVille owned by Dennis and Lane Schock.
Jeff Davis had a "for sale" sign on his canary yellow 1967 Ford Fairlane. Jamey Brown showed a 2000 Chevrolet 1500 quad-cab truck with a Grand Prix Harley Conversion, sporting the license plate LIV2RYD. He also parked a black 1997 Pontiac Freebird with the plates 1RARBRD.
Stan and Linda Freeman polished up their 1976 Corvette Sting Ray, which Linda admitted was a treat to drive.
Fans also hovered around the row of motorcycles, looking over the bikes and asking questions. Of the more than 20 motorcycles displayed, 15 of them were Harley Davidson models.
Tyler Anderson had the newest bike on the block with his 2010 Honda CBR 600. Local rider Tom Lang drove his unusual 2002 Roy Enfield Bullet downtown.
The oldest bike in the Hog Roundup, owned by Joe Haeg, was an undated Harley Davidson Rat painted aqua and decorated extensively with worn leather fringe and a bit of red pom-pom trim around the bottom. Hand lettering on the front fender read, "Thank you, troops, for protecting our right to live free, to live the high life."
Trophies were awarded in the show, with a pair of judges and the public making their top selections.
Doc Kessler's Harley Davidson earned the judges' prize for the top motorcycle, while Duane Dockter claimed the people's choice award with his bike.
For the cars, Neil Olson's 1959 Chevrolet Impala convertible received both awards, much to Olson's surprise.
Stan and Linda Freeman organized the Classy Car and Hog Roundup, with Ronda Zeltinger serving as the coordinator for all of the evening's events.
1929 Model A
arrives as a gift
Nearly every owner can tell a great story about his or her vehicle, but Skinningsrud garnered a little more attention with the label hanging on his 1929 Model A stating the truck previously belonged to celebrity Peter Fonda.
Skinningsrud explained the truck was originally purchased from Fortner & Loud in Pasadena, CA, by Cal-Tech University. Staff at the college used the Ford for years to haul shrubs and flowers to plant around campus. "Universal Studios got a hold of it and had it in a glass case for display," Skinningsrud said, adding that Fonda eventually purchased the truck through a connection he had at the studio.
Skinningsrud became acquainted with Fonda through motorcycle rides organized to benefit the Muscular Dystrophy Association. "We used to host the MDA rides at the farm," he said. "Some 700 or 800 people would come." Fonda, who lives in Livingston, MT, attended the 1990 ride at the Skinningsrud farm and befriended Ole and his older brother Paul.
The 1929 Ford arrived as a gift to Skinningsrud after Paul's death later in 1990. "When my brother died, Peter felt so bad," said Skinningsrud. "He wanted to give me the truck to build up my spirits."
Skinningsrud accepted the gift. "I used to haul plants to the cemetery in it, then I'd call Peter and tell him," he said with a smile.
The truck has 32,000 original miles, but Skinningsrud doesn't drive it any great distances these days. "We hauled it up here for the show," he said. "You can go 25 to 30 miles per hour on the highway, and people get upset."
He appreciated the response from the crowd. "There are so many who are interested in it, and I don't take it too many places," he said.
When he arrived in Kenmare, he parked the trailer with the truck in space available at Ernie Lehman's shop. "A couple involved with the Denali Wind Farm live across the way there and they were so interested, so I gave them a ride," said Skinningsrud.
Then he grinned. "I was picking up chicks when I first got here tonight," he said. "That's pretty good!"
Rib Rally serves
over 200 racks
Of course, visitors at the Classy Car and Hog Roundup could enjoy their supper downtown, too, as six teams served up their best grilled recipes in the Third Annual Rib Rally.
According to event organizer Jamie Livingston, more than 200 racks of ribs were cooked in the park that afternoon, and the Kenmare FFA chapter sold sides of beans and salads to accompany the meat. The Kenmare Theatre offered fresh grilled hamburgers and hot dogs, along with popcorn. "We had plenty of food at the park," said Livingston, "Some teams sold ribs until the park was empty that night."
Town & Country Credit Union sponsored a team with Troy Hedberg, Ron Jensen, Josh Cook, Ryan Ones and Eric Sieg tending the grill. Space Aliens Grill & Bar smoked ribs at their restaurant in Minot, then set up shop temporarily in Kenmare. "We heard about this on the radio," said Mike Kelly, one of the business's managers. "We thought it would be a great opportunity to showcase what we do every day."
Tracy Thelen and Penny Sigloh made their first appearance in the Rib Rally as the Grill'n Granny's, complete with rocking chairs. "We've been here since noon," said Sigloh as she checked ribs sizzling on the team's grill. The "Granny's" also tempted customers with fresh homemade bread, zucchini bread and deer sausage.
Third place in the Rib Rally, as chosen by a group of anonymous judges, was earned by Four Fat Guys and a Grill, including Lance Kalmbach, Livingston, Rick Harris and Larry Nore. "I'm Fat Guy #4 because I'm the lightest!" Nore declared as he sold ribs to a hungry customer.
Second place went to "Okie Ribs," sponsored by Farmers Union Oil. Chef Roger Matthews, along with Tina Zietz, served up Matthews' spicy ribs. The team also won the Rally's Best Theme award with their red, white and blue decorations and costumes, including a sequined necktie worn by Zietz's spaniel Emily.
The best ribs of the evening, according to the judges, were cooked by Dr. Eric Ganes, Jerry Mickelsen and Courtney Seime. "The first time we entered was last year," said Ganes, who was modest about the first place trophy. "We just used a pair of Webers and bought all our supplies locally!"
The Kenmare Rib Rally and Classy Car and Hog Roundup is sponsored annually by the Kenmare Association of Commerce.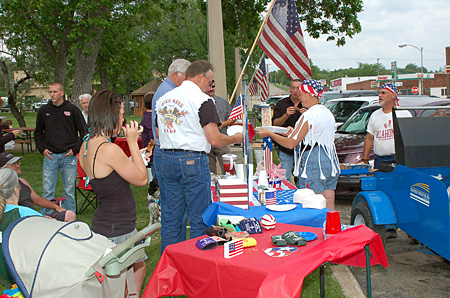 Okie ribs . . . Hungry diners flock to the "Okie Ribs" table,
sponsored by Farmers Union Oil. Roger Mathews mans the grill
to protect his secret blend of spices while
Tina Zietz sells plates full of ribs to customers.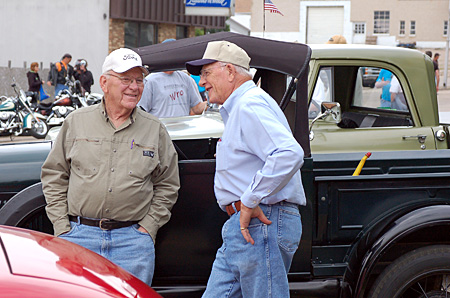 Ole Skinningsrud and Dennis Schock discuss
good old cars from the good ol' days.