Thanks for reading some of the latest features about area people and events.
To view every page and read every word of The Kenmare News each week,
subscribe to our ONLINE EDITION!
More wild weather
Last week's wild weather made an impact as plans to spray fields, play baseball or even pull weeds gave way to severe thunderstorm and tornado watches and warnings.
6/30/10 (Wed)
Last week's wild weather made an impact as plans to spray fields, play baseball or even pull weeds gave way to severe thunderstorm and tornado watches and warnings.
The forecast called for unsettled conditions toward the end of the week, with most residents in the Gooseneck of Ward County and surrounding townships seeing plenty of action Thursday night. Clusters of thunderstorms rolled through the area in the evening, spawning several funnel clouds and dropping various amounts of moisture through the night.
The official North Dakota Agricultural Weather Network (NDAWN) site recorded only .70 inches of rain at Berthold that night, along with .65 inches at the Bowbells site, but Delmer and Shirley Christensen of Kandiyohi Township recorded 2.5 inches at their home, along with hail that measured two and a half inches across and piled to six inches deep on the north side of their home. "Good thing that door opens in instead of the other way, or we couldn't have gotten out!" Delmer said.
"At about two o'clock Friday afternoon, I swept the ice and leaves off the deck," said Shirley. "There's no more garden, unless it comes back."
The Christensens spent Thursday running errands in Minot, then stopped in Kenmare to meet friends for supper. They returned to their farm about 7 pm with intentions to pull weeds in their large garden, but some random thunder and lightning convinced them to stay indoors. "About 8:30 pm, the storm came, and I swear it was all over the top of the house," Shirley said.
"I've lived on that farm all my life, and I've never seen hail like that," Delmer added.
They watched the storm from the safety of their home, with plans to hunker down in the first-floor bathroom if conditions worsened. By 9 pm, when the hail and rain passed, they ventured outdoors to check the damage, see what they could salvage, and collect some hailstones.
The storm casualties were extensive: one broken window pane in their house and two at Delmer's mother Ruby's house, two campers parked outdoors with all the top vents broken, the driver's side of a 2001 truck parked in front of the garage pounded, paint gouged from the siding on the houses' north sides, shingles strewn around the lawn from Ruby's place, and more. Shirley described how the two evergreen trees in the yard were nearly stripped of needles, which laid in thick mats on the grass. Even the top of the Christensens' trusty rain gauge was broken.
"Anything plastic or glass, of course, like planters, was damaged," said Shirley. "There were more leaves on the ground than on the trees, and the rhubarb was shredded. The garden was absolutely white. It was devastating."
Cory Nelson's crop of peas planted in the Christensens' field next to their home was leveled by the storm, although the plants had been nearly a foot tall and were ready to bloom.
Shirley talked later with Harlan Nelson of Phoenix, AZ, who was staying at his brother Chet Nelson's cabin near the Christensen farm. Nelson had been in Kenmare earlier that evening and traveled home during the storm. "He said he couldn't see to drive," said Shirley.
Only a few yard lights were broken in Nelson's yard, and Shirley said relatively little other damage occurred in the township. In fact, a quarter mile west, across the Ward and Burke county line, a durum field was untouched.
Shirley chuckled a little over the irony of the flattened daylilies, peonies, and gladiolas in her flower beds and the rows of pulverized radishes and lettuce. "The last ten days or so, we'd been working on the flowers and the garden and the yard, getting it shaped up," she said, adding that several visits from family and friends have been scheduled for the summer.
She laughed again and said she'd already purchased new cucumber plants, but she had them stashed under the deck for now. "Every time I turn around, it rains again," she said.
As of Monday, the Christensens were waiting for a visit from their insurance adjustor. They photographed the damage to their property and vehicles, but left everything where it lay in its broken state, except on the new deck. "I couldn't handle it," Shirley said. "I had to sweep the hail and leaves off."
Although they expect the damages to total several thousand dollars, the Christensens were philosophical about their losses. "Nobody got hurt and the house is still standing," said Shirley. "What could you do anyway? If it's going to hail, it's going to hail."
Kenmare girls ball
teams caught in storm
Before the storm rolled over Kandiyohi Township, it wreaked havoc with travelers in northern Burke County. The Kenmare girls softball squads played games in Crosby that night, with the younger team headed home on U.S. Highway 52 when they ran into the storm about 7 pm. Assistant coach Jorgia Boehler was driving a 16-passenger bus in a caravan with parents of team members when wind and hail broke windows in the bus.
"They ran into the storm by Noonan, and pulled off the road between Noonan and Lignite," said Jorgia's mother Tawnya Gill, who reported the storm's track while talking to her daughter on the phone that night.
Jorgia also reported problems with hydroplaning on the wet roadway. The caravan resumed the drive home to Kenmare after the storm passed, with the players riding in various parents' vehicles to avoid sitting in broken glass.
The younger players returned to Kenmare about 8 pm, but the older team ran into another storm later that evening on their trip home. "I had to pull over in Bowbells," said coach Stacie Hedberg. "It was raining so hard the wipers couldn't even keep up with it."
Tawyna Gill had her own exciting moments that night, watching the storm from her house in Donnybrook. Funnel clouds formed in that area. "You could just watch it like it was a movie," she said. "And when those clouds came over, the streetlights turned on. It was so black."
Tornado warnings were issued Thursday evening for Berthold, Des Lacs and Burlington, with funnel clouds also reported in eastern Burke County.
Another round of storms were forecast for Friday, with one thundershower building up over the northern tip of Ward County and dumping a reported three inches of rain and some hail over a narrow area there. The NDAWN station in Bowbells reported a mere .02 inches of moisture for that date.
Kenmare's average rainfall for June is 3.22 inches. Totals as of Monday for June 2010 from nearby NDAWN sites include Mohall at 4.10 inches with rain 14 days during the month, Bowbells at 4.60 inches with rain 12 days and Berthold at 4.75 inches with rain falling 13 days. Several area residents have reported water in their basements. The sight of hoses extending from basement windows where sump pumps are at work has been common.
The area forecast calls for high temperatures in the 80s for the first week of July, with a mix of sunny weather and chances for thunderstorms.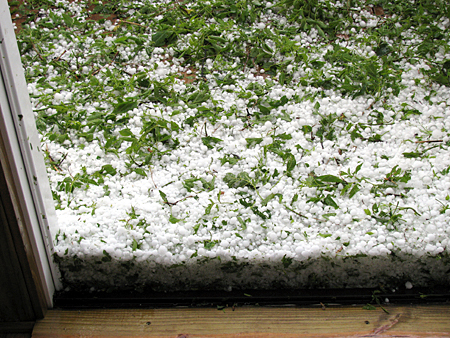 June, not January . . . Hailstones and leaves shredded from
trees in the Delmer and Shirley Christensen yard drift
against the north-facing door on the deck of the couple's home
after clusters of thunderstorms rolled over the northwest
corner of the state Thursday night.