Thanks for reading some of the latest features about area people and events.
To view every page and read every word of The Kenmare News each week,
subscribe to our ONLINE EDITION!
100-year-old Mabel Ekstrom recalls her father came to North Dakota to make his fortune
Longtime Kenmare and Bowbells area resident Mabel Ekstrom turns a hundred years young this week, and has been celebrating the occasion with the relatives and friends she holds dear in her life.
8/08/12 (Wed)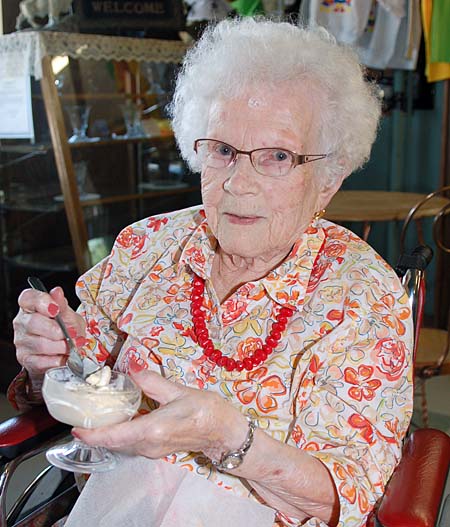 Finishing off her first century with a scoop of vanilla . . . Mabel Ekstrom
of Kenmare will turn 100 years young August 9th. She started celebrating
her birthday last week as relatives arrived from out of town, with several
family activities taking place through the weekend. Mabel herself enjoyed
this bowl of ice cream with two of her grandsons at the White Buffalo Soda
Fountain at Kenmare Drug to mark the occasion.
By Caroline Downs
Longtime Kenmare and Bowbells area resident Mabel Ekstrom turns a hundred years young this week, and has been celebrating the occasion with the relatives and friends she holds dear in her life.
She was born August 9, 1912, in Oconowoc, Wisconsin, the second daughter in a family who soon made their way west. "My father came to North Dakota to make his fortune," Mabel said. "We had a coal mine."
Her father actually left his family for a while as he explored land still open to homesteaders in this state. He settled his family first by the Missouri River, about 20 miles south of White Earth.
Mabel recalled attending country school about three miles from her home. "We didn't have school in the winter when it was so cold," she said. "Sometimes Mother used to take us with a team and buggy, but in nice weather we walked."
And while her father didn't exactly find his fortune, he did provide for the family by selling coal from his one-man operation. "The farmers used to come around with teams of horses from as far away as Tioga to buy their coal," Mabel said. "In the winter time, they'd come with sleighs."
Mabel adored her father and trailed around after him as a child, helping as she could. During the summers, the family tended a large garden, with her father selling produce at his coal mine to supplement his income. "I used to hoe the garden," Mabel said, "and we used to have a hand cultivator. I rode the horses and my father guided the cultivator."
She finished country school and attended high school in White Earth, living with a couple who owned a grocery store in town and working for her room and board. Mabel graduated in 1930 as the salutatorian of her class, but returned home to work after commencement. "We didn't have the money for me to go to college," she said.
Mabel's young adulthood in the late 1920s into early 1930s was marked by tragedy, beginning with her father's death. She and her mother moved into Stanley, where both women worked. Mabel did housework and also took sewing jobs. Her mother's death followed, and then her older sister died from scarlet fever, a young mother in her late 20s leaving behind three children.
Mabel continued working in Stanley, where Art Ekstrom breezed into her life one day. "He and another fellow had a date with two sisters," Mabel said.
The story goes that one of the sisters became ill and had to miss the date, and Art's friend knew Mabel, so he asked her to join them. The two became inseparable after that. "We went together for three years, though," Mabel said, "because we didn't have any money to get married."
The pair did marry in 1941 and remained devoted to each other for the next 65 1/2 years. With Art having nine brothers and sisters, the Ekstrom family welcomed Mabel, the coal miner's daughter, as one of their own.
Mabel and Art started their life together in the town of Niobe, where they took in her sister's children for a time. They were busy with neighbors and active in the Niobe Baptist Church, including hosting services on their front porch for several weeks while the actual church building was being remodeled.
Three years later, the couple moved to a farm four and a half miles north of Niobe in Burke County and lived there 50 years, where they raised their three children Merlin, Dick and Joyce, and welcomed other relatives and neighbors for decades of gatherings.
Mabel was a gracious hostess and could prepare meals with the best, but her heart remained outdoors. "I'd rather be out in the yard," she admitted.
She kept busy in that yard, mowing the spacious lawn herself, first with a push mower and later on a riding mower. She tended a large garden and grew strawberries and raspberries to preserve and share.
She watched birds and kept track of the songbirds that returned to her yard each spring, especially Baltimore orioles and meadowlarks. And she became noted for the flowers she grew, huge beds blooming close to the county road, greeting visitors to the farm with bright colors.
"I had petunias, zinnias, marigolds, sweetpeas, hollyhocks, nasturtiums, bachelors buttons," she recalled. "And peonies." In fact, she joined several of her neighbors and ladies living in Bowbells who participated in a garden club called the Gro-Belles of Bowbells. Mabel earned her share of ribbons at the annual flower shows.
Mabel liked to get away from the farm with Art, though, for fishing and hunting trips. The couple had fun fishing at the Missouri River, Smishek Lake, Powers Lake, Lake Darling and Round Lake in Canada. "We'd go fishing every place," Mabel said.
She also joined Art on waterfowl hunting trips. "Most of the time, I'd drive the car away when he'd lay down to watch for ducks," she said, adding that the family enjoyed eating the birds Art shot. "I just loved being out there."
Mabel and Art remained active in the Niobe Baptist Church until that church closed, then transferred their membership to the Baptist Church in Kenmare. Through the years, Mabel served as a Sunday school teacher, superintendent of the Sunday school and as a member of the Ladies' Aid group.
Mabel's love for flowers and color became even more significant beginning in the 1950s when she took her first oil painting lessons from Florence Nelson. Her passion for art became evident as she continued lessons during winter trips to Arizona and finished scores of pictures, many featuring garden scenes or landscapes. She continued painting for 60 years, until about five years ago. "I didn't have any place to set up [my paints] in here," she said as she indicated her room at Kenmare Community Hospital.
The Ekstroms' three children moved out of state, but trips back to the home farm with grandchildren and, later, great-grandchildren became important to Mabel and Art. The couple stayed on the farm until 1991, when they retained ownership but moved into Kenmare where they enjoyed new neighbors. Art passed away in 1996.
Today, with nearly a century of life experiences and memories, Mabel continues to appreciate those aspects of her life that have always brought her joy. Her room at Kenmare Hospital is ready to receive company with a comfortable chair, the walls decorated with photos of her family and flowers from her days at the farm. A handful of her favorite oil paintings grace other open spaces on the walls, and the blinds remain open for Mabel to enjoy the view until the afternoon sun swings around to warm the room and fade the colors in her paintings.
She celebrated her special birthday early over the weekend, with about 25 direct descendants and other nieces, nephews and former neighbors coming for the occasion. The festivities included a family gathering Friday night hosted by Bruce and Deanna Ankenbauer, a birthday party open house Saturday afternoon, golfing for the younger relatives, catered family meals, and a special Sunday supper for the family at the former Ekstrom farm, now owned by Bryan and Joy Ankenbauer.
Mabel shook her head a little at the fuss over a centennial birthday, but she had specific advice to offer about living so long and so well.
"Live a Christian life," she said. "Since I was a little bitty kid, my mother taught me Bible stories and I carried that through with my own children."
Anyone who missed Mabel's open house during the weekend is welcome to send birthday greetings to her at Kenmare Community Hospital, 317 1st Avenue NW, Kenmare ND 58746. She enjoys hearing from friends and family.