Thanks for reading some of the latest features about area people and events.
To view every page and read every word of The Kenmare News each week,
subscribe to our ONLINE EDITION!
Boats, decoy painting, safe shooting are all favorites of Greenwing Day
"I saw you litter," four-year-old Trevor Kreklau of Flaxton declared as he marched up to three "fishermen" in a boat resting on grass near the Des Lacs Lake.
8/08/12 (Wed)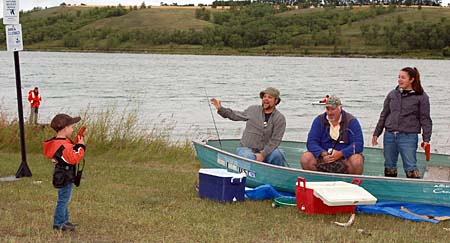 He's the law in these parts . . . Trevor Kreklau, left, finally
drew his fake firearm to convince three "fishermen" he was
serious about littering and other violations committed by
the group at the game warden station offered to kids
participating in the annual Greenwing Day
at the Des Lacs National Wildlfe Refuge.
By Caroline Downs
"I saw you litter," four-year-old Trevor Kreklau of Flaxton declared as he marched up to three "fishermen" in a boat resting on grass near the Des Lacs Lake.
Fortified with a badge, handcuffs, firearm and the law on his side, Kreklau continued his bold confrontation with the offending adults as he took part in the game warden scenario station at the annual Greenwing Day event held at the Des Lacs National Wildlife Refuge.
Eventually, he arrested the perpetrator, to the delight of the real wardens assisting the kids.
"He says he wants to be a cop when he grows up," said Trevor's mother, Julie Kreklau. "This is perfect for him."
The game warden station, with situations involving illegal fishermen and illegal duck hunters, was one of six activities offered to the youth at the refuge Saturday. Other stations included decoy painting, BB gun shooting, camping and two boating safety activities featuring small electric-powered boats the kids operated themselves on the lake.
Sixty-seven kids ages 3 to 16 registered for the day, with personnel from the U.S. Fish & Wildlife Service, North Dakota Game & Fish, U.S. Army Corps of Engineers, Kenmare GooseFest, Ducks Unlimited and Des Lacs Refuge Friends sharing their expertise, time and appreciation for the outdoors. The entire event was offered free of charge, thanks to generous sponsorships.
The kids learned everything from starting a fire with flint and steel to setting up a tent in 60 seconds. They practiced safe shooting skills and threw flotation devices out for water rescues. They checked waterfowl hunters for their licenses and harvest limits, they carefully painted the bodies, heads and wings of green-winged teal decoys, and they guided the boats around buoys on the lake, grinning the whole time.
"I love the BB guns," said Arand Bartlett, 8, of Kenmare, "because it's fun and I got two [shots] in the targets."
His sister Halley, 13, said she came along for the day with her dad and brother. She admitted to enjoying the game warden scenarios. "I liked arresting people," she said.
She wasn't the only one. Ten-year-old Brynlee Ganskop of Flaxton is a Greenwing Day veteran. "I like the game warden station because you get to tell people what to do," she said.
Dakota Petersen, 12, and his brother Dalton, 15, of Kenmare are two more longtime Greenwing Day participants. "We come to have fun and do the activities," said Dakota. "I learn stuff here, and it's good to know what animals are here [on the refuge] and what people do out here."
Dalton likes the educational aspect of Greenwing Day, especially for younger kids. "You get to learn new things every year," he said, adding that he picked up several tips that day from the camping station.
Kendra Stroklund, 8, has come to Greenwing Day before, but this time she made a new friend in Alysun Ingle, 8, who recently moved to the area from North Carolina.
"I liked the game warden station and BB guns," said Kendra.
Alysun, wearing a pink cowboy hat and matching pink boots for the occasion, bounced up and down beside her. "I'm having fun, making a new friend and shooting BB guns," she said. "I never got to shoot a BB gun before, and at the game warden station I picked up a dead duck for the first time!"
Two other first-timers included Gavin Gill, 6, and Nicholas Rasmusson, 9, both of Donnybrook. Gavin said his mother told him about the day, and he liked driving the boats. "I drove it around the far [buoy]," he said. "It was cool."
"I never heard of Greenwing Day before, but Gavin's mom said something about it," Nicholas said, adding that he liked the boating and camping stations best. "I really liked it, and I hope I can come next year."
Several parents and grandparents tagged along around the edges of the stations, taking photos and watching their kids enjoy these outdoor experiences. According to Janet Leet, longtime Greenwing Day committee member, participants also hailed from Hazen, Minot, Stanley, New Salem, Bowbells, Bismarck, Tolley, Carpio, California and Florida.
The day wrapped up with grilled burgers, T-shirts and doorprizes that would allow every kid to continue enjoying their outdoor experiences in some way.
Trevor Kreklau marched off with a new duck hunting game he chose when his name was drawn. His mother explained his older sister had one just like it at home, with about 100 tiny plastic ducks inside. "He loves it," she said, "and now he has his own ducks."
"Mom, can we open it now?" he asked, even as she steered him toward the family's vehicle.
For kids like Trevor who love the outdoors, life doesn't get any better than Greenwing Day on the Des Lacs refuge. Mark your calendars for the next one on the first Saturday in August 2013.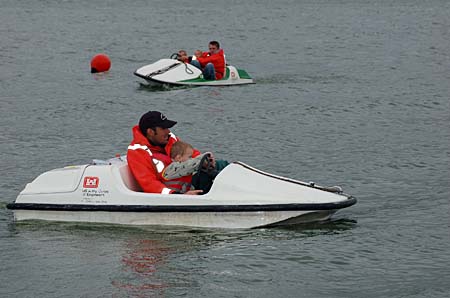 Boating on the Des Lacs Lake at Kenmare . . . Personnel with the
U.S. Fish & Wildlife Service and the U.S. Army Corps of Engineers
team up in a Greenwing Day boating activity on the Des Lacs National
Wildlife Refuge that allows kids to get a feel for the controls.