Thanks for reading some of the latest features about area people and events.
To view every page and read every word of The Kenmare News each week,
subscribe to our ONLINE EDITION!
Oregon contractor and his investors fall in love with Kenmare
Oregon contractor Ryan Blackwell drove to western North Dakota this past spring to assess the opportunities in the booming oil patch.
8/08/12 (Wed)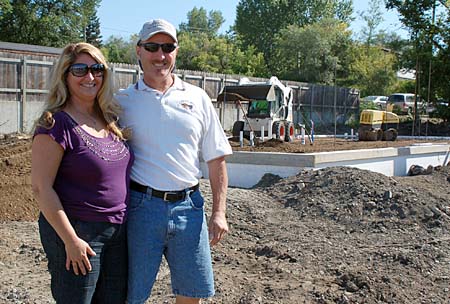 Blackwell Homes is helping Kenmare grow . . . Jackie and
Ryan Blackwell of Blackwell Homes in Medford, Oregon, have
launched a set of construction projects on six lots in Kenmare,
including this site next to BNC National Bank where a combination
of two offices and three apartments will be built. Ryan Blackwell
has relocated to Kenmare with several crew members, while
Jackie and the couple's two children stay in touch through
Skype and occasional visits to North Dakota.
By Caroline Downs
Oregon contractor Ryan Blackwell drove to western North Dakota this past spring to assess the opportunities in the booming oil patch.
Like many parts of the country, construction jobs in his city had slowed to a trickle.
Ryan had heard plenty about the need for housing in North Dakota's oil-producing counties, but he wanted to see the situation for himself before he actually worked so far from home.
Ryan is president of Ryan Blackwell Drywall, Inc. dba Blackwell Homes. Some of his longtime friends from Medford, Oregon, who are also investors in promising construction projects, decided to make the trip to North Dakota with Ryan.
"We drove around all the areas," Ryan said as he described touring various towns in the region, "and we absolutely fell in love with Kenmare. They asked if I'd be interested in running the whole project for them."
At this point, the "whole project" is a collection of six properties the group, TOGAAK, LLC, has purchased in Kenmare.
The purchase included three lots south of BNC National Bank on 1st Avenue NE, the lot on the corner of 6th Street and 4th Avenue NE, a lot on Central Avenue near Farmers Union Lumber, and the lot on the corner of 1st Street NW and 4th Avenue NW directly across from the hospital.
Ryan described the properties as "challenging," while longtime Kenmare residents might give less positive descriptions about the homes and yards nobody else seemed to want. A house on 1st Avenue NE was retained as living quarters for Ryan and his crew members, but demolition work was done on the adjacent lots to prepare the site for new construction. The lot along 6th Street has also been cleared, with the trailer house torn down, debris and trash hauled away, and basic dirt work completed.
"We're trying to better things in the community," Ryan said.
Doing business in
ND is a learning curve
The first work-in-progress can be seen taking place on the lot next to BNC National Bank, where the foundation is being prepared for a building with two offices and three apartments, which has already been approved by the city. "That's going up right now," Ryan said, "and in the lot behind that, we'd like to put in a three- or four-plex."
He emphasized that ideas for developing the other lots still need approval from the city, although Ward County has approved his request to construct two separate duplexes on the county road property. "One will face 6th Street and the other will face 4th Avenue," said Ryan.
He's proposing a four-plex on the lot across from the hospital, once the existing house is torn down, but he has no definite plans yet for the lot by the lumberyard. "That may end up as a single-family dwelling," he said. "Everything is pending."
Ryan started doing drywall work in 1988 and formed his own company the next year, successfully expanding into all aspects of construction. However, even with nearly 25 years in the business, his North Dakota projects have tested his experience.
"It's been a whole learning curve for me here," he said. "I'm trying to get contractors in the local community to bid the projects, but they're so busy I've had to seek help outside the area."
He noted he's had to wait four to six weeks to schedule subcontractors for various parts of the projects, much different from the one-week lead time he was accustomed to in Medford. "I think everybody here in this area agrees with me," he said about his frustration with the delays. "I have also had to bring in my own workers, who absolutely love it here."
Because of the wait times and demands for materials, budgeting for projects has created problems. "That's one of the hurdles of doing business here in North Dakota," Ryan said. "You can get the cost for something one month, and be ready to do that part of the project the next month and the prices have gone up."
As he's establishing connections with subcontractors and scheduling deadlines and delivery dates, his own project timelines have been delayed. Some of his crew members have hired on to help with the foundation of the west side square construction project downtown, although during the past couple of weeks work finally began on the Blackwell Homes office/apartment building near BNC National Bank.
"We're looking to have that completed within the next three months," Ryan said. "We know the element of surprise here will be the weather, but if it looks like we can start the duplexes [on 6th Street], we will this year. Otherwise, we'll have to wait until next spring."
So far, construction workers from Oregon and Idaho, handpicked for their skills, have joined Ryan in Kenmare, with more to come. "I will be bringing in our own electrician," he said, adding he's also lined up a plumber. "We're capable of doing everything from start to finish, from the foundation up. It's a crew of multi-taskers."
Blackwells enjoy
family-friendly community
Ryan's wife of 21 years, Jackie, and the couple's 17-year-old son and 12-year-old daughter stayed in Medford, where they maintain long-distance contact with Ryan for now. "This is another chapter in my life," Ryan said. "There's no money to be made at home and I wanted to do something different, but thank God for Skype."
Jackie, who fills several roles in the construction company including vice-president, design and decorating, general labor and some bookkeeping, did a great deal of online research about western North Dakota and Kenmare as the couple made the decision about Ryan's move. "We saw this as an opportunity," she said, "as a way for him to help people here [with housing] and to help ourselves."
She just made her second visit to Kenmare, bringing along their daughter for a first visit. Despite the separation, the family wants to remain based in Medford. "I was born and raised in the Rogue Valley," Jackie said. "My family's there, and it's where we want to raise our kids. This is a huge sacrifice for our family. He's not only my husband, he's my best friend."
She agreed with Ryan, though, about Kenmare's attractions. "There's a comfort here," she said. "It's going to be hard to leave."
"Kenmare's not stress-free," Ryan said, "but it does not give me the stress I have when I'm running projects in a fast-paced town. This is a lot like the town I grew up in, where everybody knew everybody. It's taken me back in time."
He continued, "People here have been absolutely wonderful and very open. Everybody has good stories."
The couple appreciated Kenmare's relatively peaceful and secure atmosphere. "The crime we hear about, what the boom has brought to other communities, we don't see that in Kenmare," said Jackie.
As a family, the Blackwells enjoyed visits to the city pool and a Sunday trip into Canada, which thrilled their daughter, who also befriended local girls near her age. Jackie met several of Ryan's new acquaintances including members of the Kenmare Country Club, which he has joined.
"We didn't just come here for a vacation, though," she said. "It was nice coming here for 10 days and getting out on a site to do a job."
While Ryan is seeing slow progress right now on the Kenmare office and housing projects, he is using his time on other projects, including drywall work in the new Great Northern Trucking building and another home in town, as well as a drywall project in Minot. "I'd like to work here as much as possible," he said. "More people seem to be coming to us. I'm willing to look at anybody's projects they want done."
For more information regarding purchase or lease options for the Blackwell Homes' projects in Kenmare, contact Evan Schleinging at 541-326-6248.
"If someone can't get a hold of him, they can contact me," Ryan said. "I'm available to answer questions, too."
Ryan can be reached regarding these and other potential construction projects in the area by phone at 541-951-3308.
"We're sympathetic with [the problems] of the boom, and we understand it's frustrating for everybody," he said. "We want to try to help keep the community in a safe zone. We like that, knowing people are protected. I feel like I'm becoming part of this community."