Thanks for reading some of the latest features about area people and events.
To view every page and read every word of The Kenmare News each week,
subscribe to our ONLINE EDITION!
Zumba uses music and dance steps for hour-long workout
If those 2011 New Year's resolutions to slim down and exercise more have started wavering in recent weeks, maybe Kenmare's zumba class with its hard-driving Latin music is what you need to get re-energized. Some of the Monday and Wednesday regulars call the sessions just as addicting as chocolate.
2/23/11 (Wed)
If those 2011 New Year's resolutions to slim down and exercise more have started wavering in recent weeks, maybe Kenmare's zumba class with its hard-driving Latin music is what you need to get re-energized.
Some of the Monday and Wednesday regulars call the sessions just as addicting as chocolate.
"I miss my zumba for no one," said Chris Christensen, "not even my daughter's birthday party!"
Like many of the other members, Christensen started going last March when sessions began in Kenmare. Instructor Shannon Rascoe of Minot was teaching a class in Mohall attended by several employees of Citizens State Bank, and those women kept telling their counterparts at State Bank & Trust of Kenmare how much they enjoyed it.
Paulette Mattern invited Rascoe to hold classes in Kenmare, and Christensen was hooked.
"I had no ambition, but I thought I'd better check it out once," Christensen said. "The first time you do it, it's like the worst day of your life and it's fun at the same time. Then, I thought I'd better try it again, and then it was great!"
Like many people, Christensen had no idea what zumba involved until she watched an informercial. Zumba fitness combines a variety of dance steps with contemporary Latin-style music for an hour-long cardiovascular workout. The zumba movement started in the 1990s with a Colombian fitness trainer and migrated to Miami, Florida, where it has since been marketed around the world.
Christensen said her legs and thighs have reduced in size since she's been attending zumba. "I even have a little ridge in my arm," she said, laughing. "Mostly, you just feel good. But I'm addicted to the music. Now, if I'm at home cleaning, I'll put on a Latin music channel."
Diane Skalicky, who is one of the most faithful class members, thought she'd try the class after seeing a poster announcing the first session. "You sweat a lot," she said with a smile, "but I just love coming. I sleep better and I don't have as many aches."
According to Heather Livingston, who had taken a few zumba classes in Minot before starting the Kenmare sessions, the moves get easier as time goes on. "It's a really good workout, fun and challenging," she said, adding she's felt healthier and has fewer colds now that she exercises on a regular basis.
Amy Harris joined the class last fall, after her son was born. "I was looking for something to get back into shape," she said. "You can get out of the house for an hour and work out, and I like spending time with this group of people. You get so many different personalities together!"
In fact, the Kenmare class generally has 17 to 20 participants ranging in age from teens to senior citizens, including at least two men. One married couple attends on a regular basis, and people from Bowbells have made the class part of their weekly routine, too.
Harris liked Rascoe's instructional style. "It's easy to follow her and she makes it fun for everyone," Harris said, adding that she weighs less now than she did before her pregnancy. "And it doesn't even feel like a workout!"
ND instructor
discovers zumba in Florida
Shannon Rascoe, the group's instructor, has been leading zumba workshops for over two years now, after discovering the "new" form of exercise during her vacation in 2008. She was working at the YMCA in Minot at the time, so she checked out fitness classes in Florida during her time off.
"I wanted to get new ideas," she said, "and zumba was one of the classes offered in several facilities."
Rascoe was hooked and became one of a handful of people in North Dakota, and the first in Minot, licensed to instruct classes. She started teaching independently in September 2009 and now offers a variety of zumba classes in Minot, Mohall and Kenmare, as well as cycling and turbo-kick sessions.
She choreographs the songs herself, planning 15 to fill an hour's class. At times, she uses DVDs provided to the instructors, but generally she follows her own plan for the music. "They're very freestyle in their approach," she said. "I put in the music I like, and I rotate things in and out."
The biggest key to zumba's success is the irresistible music, 70 percent of which is Latin style. Rascoe said many of the songs are played over the airwaves on radio stations across the southern and southwestern states, but much of the music is new to North Dakota audiences.
"The class here does have its favorites," she said about the Kenmare group, "and I try to keep a good mix of different types of rhythms."
That mix includes samba, cumbia, salsa, reggaeton, merengue, cha-cha, mambo, some African steps and even elements of belly dance.
But don't worry if you don't know the steps.
"Don't take it really seriously," Rascoe said. "The class is all about the music. Give it a few times to really get the hang of it!"
The most important thing is to keep moving and to have fun, according to Rascoe. She herself moves around the class and watches to be sure people are having fun. "It's not what people think of as exercise," she said, "It's like exercise in disguise, like you're at the club with a bunch of friends."
Make no mistake, zumba provides a cardiovascular work-out, especially the way Rascoe designs her sessions. "We do lots of arms with the dances, and the hip movements work the ab and hip muscles," she said.
She incorporates squats into the dance steps for quad and glute muscles, and has the class members hold toning sticks through the final three songs to work the arms and shoulders even more.
Rascoe uses interval training techniques as she choreographs each session, mixing songs calling for fast-paced movements with those that slow the heart rate a little. "That's the best way to build endurance and to burn calories," she said.
She invites people of all ages to try zumba and has even facilitated zumba demonstrations at area schools to introduce the activity to kids, who seem to enjoy it. Two of her friends, Jolene Hovde and Amber Vibeto, now lead zumba sessions in Berthold on Wednesdays and Sundays, and the three women often coordinate zumba events in Minot.
For newcomers, Rascoe recommends coming to class in comfortable clothes and supportive shoes without too much tread. "We do a lot of pivoting and sliding," she said. A bottle of water is essential.
And despite the fact that Kenmare's class started almost a year ago, Rascoe said beginners are welcome at any session. "It's actually better for you to join at this point," she said, "because most of the class knows the choreography and you can follow others in the class if you can't see me!"
Kenmare class
invites new members
The Kenmare class warms up with two familiar songs, then takes off on new music chosen by Rascoe. The wooden floor in the Memorial Hall gym vibrates with the music's beat and the dancers' steps. Five songs into a cold winter night's session, Kayla Sandberg stops to prop a door open although fans are already running on all four sides of the gym.
The music keeps playing and class members keep following Rascoe's lead, although everyone stops at various moments for a drink of water or to wipe away the sweat. Several members of the class imitate Rascoe's dress, which features a purple tanktop and lime green pants with the official zumba logos to promote the idea of a dance party. Other dancers wear favorite workout pants and T-shirts, or their KHS Honker gear.
Paulette Mattern, who invited Rascoe to Kenmare, has been a regular zumba participant. She became interested after her daughter in Minot started taking classes there. Like her friends in the Kenmare class, Mattern says she doing an hour's worth of aerobic activity twice a week that doesn't feel like exercise.
She remembers her confusion as a beginner. "We'd tell Shannon, 'You change steps too quick. We can't do it right,'" she said. "Then, after a while, you get used to it and sing along to the songs in your head!"
Mattern appreciates the way Rascoe encourages class members to adapt the routines for their own needs. "I'm careful about some of the jumping types of steps," Mattern said. "We gear it to what suits us."
New class members are always welcome. Classes are held every Monday and Wednesday at the Kenmare Memorial Hall beginning at 7:30 pm, and participants can pay by the session or purchase punch cards to cover several sessions.
"Try it a few times and get the hang of it a little bit," Livingston said as she invited people to join the fun. "See if it's for you."
"I always ask new people to come at least three times," Christensen added, speaking from her own experience. "For zumba, you don't sit and break down the moves. You have to figure it out as you go along but once you've done it, it gets easier and more fun."
More information about the Kenmare zumba fitness classes, including a full schedule of all classes in the region and pricing, can be found at Rascoe's website zumbaminot.com.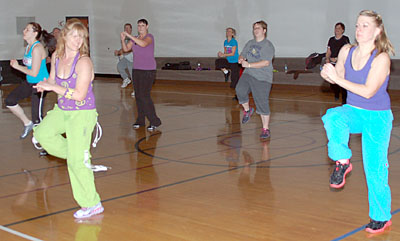 Dance as exercise . . . The hour-long Zumba sessions
feature a cardiovascular workout choreographed
to fast-paced and hard-driving popular Latin music
that class members describe as addictive.