Thanks for reading some of the latest features about area people and events.
To view every page and read every word of The Kenmare News each week,
subscribe to our ONLINE EDITION!
Airboats on ice
The usually quiet winter afternoons at the spillway on the Upper Souris National Wildlife Refuge where ice fishermen gather to try their luck were noisy last week with four airboats running up and down the Mouse River on the other side.
2/23/11 (Wed)
The usually quiet winter afternoons at the spillway on the Upper Souris National Wildlife Refuge where ice fishermen gather to try their luck were noisy last week with four airboats running up and down the Mouse River on the other side.
U.S. Fish & Wildlife Service personnel, along with North Dakota Game & Fish Department employees, were learning how to operate their airboats on ice--as well as gravel, cattails, mud, asphalt, snowdrifts and every possible combination of those elements.
The lessons may have looked like fun, with snow sprays and spinning boats at times, but the intent was serious preparation for the 2011 flooding season in the Dakotas.
Tighe Teets, refuge officer for the Souris Basin Complex which includes the Upper Souris refuge, also serves as the watercraft safety coordinator for the USFWS Mountain-Prairie region. He conducted the training with assistance from Duane Anderson, Upper Souris NWR biological technician, and other qualified airboat instructors from throughout the region, pairing them with airboat operators who needed to get the feel for ice and snow conditions.
According to Anderson, the session participants were already well versed in operating the boats. "Most of these people have a lot of hours on airboats, but it's not airboats on ice," he said.
Teets, who has run airboats since 1996 for refuge operations and emergency responses like hurricanes and floods in the southern U.S., described winter airboat use as a different concept for seasoned operators. "In our agency, airboats are considered advanced equipment and 40 hours of training are required to operate one," he said. "But boat training in the winter, this is a different concept, and we're trying to get people that experience here."
The Upper Souris NWR proved to be an ideal location, with open water, solid ice, ice floes, snow drifts, bare ground, gravel and asphalt all available in a central location. Class members met at refuge headquarters for discussions about cold water safety and survival techniques, law enforcement concerns, radio communications, and boat maintenance in winter conditions, but changed into their cold weather survival/flotation suits to operate the boats for the afternoon.
Teets and the other instructors put the trainees through their paces, beginning with simply getting the boats safely off the trailers in icy conditions. The operators practiced driving their boats across snowdrifts onto solid ice, across roads and through ditches, and over the tops of floating slabs of ice, simulating conditions they could face during spring flooding in the Red River or Missouri River basins.
"The only place these boats can't go is through the trees," Teets said, even as operators sent their boats up a levee or the riverbank.
Two areas were set up with cones on solid ice to simulate obstacles commonly found in a flooded neighborhood, such as mailboxes, parked cars, street signs and rows of sandbags. The operators were required to navigate their airboats, without the benefit of a reverse gear, safely through the cones.
"This is such a bizarre concept," Teets said. He had to caution the operators about changing conditions of snow and ice because of melting throughout the day and talk about ways to free an airboat that might get stuck in soft or sticky snow.
Teets noted that winter conditions lead to different maintenance concerns, too, as he and other operators discovered in Fargo during the 2009 flood. "We had airboats, but we didn't have experience," he said. "A lot of our boats got damaged."
Ice buildup, rigid hulls and cold weather mechanical issues all have to be considered. Despite the potential problems, however, the airboats have proven to be invaluable for search and rescue missions and welfare checks in flooded areas. "This is by far the most versatile piece of equipment for the needs we have," Anderson said.
Teets said most people in the Dakotas have impressions of airboats formed by what they've seen on television. "This training focuses on what we need for search and rescue work," he said. "We're trying to show that airboats can be used for more than running up and down a marsh in the summer."
Airboats at work
in North Dakota
While airboats are often sent to disaster areas for rescue operations, USFWS airboat operators in North Dakota are relatively unfamiliar with deployment to flood assignments in their own state. "In the last two years, the Service got really involved in flood work," Anderson said, "and the 2009 flood in Fargo was a baptism for everybody."
Anderson noted the Service has unexpectedly taken the role of the lead agency in the region for now. "We've got the equipment and we've got hundreds of years of experience among us," he said. "But a lot of the counties, through their emergency management and sheriff's offices, are gearing up right now. They're starting to work on their own a little."
Cass County is one of those counties, having obtained a sizeable federal grant to purchase two airboats and the necessary trailers and SUVs to transport them. "Their airboats are being built as we speak and should be ready for the flooding season," Anderson said. "We have four of their sheriff's deputies coming here next week to be trained."
At the present time, 10 airboats are available in North Dakota, including USFWS boats and airboats in Williams and McLean counties and the Devils Lake area. Anderson said the USFWS has been coordinating efforts with those counties, including U.S. Forest Service staff members in Williams County, along with federal, state and county law enforcement personnel from South Dakota. "They're all coming to the Service for training," Anderson said, adding that emergency response is not generally associated with the wildlife management emphasis of the USFWS.
Anderson himself has been operating airboats for over 30 years and instructing other operators for the past ten. He worked in Fargo during the 2010 floods and described the use of Service airboats in those situations.
"Our airboats have to be requested and there's a protocol to be followed," he said, adding that operators are dispatched for 14-day details.
A typical day started with a morning briefing from the incident commander and the sheriff's department, followed by patrols through flooded areas. Anderson said a sheriff's deputy accompanied each boat, as a guide through unfamiliar streets and housing divisions and as a law enforcement presence. "We would do a lot of door-to-door checks," Anderson said. "You'd pull up to the curb in your boat. If conditions weren't serious and there were no direct orders to evacuate, you just visited with the people."
He said most residents welcomed him into their yards and were interested in knowing more about the airboat. "They were happy that we were around and checking on things," he said. "If people needed to be removed and wanted to go, we'd take them, pets if they had them and minimal luggage."
Some residents were less receptive to the airboats' presence, especially if they were resistant to leaving. "There are folks who don't want to go," Anderson said. "They have their sandbags and their pumps running and they want to stay put. That's why it's important to have a law enforcement presence on these boats. Not everybody is compliant."
Anderson predicted he or other refuge airboat operators would be called into action again this spring, although no deployments have been scheduled yet. "They expect flooding along the Missouri River and along the Red River," he said. "There's a high probability the Service boats will be deployed, especially to the Red River."
He's also not ruling out running airboats locally this spring, although it is a less likely scenario. "They've declared a flood emergency in Ward County right now," he said. "There could be some work for us to do around here."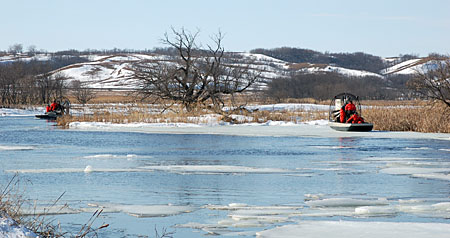 From water to ice and back again . . . The Mouse River below
the spillway at the Upper Souris NWR offers great conditions for airboat operators to practice running their boats across ice floes and ice packs
in moving water. Operators from North Dakota and South Dakota participated in training sessions at the refuge to hone their winter
airboat skills and prepare for the anticipated 2011 spring floods.