Thanks for reading some of the latest features about area people and events.
To view every page and read every word of The Kenmare News each week,
subscribe to our ONLINE EDITION!
Two new 12-plex apartments to be built here this summer
Two new 12-plexes proposed for Kenmare may be ready for tenants later this summer.
2/08/12 (Wed)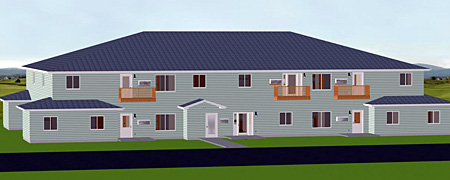 An artist's drawing of the 12-unit apartment design
that will be constructed in Kenmare.
By Caroline Downs
Two new 12-plexes proposed for Kenmare may be ready for tenants later this summer.
If the required surveys can be completed soon for the city by Ackerman-Estvold of Minot, work could begin on the 12-plexes in March and progress rapidly, according to Tom Serie, developer with SW Design Build, Inc. of Luverne, MN.
"Then Harris Construction can get the scrapers started," he said. "The bid for the sub-contractors is in place."
Serie anticipated the footings and foundation could be completed within a week of beginning and the underground plumbing in four days. "Then the carpenters should have a roof on within 10 days," he added. "We need these available for school by the end of August or early September. That's our target."
The 12-plexes will be constructed on property now owned by the city of Kenmare immediately south of Division Street, north of the old landfill between 5th and 7th avenues. One will be built for Gooseneck Implement, with the intention of providing housing for new employees. The other is owned by the Kenmare Community Development Corporation.
"We're looking at completion dates [of the two buildings] about 30 days apart," said Serie.
Both 12-plexes will have a similar layout, with six units per level. According to Serie, ground level will feature two one-bedroom, single bath units at about 800 square feet apiece, with one of those units equipped for handicapped accessibility. The remaining four units will have three bedrooms and 1 3/4 baths with about 1,400 square feet of living space.
The second level will consist of four two-bedroom, 1 3/4 bath units and two two-bedroom units with a single bath, at approximately 1,200 square feet each.
Detached garages will be built for the facilities.
SW Design Build, Inc. is currently developing the four-plex under construction at the corner of 6th Street and Central Avenue in Kenmare, which will be operated by the Kenmare Housing Authority. Mayor Roger Ness has been impressed with progress on that project, as well as the quality of the construction, and was happy to hear work on the 12-plexes would begin soon.
"These 12-plexes will meet needs that we have immediately," he said, "especially for those folks moving to town who aren't sure about buying a house yet."
Serie has been involved with a variety of projects in Crosby, including two four-plexes, two twin homes, and remodeling and additions to St. Luke's hospital and the community's clinic. He is also overseeing the construction of 12-plexes, similar to those planned for Kenmare, in Crosby and Ray.
"These are going to be an asset to the community," he said about the Kenmare projects.
Equity money from new
ND Housing Incentive Fund
Total cost of each 12-plex is estimated at $1.3 million, and the projects have been pre-approved for up to $264,000 in funding under the North Dakota Housing Incentive Fund administered by the ND Housing Finance Agency.
The HIF is a new program approved by the state legislature in November and launched by the NDHFA with the intention of attracting private investment for affordable housing developments in difficult-to-develop areas, primarily counties sustaining impact from energy development and/or natural disasters. The fund is capitalized by contributions from North Dakota taxpayers in exchange for a dollar-for-dollar housing tax credit.
Any individual or business with a state income tax liability is welcome to support the incentive fund and then receive a matching credit against that liability for the year. Contributors may also designate a preference for their contribution to benefit a specific, eligible housing project, community or area.
According to the NDHFA, the state legislature approved a $15 million maximum threshold for the program, with over $6.3 million raised by mid-January from 203 individual contributors and 19 businesses and financial institutions, including individuals and entities from Kenmare. Contributions ranged from $100 to $2.5 million, with all amounts welcomed.
The two Kenmare projects were among a group of nine submitted during the latest application round, totaling $3.9 million. Other applications included three projects in Williston and one apiece in Crosby, Beach, Belfield and Grand Forks. In late 2011, the NDHFA announced two conditional commitments for funds granted to projects in Crosby and Minot.
The fund has fewer stipulations than similar federal programs, but the NDHFA mandates half of the dollars involved must create units for households with an income at or below 50 percent of the area median income.
The two Kenmare applications benefited from another program policy which requires a quarter of the fund to be used in communities with housing needs and a population under 10,000 residents.
The HIF favors mixed income projects, especially those targeted for residents who earn too much money to qualify for federally assisted housing but have too little income to pay the skyrocketing rents seen throughout western North Dakota communities.
"We get equity money from the state for these projects," Serie explained. "It's a good deal, and we can't charge rents like they do in the oil patch. If we do, [the NDHFA] lowers the incentive."
According to Serie, to meet the affordable housing elements of the HIF program, rent for three of the units will be charged in accordance with the program's maximum income and rent limits at 50 percent of area median income (AMI), while rent for three units will be charged considering income and rent limits at 140 percent of AMI.
In Ward County, as of December 1, 2011, maximum income at 50 percent of AMI was $25,550 for a two-person household, with maximum rent limits ranging from $598 for a single bedroom unit to $830 for three bedrooms.
For households at 140 percent of AMI in the county, maximum income was $71,540 for a two-person household, with maximum rent limits ranging from $1676 for a one bedroom unit to $2,324 for three bedrooms.
The two Kenmare projects will receive the HIF awards in the form of a "soft loan." The NDHFA maintains the terms of such loans will be determined on a case by case basis, dependent on the completed project's viability. The funds can be applied toward property acquisition, construction and financing costs.
More information about the HIF program and contributing to the fund in exchange for state income tax credits can be found online at www.NDHousingIncentiveFund.org.
List started for
interested renters
No rental rates or other terms for the new units have been determined yet for the 12-plex under the interest of the KCDC, but executive director Barb Wiedmer is waiting to hear from people who want to live there.
"The more of a list I have, the better," she said. "I'll take anybody's name and number down."
Wiedmer can be contacted Monday through Friday during business hours at the Kenmare city auditor's office or by calling 701-385-4232.