Thanks for reading some of the latest features about area people and events.
To view every page and read every word of The Kenmare News each week,
subscribe to our ONLINE EDITION!
Pistol from Norma murder passed along with family heirlooms
Lonnie Dumas was shot dead by Mack McGee near the tracks at Norma, ND in the fall of 1915. Nearly 97 years later, the murder weapon has resurfaced.
2/08/12 (Wed)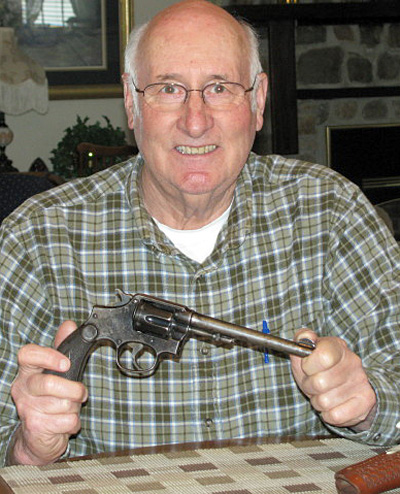 Search uncovers villainous history . . . Bill Estenson of Walker, MN, holds
the .38-22 Smith & Wesson revolver his grandfather William Shortridge
of Norma took from a murderer in September 1915. Shortridge was
a county constable and later transported three suspects in the shooting
to Renville County for the trial. Estenson's search for more information
about the gun led him to The Kenmare News, where details
of the incident were first reported.
By Caroline Downs
Lonnie Dumas was shot dead by Mack McGee near the tracks at Norma, ND in the fall of 1915. Nearly 97 years later, the murder weapon has resurfaced.
A search for more information related to the note "September 6, 1915 Mack McGee" scribbled in pencil on the grip of a Smith & Wesson revolver led directly to the 1915 archives of The Kenmare News last week.
Bill Estenson, a Minnesota resident and a Norma native, was looking for details about the .32-20 revolver, which once belonged to his grandfather William E. Shortridge of Norma.
"He owned a general store in Norma where he was a teacher, postmaster, pharmacist, county constable, gardener, beekeeper, father and family man, among other things," said Estenson.
Estenson himself was born in Kenmare on July 27, 1936, to Oliver and Pearl (Shortridge) Estenson. The family lived in the Norma area, where Grandpa William and Grandma Susan Shortridge were a part of his daily life, and visits were made to Kenmare to see Pearl's sister Mrs. Wilson (Lila) Hoffine.
Estenson's family left Norma, located eight miles northeast of Kenmare, when he was a young child and moved to Detroit Lakes, MN, then to Anoka and Coon Rapids.
Estenson himself had a 30-year career on the Coon Rapids police force, but his experiences in law enforcement did not spark his interest in his grandfather's celebrated firearm.
Instead, Estenson was intrigued by the story, and he wanted to know more than what he had heard from his mother and aunts through the years. "They would talk about it when I was younger," he said. "It would just come up in conversation."
Scary incident with
infamous pistol
in Shortridge home
One story often retold was of a particular day when, as girls, Estenson's mother Pearl and her sisters found the infamous gun in the house and proceeded to play with it, not realizing it was loaded. "The gun went off and it shot a hole in my grandma's favorite mirror," said Estenson. "After that, the gun got put away."
The gun's presence in the family was vague, something about Pearl's father taking the revolver away from a Negro murder suspect in Norma after a shooting long ago. No one in the family ever told Estenson much more than that.
Estenson witnessed his grandfather's death in 1946. William, 75 at the time, had spent the winter living in a hotel in Anoka, close to his daughter's family, and Estenson accompanied his parents to return his grandfather to Norma. As William entered his house, however, he collapsed. "I remember I went running into town, to find Joe Hagen," Estenson said. "He was the 'go-to' guy in Norma for anything you needed."
The 10-year-old Estenson stayed with his family through the funeral, held in Kenmare, and as his grandfather's house was emptied, but he never saw the gun then. "They were disposing of all the personal property," he said. "Grandpa had a coin collection, a clock from the store, this gun, but they were poor people. I think the gun went to my uncle first."
The gun remained mostly a story as Estenson became a young adult. "I was on the police force before I ever saw that gun," he said. "My mother's brother in San Diego had it and then he died."
The revolver made its way to Pearl and finally, to Estenson, along with the coin collection, a shaver, and an old railroad watch. "It just has sentimental value," he said.
Gun first sold in Duluth
Estenson sent an inquiry to the Smith & Wesson company, along with the revolver's serial number and other pertinent information, and learned the gun was first sold to a hardware store in Duluth, MN. "I was wondering how far their record would go, but they didn't know how [Mack McGee] came in possession of it," he said.
Smith & Wesson introduced the .32-20 calibre in the late 1800s. "The same calibre [ammunition] fit in a rifle or a handgun," said Estenson. "This gun is in pretty good shape yet."
The oldest of Estenson's own grandsons, who lives in Atlanta, will inherit this firearm, just as he has inherited his grandfather's interest in history, so Estenson wanted to know more details about the murder and trial. With only the date and Mack McGee's name penciled inside the wooden grip of the pistol, along with a few notes from his grandfather about transporting three suspects to Mohall with a Kenmare deputy named Pat Herman (or Hunan), Estenson contacted The Kenmare News last week to see if the newspaper had covered the 97-year-old crime.
Two articles were printed related to the incident itself. Among other news on the front page, the September 9, 1915 issue of The Kenmare News reported:
NEGRO SHOT
Following a dispute between two negroes and a white man at Norma on Monday night one negro was shot and died at the local hospital shortly after. The white man, whose name we were unable to learn, was arrested and brought to this city awaiting the sheriff of Renville to come here to take him to Mohall for trial. The negro, who is alleged to have done the shooting, was arrested and taken to Mohall for safe keeping until his trial.
In the next issue, dated September 16, 1915, more details of the incident were reprinted from the Mohall Tribune in the Kenmare paper:
SHOT TO KILL
The Sheriff's office was notified by phone Monday that a murder had been committed in the jungles of Norma and for his force to come post haste. Sheriff M.H. Haugan and Deputy Geo. Scofield immediately drove in their cars and it was found that a quarrel between five negroes and a few white men had culminated in the shooting of one of the negroes. At the inquest held over the dead negro, Wednesday, it was determined that the victim came to his death from a bullet wound from a pistol held by one Mack McGee, also a negro. Another man, white, is also implicated and perhaps two other negroes all of whom are now in custody. A dozen witnesses are being held and it was deemed necessary to place three behind the bars to hold them until the trial today.
As we go to press the county court, Crewe, J., is beginning to grind. It will be an all day session as the Grano cutting-up affair has not been disposed of as yet, and will come up at the same time.
Great credit is due County Constable W.E. Shortridge of Norma for their capture. He commanded them, at the point of a rifle, to surrender and come forward with their hands up, which one refused to do, but played with his large calibre Smith & Wesson revolver, and when ordered to drop it, he calmly laid it down. Mr. Shortridge is just beginning to realize what danger he was in.
Details of murder and trial
Estenson has queried the newspaper and courthouse in Renville County for more information. He had notes about the victim, Lonnie Dumas, being shot near the railroad tracks at Norma, with the suspects arrested at the Niko Larson farm about a mile from town.
"Mack McGee was taken to the [Renville County] sheriff's department by my grandpa then," said Estenson, "but when he submitted a request for travel expenses, they turned him down."
At the trial, McGee was sentenced to life in prison, while suspect Henry "Ollie" Williams was sentenced to 10 years and Frank "Whitie" Davis to 25 years.
Estenson believes the revolver was entered as evidence in the trial, which would explain the writing, but he is not certain why or how the gun was returned to his grandfather.
While he has been able to fill gaps in the gun's history, Estenson now hopes to find photos taken at the time of the incident or trial. He has visited the Kenmare and Norma area twice as an adult and appreciates the family names and history associated with the area.
"When I was in the police department, we had to have a pretty thorough file on anything that went to court," he said. "So I wonder if anybody's got a picture of any of this stuff, maybe even something that was in their family."
Seeking more information
Persons who may have more information about the Dumas murder and trial, or photos related to the incident, are welcome to contact Estenson at 218-547-1519 or at P.O. Box 1324 in Walker, MN 56484.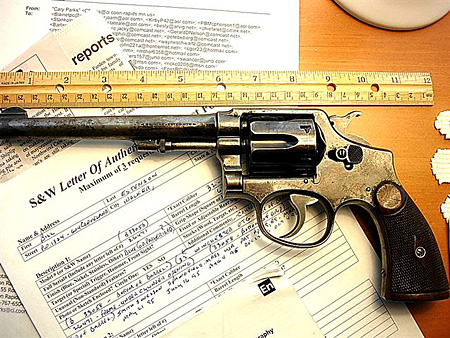 Murderer gave up gun to County Constable at the scene in 1915 . . . Bill
Estenson sent an inquiry to Smith & Wesson about the revolver passed
down through the family from his grandfather, William Shortridge of Norma.
The company traced the firearm to a hardware store in Duluth, MN, but had
no record of Mack McGee purchasing the gun. In 1915, McGee was sentenced
to life in prison for the murder of Lonnie Dumas at Norma, where
Shortridge convinced MdGee to surrender and give up this revolver,
which was entered as evidence in the trial.