Thanks for reading some of the latest features about area people and events.
To view every page and read every word of The Kenmare News each week,
subscribe to our ONLINE EDITION!
Tolley Fire Department grows and improves with new equipment and new members
"We're here to help and assist anybody who needs it," said Tolley Fire and Rescue Department Chief David Stark.
3/28/12 (Wed)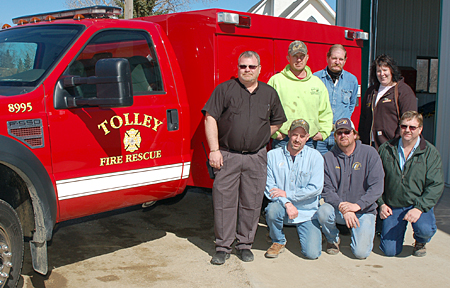 Even better prepared to serve . . . The Tolley Fire and
Rescue Department just purchased its first new rescue truck
from a dealer in Kentucky, and the 2010 Ford F550 is prepared
to go over any ground in response to emergency calls. Pictured
with the new unit are about a third of the department's volunteers,
with (standing, l-r) Michael Swofford, Truck Captain John Ware,
Chief David Stark, Vanessa Iverson and (kneeling) Shawn Roering,
Cory Egeberg and Carl Zeltinger.
By Caroline Downs
"We're here to help and assist anybody who needs it," said Tolley Fire and Rescue Department Chief David Stark.
The department's ability to assist anyone who needs help has improved dramatically with the addition of a 2010 rescue truck, the first new truck the department has ever acquired for their fleet. "It's a lifesaver," Stark said.
The blazing red Ford F550 has four-wheel drive and a diesel motor. The unit was built in Corbin, Kentucky, by Wynn Fire Equipment LLC, and members of the Tolley squad discovered the vehicle for sale through Fire Trader magazine, with a pricetag of $78,500.
Stark and Tolley Fire and Rescue volunteer John Ware flew to Lexington, KY, on February 3rd, and a representative from the company met them with the truck at the airport. "We gave him a check for it," Stark said. "We were in Kentucky for half an hour and then we came home."
That trip home involved 30 hours of driving, a snowstorm, poor road conditions at times and 1640 miles, but the men believed their efforts were worthwhile to secure the new truck. "He gave us a good deal on it," said Stark, "and everything is under warranty."
The rescue truck was a demonstration model used for vendor shows in Kentucky, with only 1200 miles on the odometer when Stark and Ware started their drive back to North Dakota. The vehicle is now loaded with extrication tools, air bags, oxygen and oxygen masks, self-contained breathing apparatuses, medical supplies, floatable backboards for water rescues and more, including both a stationary electric hydraulic pump and a portable hydraulic pump for operating the equipment.
The new rescue truck joins the rest of the Tolley Fire and Rescue fleet, including the ambulance, two pumpers with 750- and 800-gallon capacities and two grass units with 275- and 300-gallon capacities. "When a fire truck goes, the ambulance is right behind," said Stark. "With any of these trucks, if somebody needs help, we're on the way, and we have good turnout when we do go."
Tiny town with big
fire department
The town's fire and rescue department numbers 26 volunteers, with four new members joining during the past few months. Seventeen of the volunteers are certified to operate the extrication equipment on the rescue truck, with the majority of those people recently renewing that license. "We have two EMT-Is and four EMTs, along with our first responders," Stark said. "When we get called, we want something to drive we know is dependable."
The department's old rescue truck was dependable enough, but that vehicle was totalled in an accident that occurred during the early morning hours of November 19th, 2011, as Stark and other volunteers were driving to a fatal crash on Highway 5 east of Mohall. Volunteer and EMT Michael Swofford said one of the teenage passengers from the original accident jumped onto the roadway from the ditch immediately in front of the Tolley Fire and Rescue truck as it approached the scene. Stark slammed on the brakes and aimed for the ditch to avoid hitting her, but the Tolley department's rig was struck from behind and damaged beyond repair, and Stark was seriously injured.
Fortunately, Stark's actions prevented the truck from striking the girl, and Stark healed. The insurance payment from the totalled truck, along with an oil impact grant and charitable gaming funds raised for the department, covered the cost of the new rescue truck.
"This thing has everything we could possibly need on it," said Swofford.
Strong commitment,
strong support
Members of the Tolley Fire and Rescue Department know they will face a variety of situations, and they take their service seriously because they're all too familiar with the wide open spaces of north central North Dakota. "For the departments to come from Kenmare or Mohall, that's 20 minutes away," said volunteer Shawn Roering.
"It's great for this community to have this fire and rescue department," said volunteer Carl Zeltinger, who manages the Renville Elevator Company operation in the community. "If they had to wait...."
He stopped speaking and shook his head.
"It's a necessity for the area," Stark said. "They say you have the 'Golden Hour' to respond, but sometimes an hour is too long. This is all open area, all the way from the Canadian line down to Donnybrook."
In fact, Tolley department volunteers coordinate efforts with several departments. They respond, as requested, to calls in Burke, Mountrail, Ward and Bottineau counties as well as Renville County, and hold mutual aid agreements with the U.S. Fish & Wildlife Service to work on fire operations at the Des Lacs and Upper Souris National Wildlife Refuges. Members of the Sherwood Fire Department were specifically trained to operate the equipment on the new rescue truck for their own calls.
The Tolley department is prepared 24 hours a day for fires, vehicle accidents, search missions, and rescue and recovery operations. Several members have earned their red cards, qualifying them for wildland fire operations, and the department frequently assists the U.S. Fish & Wildlife Service with wildfires on refuge land.
"It's not if, it's when it's gonna happen," Swofford said about the need for emergency responders in the region, which serves the small communities, farmers living and working outside of town, and the temporary and permanent residents at Mouse River Park.
While the department had fewer calls in 2011, mostly because of the Mouse River flooding situation, members did assist with pumping, sandbagging and cleanup efforts at the Park, as opposed to the emergency calls they would normally receive from the Park during a summer. According to Roering, the department averages about 15 responses each year.
"We had 22 calls in 2010," recalled volunteer and EMT-I Vanessa Iverson.
The group maintains and updates training as needed, with several members attending a pipeline safety session held in Kenmare earlier in March. More members will renew their wildland fire qualifications later this spring. "We also want to get our firemen more trained on weather awareness," said Stark as other volunteers nodded their agreement.
Roering noted demands on the volunteers have grown during the past 10 to 15 years, with only two trucks available then. Now, the department operates and maintains six rigs.
"We're always looking for more equipment," added Stark.
Volunteer Cory Egeberg glanced around at the vehicles and equipment squeezed into the fire hall. "We do need a bigger storage building," he said.
"We looking at adding three bays," said Swofford, "but that depends on oil impact money and other funds."
Zeltinger noted the strong support shown through the years by residents living in and around Tolley. "I think the area is proud that we do have this," he said. "And the Tolley Fire Department is always looking for donations to help keep us going."
The firemen host specific events to raise funds for the department, and proceeds from charitable gaming at Wes's Bar also benefit Tolley Fire and Rescue. However, persons interested in contributing toward the department's training, equipment and building needs are welcome to contact Stark at 701-386-2830 or the Renville Elevator Company at 701-386-2457.
For now, the department stands ready for the next emergency.
"It takes commitment," said Stark. "People depend on you, so you've got to be there for them."
"Whatever happens, we're ready," Swofford said. "Hopefully, the community can take comfort their rescue department is ready to go at a phone call's notice."