Thanks for reading some of the latest features about area people and events.
To view every page and read every word of The Kenmare News each week,
subscribe to our ONLINE EDITION!
You have every right to defend yourself
"Who's going home tonight, you or him?" self-defense instructor Ryan Ziliak asked a crowd of Kenmare and Bowbells area women at least a dozen times during his presentation Sunday afternoon at Kenmare High School.
3/28/12 (Wed)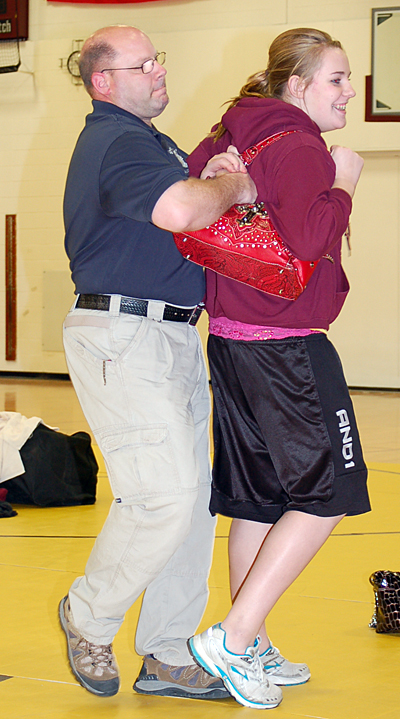 The purse is the problem . . . A volunteer is trapped
as self-defense instructor Ryan Ziliak demonstrates how
attackers gain control over a woman by grabbing a purse
slung over her shoulder. In Ziliak's next move, however,
he showed how that same purse becomes as effective
as a baseball bat against an attacker if a woman holds it
in her hand, with the strap wrapped around her wrist.
By Caroline Downs
"Who's going home tonight, you or him?" self-defense instructor Ryan Ziliak asked a crowd of Kenmare and Bowbells area women at least a dozen times during his presentation Sunday afternoon at Kenmare High School.
Nearly 50 women, ages 13 to 80 years young, attended the session, which was sponsored by the Quilt Inn of Kenmare. Ziliak, who lives in Sherwood with his wife and children, is retired from the Air Force and now works for U.S. Customs and Border Protection.
He also has more than 20 years' experience as a law enforcement officer with the Ward County Sheriff's Department, Florida Highway Patrol and Renville County Sheriff's Department, and those experiences fueled his talk for the women on Sunday.
"I started these presentations because of Dru Sjodin," he said, referring to the University of North Dakota student kidnapped while leaving the mall in Grand Forks in November 2003. Her body was found six months later in Minnesota, and Ziliak was part of one search team during that time. "I've also investigated many domestic violence calls and rapes. I've seen it all, and, ladies, I want to tell you, you have every right to defend yourselves."
Ziliak repeated that theme throughout his talk, referring to the January kidnapping and murder of Sidney, MT, teacher Sherry Arnold. Arnold's body was located earlier this month in the rural Williston area and the crime remains under investigation. "I'm hoping you can prevent that," said Ziliak.
He referred to North Dakota Century Code and reminded the women they could use force on anyone attempting to do them bodily harm. "Am I telling you to protect yourself?" he asked. "Yes."
Ziliak was outfitted in protective gear for the first portion of his presentation, which included simulated attacks on volunteers from the audience, who used any means necessary to get away from him. The kicks, punches and gouges he received were exactly what he expected and encouraged other women to do if ever needed.
"You're going to take the fear you feel when I grab a hold of you and turn it into anger," he said.
The volunteers agreed they were scared at the unpredictability and strength of the attacks. "Remember, this guy's not allowed to touch you," he told them. "This guy's not allowed to attack you. But if he does, game on. You want to stop the threat, so get the guy on the ground."
Ziliak demonstrated several scenarios where women should pay attention, including being followed, being approached from the side in a crowded social setting, and being asked by one person to come and help a "friend" with injuries. In each situation, he emphasized the victim should fight back until she could get away from her attacker.
According to Ziliak, the most important part of fending off an attacker was the mind set of the woman involved, which was why he kept repeating the question, "Who's going home tonight, you or him?"
"That will teach you survivability," he said. "Don't stop fighting. If he grabs a hold of me, if he has me on the ground, I've still got a fighting chance."
He also stressed the importance of women and girls developing a mindset to pay attention to their surroundings and the actions of other people. He noted that in many cases where women were assaulted, the attacker had been following the victim for a period of time, perhaps from the parking lot or through a mall or large store.
"Watch what goes on around you," he said, adding that body movements, facial expressions and hand movements would all be indicators. "They're going to show you what they're going to do."
Women and girls
can be prepared
Ziliak listed several proactive strategies women could use on a daily basis to better protect themselves and prevent possible assaults.
He started with a cell phone and asked about the ability of that object to save a life. The audience agreed calling 911 was always effective, but Ziliak pointed out how talking or texting on a cell phone actually made an individual more vulnerable.
"This thing can get you kidnapped," he said, adding that Dru Sjodin was talking on her cell phone when approached by her assailant. "This thing can get you killed."
Then he turned his attention to purses, and demonstrated how a purse or backpack slung across shoulders actually helps an attacker's cause. However, a purse carried in the hand turns into a formidable weapon. "This can become a baseball bat," he said.
He cautioned women against saving their purses, advising instead to toss them if an attacker demanded money or other items. "That gives you a chance to run away, call 911, and scream, scream, scream, scream," he said.
Ziliak strongly encouraged the women to make noise if attacked, starting with screams, shouts for help, and loud warnings of "Stop! Stay away! Get away from me! Don't touch me!"
He suggested carrying a whistle to attract attention, attached to a lanyard with keys and carried openly. "Show your keys when you're walking up to the mall," he said. "Play with them. Make noise. The guy following you will pay attention. He knows that's a weapon."
He also addressed the issue of carrying personal weapons, including pepper spray, stun guns, tasers and concealed weapons with permits. He discussed advantages and disadvantages for each, and told the women to make a personal choice.
Unfortunately, not all attacks are prevented, and Ziliak closed by showing ways women could defend themselves if needed. He started simply by holding up his hands, palms out. "Keep your palms up and protect your face," he said. "You can still strike with your palms open."
With assistance from more volunteers, he demonstrated ways to break or stop a choke hold and continued emphasizing the importance of fighting back by hitting, kicking, bending the attacker's fingers backward or whatever other opening presented itself.
He reminded the audience of the SING strategy Sandra Bullock's character used in the movie Miss Congeniality: Solar plexus, Instep, Nose and Groin. "Don't stop at one," he said. "Use all four. You want to get him on the ground, which is when you can get away from him."
Straight talk
about the problem
Ziliak taught the course with assistance from Sherwood residents Teresa DesLauriers, another U.S. Customs and Border Protection employee, and Tim Schneiderman, who works at Engh Hardware and serves on the Sherwood Fire Department. Schneiderman explained he approached Ziliak about offering this type of presentation a few ago, with community support.
The protective equipment worn by Ziliak in his demonstrations was purchased through donations made by the Sherwood Fire Department, Sherwood Ambulance, Sherwood Masons, Sherwood American Legion, Sherwood Police Department, Mohall Fire Department, Renville County Sheriff's Office, and Tolley Fire and Rescue Department.
The course has become popular throughout the state, and Ziliak teaches during his days off. In fact, he presented the information to all 7th through 12th grade students at Stanley High School on Friday, to an audience in Trenton Saturday, to the Kenmare and Bowbells crowd Sunday, and finally at Dakota College at Bottineau on Monday.
Ziliak does not charge a fee for his appearances, and he makes no apologies for his straightforward approach, which is tempered by mild humor and jokes at his own expense. He warned women to quit assuming their own small towns were too safe and secure for attacks like these.
"It's not a matter of if it's ever going to happen," he said. "Now, it's a matter of when it's going to happen."
He also covered information about how to report a rape and what to expect from authorities at that point, as well as how assault victims could conduct themselves in court if necessary.
"I tell people to do what you have to do so you can go home tonight," he said, returning to his central focus. "I don't want to change anything [about the class] because one of these days, I'm going to save somebody's life."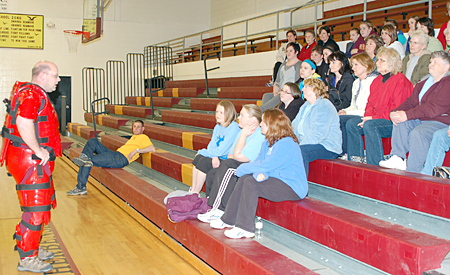 Concern for personal safety . . . Ryan Ziliak, left, addresses
women of all ages in Kenmare Sunday afternoon about
practical self-defense strategies. Ziliak's appearance was
sponsored by the Quilt Inn of Kenmare in response
to concerns about personal safety issues.