Thanks for reading some of the latest features about area people and events.
To view every page and read every word of The Kenmare News each week,
subscribe to our ONLINE EDITION!
South of the Border reopens in Kenmare
Breakfast is served at South of the Border again. So are lunch and supper, seven days a week, now in a smoke-free atmosphere.
2/29/12 (Wed)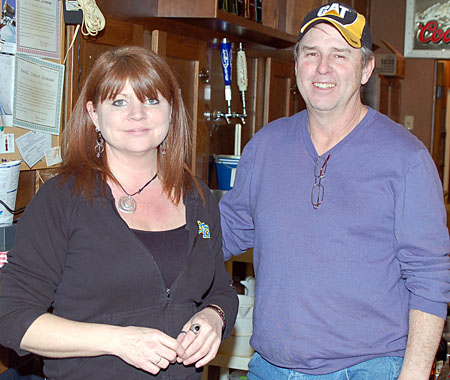 Customers welcome . . . Dave Beck, right, and family friend
Renee Coffman of Bigfork, MT, welcome customers at Beck's new
business Dave's Place, doing business as South of the Border Bar & Grill.
The restaurant serves meals and drinks in a smoke-free atmosphere
from 6 am until 1 am, seven days a week.
Bar and grill goes smoke-free
By Caroline Downs
Breakfast is served at South of the Border again.
So are lunch and supper, seven days a week, now in a smoke-free atmosphere.
New business owner Dave Beck opened the doors quietly on Friday. "I came to the conclusion I just had to get it open," he said. "It seemed like every little thing was coming at once."
The restaurant is serving meals from 6 am to 1 am, all week long. Customers can expect lunch and dinner specials every day, and Beck plans to add a buffet line after he purchases the proper equipment.
"We'll have pretty much the same menu as South of the Border had," he said. "Soups, sandwiches. We'll always have prime rib on Saturday nights. There will probably be a seafood special most Friday nights. Seafood isn't the prominent thing around here, in landlocked North Dakota, but we'll see. And we've added a nice chicken or shrimp fettuccine to the menu. We make the sauce with a heavy cream. It's very good!"
Along with the familiar menu, customers can play bingo again on Monday and Wednesday nights, with blackjack available Mondays, Wednesdays and Fridays. The decor will remain the same, featuring sports memorabilia from towns and schools in the area, although a few of the cases are empty right now. "I'm getting some of the items dry-cleaned," said Beck. "They'll be put back up."
The televisions will be turned on to sports stations, too, but Beck plans to swap those out for large flat-screen TVs by the middle of March.
Officially, the business is Dave's Place, but it will remain in operation as South of the Border.
The sports bar and grill is Beck's first venture into food and hospitality, but not into running a business. "I've always been kind of an entrepreneur," he said. "I like to own my own business."
Beck has lived in Kenmare for two years, working for Harris Construction. For the previous 20 years, he lived in the state of Washington, where through the years he owned a construction company, a contracting company, and two different heavy equipment companies, including one that served the logging industry. He also spent a brief period working in Montana on his way to North Dakota.
He enjoyed the work and atmosphere at Harris Construction, but owning a restaurant has always intrigued him. "I would look at South of the Border and think that somebody could have a prosperous business here," he said.
South of the Border was most recently operated by Danny and Sara Schlosser, who gave up the lease in December 2011. Beck now leases the facility from owner Bob Mau and plans to be seen full-time at the restaurant tending bar, waiting tables or cooking. "I'll be filling in the holes," he said.
He has placed an emphasis on quality service, an idea that has become important to his staff of 10. "The employees will set this place apart," he said.
Beck chose to eliminate smoking at the bar and grill for personal reasons. "I don't smoke," he said. "In Washington, pretty much everything is smoke-free and Montana is going that way. I knew I was going to be in here a lot, and I didn't want to smell like smoke!"
He would like to eventually serve families in the restaurant, but that will require further research and changes. "It would be nice for this town to have a family restaurant," he said, "but I just couldn't get it all done at once."
He also has personal reasons for serving families, now that his wife Michelle and the couple's two and a half-year-old son Brady have arrived in Kenmare from Montana. Beck described Michelle as a fine cook, but said he preferred for her to focus on caring for their toddler.
Important first impressions
Word of mouth about the opening spread through town Friday. As the lunch rush wound down, Beck evaluated business with Renee Coffman, one of two family friends visiting from Montana to help him get Dave's Place established. A BLT sandwich served with potato soup was offered as the lunch special, with a choice of two shrimp specials listed for the evening. According to Beck, customers chose plenty of BLTs for lunch that day, along with burgers and fries.
"We're definitely going to need two cooks in here tonight," he said, shaking his head. "Today, we were fair to good, service-wise. I wouldn't say we're excellent yet, but we'll get there. First impressions are important."
South of the Border is located along U.S. Highway 52 on the north side of Kenmare. The bar and grill can be reached at 701-385-3555.