Thanks for reading some of the latest features about area people and events.
To view every page and read every word of The Kenmare News each week,
subscribe to our ONLINE EDITION!
Bombers in the State B
The Berthold boys basketball team punched their ticket to the Class B state tournament last week for the third time in four years, defeating Rugby in semi-finals and Bottineau in the Region 6 championship game to advance.
2/29/12 (Wed)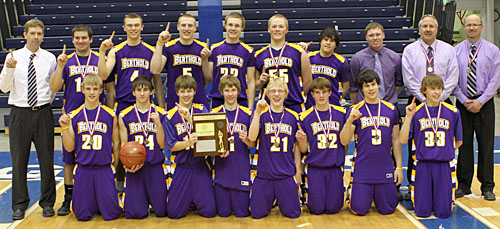 2011-2012 Region 6 Champion Berthold Bombers
By Caroline Downs
The Berthold boys basketball team punched their ticket to the Class B state tournament last week for the third time in four years, defeating Rugby in semi-finals and Bottineau in the Region 6 championship game to advance.
And while the casual observer might think Berthold's appearance in the State Class B is to be expected after so many years of success, the players themselves know just what kind of work and dedication are required to meet that goal.
"The last time we were in [the state tournament] in 2010, we seniors were only sophomores," said Adam Birdsall. "We were young, and we had a taste of what it's like to have success. We all just really wanted to get back there after that state championship game to...get some unfinished business done and win it this time around."
Birdsall was referring to the second place finish in 2010, a bittersweet 65-59 loss to Carrington after losing all three games and finishing 8th in the 2009 State Class B. Birdsall was a member of that 2010 squad, but saw limited playing time. In fact, the only current Bomber player who has extensive experience on the state court is senior Daniel Yale, who played there in 2009 and 2010.
"It will be a new experience for a lot of the kids to be at state," said Yale. "But you have to come to play in these games just as you did before. There is no difference between a state game and a regular season game, except the atmosphere."
Senior Alex Bloms, also a sophomore sitting the bench for much of the 2010 state tournament, recalled the frustration of losing to Bishop Ryan in the 2011 regional tournament. "We really had a bad taste in our mouths," he said, "and we all knew we wanted to get to the state tournament this year. We knew we could make it there, and that was our main focus."
The three seniors remained very aware of their responsibilities to the team this week and the need to stay focused. "We rely on our defense and our rebounding in games, so that is one thing we will keep [working] at," said Yale. "We also need to work more on communication and help-side defense. Our guards really need to step up in this tournament and I think they have the will to do it."
Bloms expected to watch some game film from Region 3 champion Linton-HMB to prepare for Thursday's opening round, and Birdsall agreed with Yale about the continued emphasis on defense and rebounding. Birdsall also wanted to see the Bombers work on a strong inside game. "We have a size advantage on most teams and we need to use it," he said.
All games in the state Class B boys basketball tournament will be played at the Alerus Center in Grand Forks. Region 5 champion Shiloh Christian will play Region 8's Divide County at 1 pm Thursday, followed by Region 2 champ Grafton against Region 4 winner and No. 1-rated North Star.
The Bombers face the Lions at 6:30 pm, and the first day's schedule will close with Region 1's Central Cass playing Region 7 champion Beulah.
Games continue Friday with consolation semi-finals beginning at 1 pm and championship semi-finals at 6:30 pm. Saturday's action begins at 1 pm with the seventh place game.
The senior players remember well the atmosphere of the state tournament, and they look forward to returning to the noise and frenzy. "We play well in loud environments, and that is exactly what the state tournament will be," said Yale.
"The big crowds and all the screaming fans," recalled Birdsall. "There's just nothing else like it."
Junior Logan Gunderson remembers all too well his days of standing among those screaming Bombers fans. "I was so involved because I was still practicing with the team, only that year my role was to lead the cheers," he said. "This year is different because the younger kids will be cheering us on, and I'll be the one playing!"
Bombers beat Bottineau
Berthold claimed their place in the State Class B in thrilling fashion with a 61-52 win over Bottineau in the Region 6 championship on Thursday.
The Bombers came out firing in the first quarter, running up a 17-6 lead before the Braves even knew what hit them on shots from Birdsall, Yale, Logan Gunderson and Austin Lee. In the meantime, Berthold's defense tied up the Braves, who missed shot after shot only to see the rebounds fall into the Bombers' hands.
The No. 6-rated Braves had no intentions of rolling over, however, and they settled into the second quarter by hitting a trio of shots, starting with a three-pointer by Trevor Wettlaufer, followed by Justin McCloud's first two baskets of the night to narrow the gap to 20-13.
Bloms drilled two free throws on separate foul calls, and managed to sandwich in an assist to Yale for another score at the three and a half minute mark, but McCloud scored back-to-back inside shots, followed immediately by baskets from Devon Grenier and Mark LaCroix.
Suddenly, Berthold's margin was narrowed to 25-21, but the Bombers clamped down on defense again and shut off the Braves' scoring drive. In the meantime, the combination of Lee to Gunderson to Jaeden Jenson proved successful, and later Gunderson hit a three-point attempt at just over a minute left in the quarter. Yale added insult to injury with a dish to Birdsall that gave the Bombers a 32-21 advantage by halftime.
Yale came out in the third quarter to start things with a reverse layup, but McCloud prevented a runaway score by drilling back-to-back three-pointers. Yale scored again, only to see LaCroix add points on a jump shot. Yale dumped a pass to Mitchel White, who scored the layup and the free throw on the resulting foul for the 39-29 lead. Both sides added points, with Berthold inching ahead on shots from Yale and Lee, and Bottineau moving forward thanks to Garret Pollman and McCloud, but the quarter finished with a 44-34 margin.
Berthold's offense started cold in the fourth quarter, missing shots and passes as the Braves worked their defense. With two and a half minutes gone, Yale managed a free throw, but McCloud sandwiched that with inside shots and pulled the game to a five-point deficit at 45-40, only to see LaCroix make up more of the difference with a pair of free throws on a White foul.
With four minutes remaining and facing a relentless full court press, the Bombers found their legs again. Yale started with a putback, followed by two key three-pointers from Bloms on back-to-back possessions to pull ahead 53-45. The remainder of the Berthold points came from behind the foul line as Yale, White and Bloms each took their chances. McCloud added two free throws and Grenier came through with a three-point attempt and a putback in the final 30 seconds of the contest, but the 61-52 score held in Berthold's favor.
Yale led all players with 26 points in the game and 15 rebounds. Bloms scored in double figures with 10 points.
White added 8 points, Birdsall 5, Lee 5, Gunderson 5 and Jenson 2.
For the Braves, McCloud nearly matched Yale with 25 points and 15 rebounds. LaCroix and Devon Grenier both posted double digits with 10 points.
The Bombers shot 48 percent in the game, making 17 of 32 two-point attempts and 5 of 14 three-pointers, along with 11 of 23 free throws. Berthold finished with 35 rebounds, including 8 offensive boards.
The Braves shot 32 percent from the field, sinking 15 of 29 inside the arc and 6 of 37 three-point attempts. They scored on 4 of 4 free throws and grabbed 27 rebounds, including 11 on the offensive side.
The Bombers expected the hard-fought action, even though they'd defeated Bottineau earlier in the season. "In the first half, we were playing real well on defense and we got the ball inside a lot, which helps us out," said Bloms.
"Our shots were falling the first half, and that was big for us," added Yale. "Bottineau started to heat up as the game went on, though. We knew they would."
"They knew what we could do, so they defended us better," Birdsall said. "We got it together at the end and stopped them when it mattered most."
In Thursday's other action, Rugby defeated Des Lacs-Burlington 56-48 for third place.
Yale and Bloms were named to the All-Region 6 team for Berthold. They joined LaCroix and McCloud of Bottineau, Tanner Holte of DLB, Houston Lavachek of Glenburn, Tanner Strand of Our Redeemer's, Anthony Scherr of MLS, Kyle Lovcik and Jayden Welk of Rugby, Kodie Hancock of Westhope-Newburg and Ty Bruner of Velva.
Yale was selected as the Senior Athlete of the Year for the region, while Bombers head coach Brock Teets was recognized as the Region 6 Coach of the Year.
Bombers buzz Panthers
In a fast-paced semi-finals game on February 21st, Berthold defeated Rugby 57-40.
Andrew Hershey may have landed the first points for the Panthers on his team's first possession in the game, but an 18-10 first quarter lead left little doubt that Berthold came to win. Birdsall scored first for the Bombers' side of the scoreboard, with White, Yale and Bloms adding the rest of the points for the period.
Birdsall and Cale Neshem opened the second period with back-to-baskets, followed by points from Gunderson and Bloms to advance the point total. In the meantime, the Bombers' defense held down a frustrated Rugby team, never allowing the Panthers to get closer than 10 points in the period, which ended 34-20 in Berthold's favor.
The pace slowed a bit in the third period, with a two-minute scoreless stretch for Berthold after Neshem's second three-pointer in the game. The Bombers maintained their defensive play, however, and held the Panthers to 29 points. They also energized themselves and the crowd with a Birdsall rebound to Yale in the final seconds of the quarter. Yale let a shot fly from behind the Rugby foul line at the buzzer, which traveled the length of the court and hit its mark for the 45-29 lead.
Yale scored again in the fourth quarter on a six-footer, but the rest of the day belonged to Bloms, who found his mark from the free throw line, inside and outside the arc. The Panthers managed 11 points, but the Bombers simply dominated the court.
Bloms led all players with 27 points in the game, while Yale posted double figures with 12 points.
Neshem added 6 points, Birdsall 4, Lee 4, White 2 and Gunderson 2.
Lovcik led the Panthers with 13 points, while Welk scored 10.
Berthold shot 37 percent from the field, making 15 of 33 from two-point range and 8 of 30 three-pointers. Rugby managed 32 percent field goal shooting, including 12 of 33 two-point shots and 3 of 14 three-pointers. The Bombers made 5 of 9 free throws, while the Panthers made 7 of 9.
Berthold ruled the boards with 37 rebounds, including 13 on the offensive side to give themselves better scoring chances. Rugby finished with 30 rebounds in the game, including a mere 4 offensive boards.
In Tuesday's other semi-finals game, Bottineau topped Des Lacs-Burlington 69-60.