Thanks for reading some of the latest features about area people and events.
To view every page and read every word of The Kenmare News each week,
subscribe to our ONLINE EDITION!
Sonny Bergman named to ND Goose Hunters Hall of Fame
Kenmare native Carl "Sonny" Bergman, now of Longwood, Florida, grew up duck hunting with some of Kenmare's most notable businessmen of the 1940s and 1950s.
10/16/13 (Wed)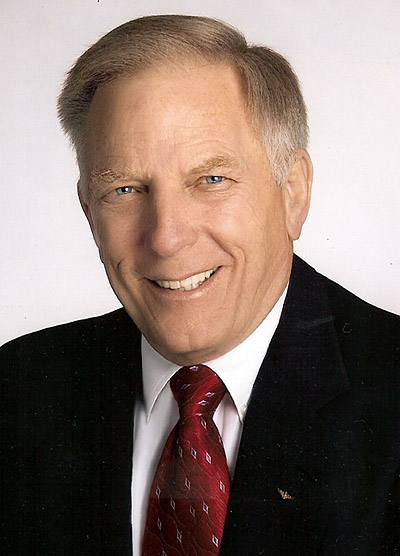 Carl "Sonny" Bergman, 2013 inductee into the North
Dakota Goose Hunters Hall of Fame at the 25th annual
Kenmare GooseFest celebration.


By Caroline Downs
Kenmare native Carl "Sonny" Bergman, now of Longwood, Florida, grew up duck hunting with some of Kenmare's most notable businessmen of the 1940s and 1950s.
"I learned with some of the best [hunters] at that time," he said. "My dad, Vernon McBride, Jim McBride, John Odland, Bud Hanson, O.K. Swenson, Wally Bernston, Glen Dolan and Carl Ringen."
Those early lessons turned into a lifelong passion for duck and upland gamebird hunting in the Kenmare area that has continued to this day, no matter where life has taken him--to college at North Dakota State University, service in the U.S. Marine Corps, starting a business in another state and raising a family.
Somehow, nearly every year, Sonny made time to come to Kenmare and hunt. "Every holiday, summer, leave or vacation, I always came home to Kenmare to visit my folks and friends," he said, "and I tried to time most of these trips to coincide with the fall hunting season."
"In Sonny's mind, there is no place like North Dakota and never will be another place as beautiful as this country is," his sister Carol [Bergman] Martin wrote when she nominated him for the Kenmare GooseFest North Dakota Goose Hunters Hall of Fame.
In the field
with a toy gun
Sonny started hunting with his father Carl about the same time he started school. "I have 8 mm film of my father and me out on the Brickyard Hill, picking up coated-cardboard folding goose decoys on a snowy, cold morning," he said. "He had me carrying a toy wooden gun."
The toy gun was replaced with a .410 Mossberg bolt action shotgun by the time Sonny was 9 or 10 years old. He shot his first duck with the firearm.
"On opening day, Vernon McBride and I crawled up on a slough just north of the Clearwater," Sonny said. "There were a number of ducks huddled together on the slough and within range. Vern had me shoot them while on the water, and with that little .410, I was able to get four birds. What a start! I was even more hooked."
Sonny moved on to a 20-gauge pump action shotgun as he grew older, and then started shooting the 12-gauge pump action, a style of gun he still prefers today.
Once he'd started hunting with the men, Sonny continued, although his father was mindful of the school schedule. "If they had a really good hunt lined up, I'd go along with them in the mornings," he said. "They'd have me at school on time."
His father and Vernon McBride maintained a rigorous schedule during waterfowl season, and Sonny tagged along with his gun.
"Dad and Vernon hunted every chance they had, a quick field or fence shoot in the morning, get to work, and then head out in the afternoon to hunt a slough or spot a field for the next morning," said Sonny. "We always bought shells by the case rather than by the box."
Unlike other boys he knew, Sonny continued hunting with his father into his teen years. "I always went out with my dad," he said. "We had lots of favorite spots, and Dad was the only guy I knew in the country who had a duck boat. It really wasn't very practical, but we would set out decoys and get some good shooting off of it."
Sunday hunts
among friends
Some of the hunts with his father's friends became major social events. Sonny tagged along on the Sunday outings, when five or ten men would gather at a likely slough.
"Two guys, usually my dad and Vernon, would wade the slough," he said. "They would stretch gunnysacks over inner tubes and set their guns and shells on top of that, then hold onto those tubes while they were wading. They were innovative."
The other hunters would arrange themselves around the slough at various locations. "We would shoot a mess of ducks," said Sonny, "and then on Monday or Tuesday night we would all gather at McBride's Meat Market for a duck cleaning bee."
Sonny took his place cleaning the birds, too. "If we shot 40 ducks on Sunday, we'd store them in Vernon's cooler," he said. "Then we'd meet and set up an assembly line of pickers, waxers, de-waxers, dressers and washers. It was a community effort."
He described doing every one of the jobs at one time or another, especially de-waxing, when the wax cooled on the carcasses was pulled off to strip pinfeathers and any remaining small feathers. "Everybody picked ducks then," he said, comparing that to today's hunts when many hunters save only the breast meat.
He continued, "I remember, many times, standing out in the dark with Dad, picking ducks by the headlights."
Sonny's father added one more element to those hunts, however, when he prepared meals with the birds. "Dad would make duck periodically for the family," Sonny said. "He roasted them all the time, stuffing them with sage dressing and basting them with an apple sauce."
Even better were the times during the season when Carl and his wife Dorothy hosted duck dinners at the family's café. "My folks had an opportunity to be friends with many of the townfolks and area farmers," said Sonny, adding that he and his sisters Carol and Caren learned from their parents' example. "They would cook and serve some of the game taken during the season to various individuals, as a way of saying thanks."
According to Sonny, those dinners also created opportunities for his father to socialize with landowners and get permission to hunt on their land.
"Back then, as it still is today, it is the generosity and graciousness of the local landowners that makes hunting in North Dakota, and more specifically here in the Kenmare area, a memorable lifelong opportunity," he said.
Kenmare still
feels like home
Sonny spent his formative years in the company of Kenmare hunters, but he left to attend North Dakota State University and enlist in the U.S. Marine Corps, where he became a decorated helicopter pilot after serving with the 163rd Marine Medium Helicopter Squadron in Viet Nam.
In fact, among other honors, Captain Carl E. Bergman earned a Silver Star for his role in assisting with the extraction of a Marine reconnaissance team surrounded by the North Vietnamese Army in Quang Tri Province, immediately south of the demilitarized zone, in February 1968.
After completing his military service, he launched a retail tire business in Pensacola, FL, and started a family there, but memories of Kenmare still pulled at him. "The vacations I took were, for the most part, to Kenmare," he said. "I always had in my mind that I would like to come back to Kenmare or North Dakota and raise my family in a small town."
He and his wife Michelle did just that in 1978, when they purchased the Chevrolet, Pontiac and Buick franchise in Lisbon and relocated to the town with their three children. "Lisbon is a wonderful community along the lines of Kenmare," Sonny said. "The hunting opportunities are fair, but not like northwest North Dakota. Consequently, for six years, many trips were made to Kenmare to visit my dad and do some hunting."
Sonny introduced his two young sons to duck hunting then, with the help of his father, but the family returned to Florida in 1984, and Sonny went back to scheduling most of his vacation time around hunting seasons in Kenmare.
"Throughout this time, I developed some tremendous hunting and personal friendships," he said, "and over the years I have tried to make it priority to be present for GooseFest."
Despite the short trips to Kenmare, Sonny maintained his hunting relationships with childhood friend Bruce Jessen and Vernon McBride's son Dave. "I've even hunted on Dave's Goose Shoot team," he said.
He introduced his friend Tom Kriz of Lisbon to the benefits of hunting in the Kenmare area, and came to know a new generation of local businessmen and hunters in Arlen Gartner, Larry Nore and Jerry Essler.
"Coming back over the years, I knew that Arlen's father and my father were very good friends," said Sonny. "Later, my father would go help Arlen at the store."
Now, as he schedules his North Dakota hunts, Sonny often starts by making plans with Arlen, Larry and Jerry. "I mostly concentrate on ducks," he said. "Goose hunting still seems like a wild goose chase to me, but at least one day while I'm here, Larry, Jerry, Arlen and I go pheasant hunting."
His sister Carol also enjoys the visits. "When we were young, we would always go for rides all year round, scouting for ducks, deer or whatever," she said. "I have always loved those rides, and now when Sonny comes home, he takes me out and shows me the countryside that he loves. He's taken me on some crazy trails over the years!"
For Sonny, the opportunity to maintain his Kenmare connections and hunt the familiar fields and sloughs after living away for so many years means everything to him.
"Even though I have not been an integral part of the Kenmare community as so many of the past Hall of Fame inductees, my heart has always been here," he said. "I am humbled and grateful for the induction and to be a member alongside these distinguished hunters and community servants."
He continued, "I thank everyone in Kenmare for always making me feel that this is home."
Carl "Sonny" Bergman will be recognized as a Kenmare GooseFest 2013 North Dakota Goose Hunters Hall of Fame inductee on Wednesday, October 23rd, immediately following the Top Shot Chef Showdown at the Kenmare Memorial Hall. Everyone is invited to attend this event, which begins at 6 pm with the meal.