Thanks for reading some of the latest features about area people and events.
To view every page and read every word of The Kenmare News each week,
subscribe to our ONLINE EDITION!
Jerry Essler named to ND Goose Hunters Hall of Fame
Jerry Essler, owner of Farmers Union Insurance in Kenmare, arrived late for an interview about his selection to the 2013 North Dakota Goose Hunters Hall of Fame for the very best of reasons.
10/16/13 (Wed)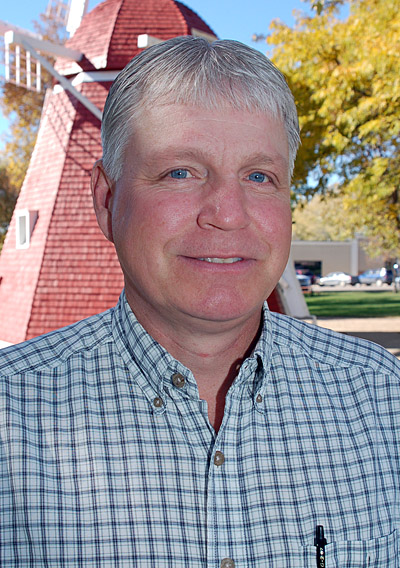 Jerry Essler, 2013 inductee into the
North Dakota Goose Hunters Hall of Fame
during the 25th annual Kenmare GooseFest celebration.

By Caroline Downs
Jerry Essler, owner of Farmers Union Insurance in Kenmare, arrived late for an interview about his selection to the 2013 North Dakota Goose Hunters Hall of Fame for the very best of reasons.
He was out waterfowl hunting with his father, Allan Essler, and friends Larry Nore and Arlen Gartner, all three former Hall of Fame inductees.
"This was a perfect day for hunting," Jerry said. "It wasn't too cold out there. I didn't shoot a lot of ducks, but I didn't have to clean a lot of ducks either. I got to go hunting with my dad, and I got to razz my friends and they got to razz me."
Best retrievers
anyone could have
"Ever since Jerry was a small boy, he and his brother Kim would love to go [hunting] with myself and Grandpa Oluf [Jensen]," Allan Essler wrote in the Hall of Fame nomination he submitted for his son. "They were probably the best retrievers anyone could have."
Jerry recalled his early hunts at about age 5, with brother Kim a year older. "Pass shooting is what they always did then," he said. "The first time I can remember, we were sitting in a draw up past Jim Schoemer's place. There would be ducks upon ducks upon ducks. They'd sit up there and shoot ducks all day long. It wasn't any sundown hunt then. They would just say that was enough and go home."
"I never begged them to go," Allan said. "They loved to go along and watch us shoot."
Jerry started shooting his own birds at about age 10 or 11. "Dad gave us a gun," he said, recalling the 20-gauge shotgun he used then. "I think I traded mine in later for a double-barrel. Dad bought 'em all, the old Coast-to-Coast Magnum or whatever they had."
He described his first shots at waterfowl like it happened yesterday instead of nearly 40 years ago. "I can drive to that slough today with my dad, and the road isn't even there anymore," he said, talking about a wetland near Joe Staael's home west of Kenmare. "I must have shot two boxes of shells that morning and never got a duck. It didn't matter."
He continued, "I remember we didn't get to stay long because I had to get back for CCD. Kim must have got in trouble the night before because he didn't get to go. It was opening day, and I know I shot at everything that came by because I finally got to shoot ducks."
His interest in duck hunting quickly broadened to geese, upland gamebirds and pheasants, and he often struck out on a loop he established north of Kenmare.
"I used to take my shotgun and away I'd go," he said as he described a path past the Gravesen property beyond Larry Nore's home, out to land farmed by Christ Jensen and Jim Schoemer, and then around by the Kenmare Country Club and home again. "I'd always take the same loop," he said. "Maybe LeRoy and Maureen [Gravesen] saw me walking across the pasture. And you always knew there was something in Jim Schoemer's tree rows, grouse, pheasants, something."
He stopped and shook his head. "I'd never let my kids do that!" he said.
Before either he or Kim could drive at age 14, the boys' mother Twila even assisted their hunting efforts. "Dad was gone somewhere," Jerry said. "I was probably 12, and my mom took my brother and me hunting. We'd give her directions and she'd drop us off in the old station wagon."
He recalled telling her to drive the roads north of Norma in pursuit of snow geese. "We'd start on a fence line, shoot the geese, then get in the car and have Mom drive us over to the next spot," he said, "and we didn't quit early either. I know we stayed out until one o'clock."
He talked about his mother cooking the birds for her family's meals, but he couldn't recall her eating any of the game. "Usually, Mom had a hamburger," he said, laughing. "Mom was willing to haul our sorry butts around. I'm sure I still owe her."
Hunting as a teen
and young adult
The hunts continued in high school, when Jerry generally preferred his friends' company in the field. "We'd go before school and we'd go after school," he said, as he talked about having a shotgun and the rest of his gear stashed in the car out in the school's parking lot. "After football practice, we knew we had time for one sneak."
He hunted with Steve Smith, Curt Helmers, Perry Kress and Kim in those days. "You waited for school to get over so you could go hunting," he said. "You waited for Friday night football to be over so you could go hunting Saturday and Sunday. The numbers of ducks and geese then were so great, you just needed to get in front of them."
Even though he went on several hunts with friends, one of the family's memorable hunting stories took place when Jerry was 15 or 16. "The snow geese were coming in, and we didn't have any decoys," Allan said, "so the night before, I bought a bunch of white paper plates and we spent the night stapling them together."
Before dawn the next morning, he had Jerry and Kim set the plates up in a likely field. "We had a couple hundred of them setting there," he said. "Then the wind came up and we had paper plates all over the place. They were rolling down the field. I always say we invented the first motion decoys!"
Jerry spent two years at the University of North Dakota, but returned to work with Allan at the insurance agency from 1983 to 1989, when he left Kenmare again to work in Bismarck and Minot for a few years. He hunted for upland game around Bismarck on occasion, but managed to make trips home for ducks and geese. "This was the only place I hunted waterfowl," he said.
At some point as a young adult, Jerry started hunting waterfowl with Larry and Arlen. He couldn't recall his first hunt with them, but he did remember one particular goose hunt that took place during antelope season.
"I was working in Tioga then and Arlen called me," Jerry said. "I drew an antelope gun tag that year. Arlen gets a tag and [Arlen's son] Chad gets a tag, so Arlen said, "Before we go antelope hunting at noon, you and I are going goose hunting. I have got a spot for us.'"
He continued, "I can still see Arlen and I laying in those stupid big magnum decoys. We knew the geese were coming in and we didn't dare move, so we'd whisper to each other, 'Are they close enough yet?' One of them honked right there, so they were close enough! Then, we went antelope hunting."
Hunting across the generations
Jerry returned to Kenmare permanently in 1999 with his wife Sam and children Meghan and Jonathon to operate the Farmers Union Insurance office when Allan retired. Back in his home town, he introduced his children to his favorite pastimes.
"He loved it when they hunting and fishing with him," Allan said, "and sometimes they'd take Grandpa along, too. Many times, he's taken other children out when their fathers didn't hunt, especially turkey hunting and duck hunting."
"You'd bundle 'em up," Jerry said, "sneak some geese, get in a good spot and sit in there with them."
He said Jonathon often preferred to sleep in on weekend mornings, but Meghan spent many years in the field with her father.
"There was a south wind blowing and the geese were coming over the road," he said, describing Meghan's first goose hunt in a location near the Lehmans' and Pullens' farms. "I told her to sit here in the ditch while I drove the vehicle back down the road a ways. I bet she sat there and shot a box of shells. She would hit them as they went over, but they would glide. I think she shot three that day, but she didn't know it until we picked them up later."
After returning to Kenmare, Jerry started helping his father and older friends like John Odland and Jerry Meyers during their hunting trips. "I call them the geriatric crowd," Jerry said, talking about setting up decoys for them but laying alone in the field while they chose spots to sit in weeds or cattails around the edges.
"He finds me a place to get some shooting," Allan said. "Now, I don't do the work, although sometimes I do the cleaning."
"It's a cycle," Jerry said. "I used to go with my grandpa and my dad, then it was with my kids. Now, I hope I get to do it with my grandkids, but not for a while yet!"
Any day you
hunt is a gift
Jerry has witnessed the increase in snow goose numbers and changes in Canada goose hunting around Kenmare. "I remember as a kid when there was a boundary around the Des Lacs refuge and we couldn't shoot a Canada goose within six miles of the refuge boundary," he said. "Look what we've got now!"
He helped during the first Kenmare GooseFest in 1989, when organizer Archie Kress called him to guide retired Minnesota Vikings football coach Bud Grant, former Vikings player Vern Gagne, Minnesota state senator Bob Lassard and former KXMC sportscaster Russ Smith.
"I took those four out with me grouse hunting," Jerry said. "My old reliable spots didn't produce a thing. We'd walked out all this way across a field, and I turned to Bud and said, 'Bud, what should we do now?' Bud said, 'Son, you're gonna go back and get that truck and pick me up.' So I did!"
Twenty-five years later, Jerry is convinced GooseFest has made a positive impact on the community. "Everywhere you go in the state and mention you're from Kenmare, someone will say, 'You have that GooseFest thing up there, don't you?'" he said.
He laughed again. "Sometimes, I think it lasts too long, but people come to town and family comes home," he said. "It's helped Kenmare promote the town."
Jerry has maintained his involvement in GooseFest for most the event's history, helping with the Wild Game Feed, emceeing the Hall of Fame ceremony, and taking visitors out on hunting trips during the week.
Allan noted the way Jerry has promoted and supported other hunting and fishing activities in the area, including Greenwing Day at the Des Lacs National Wildlife Refuge, the Special Fishing Day held at the Upper Souris NWR, and the Gooseneck Chapter Ducks Unlimited banquet in Kenmare. Most recently, he has served as the local chairman for the Goose City Gobblers chapter of the National Wild Turkey Federation.
Jerry shook his head at the Hall of Fame nomination. "It makes me feel humble," he said. "When I look at that list, most of those guys I've hunted with except for some who aren't with us anymore."
He continued, "And some of them I knew, like Carl Bergman. When I was little, before you went hunting you went to Bergman's Cafe and had the pancake that was THAT big, hanging over the edge of those plates. I think Dad took us there first because he knew we'd fall asleep out in the field."
Through all the years he's hunted around Kenmare, landowners have been gracious about access to their property.
"If I've asked someone for permission, I've never been turned down," he said. "We're pretty blessed to have that up here. Today when we went out, we didn't see any 'No Hunting' signs posted."
And Jerry continues to hunt upland game and waterfowl around Kenmare, getting out to the field before a day's work at the office or early on a weekend morning.
"Any day you hunt is a gift," he said. "It's not all about the killing any more. Now, it's just about being out there."
He smiled and finished, "Tomorrow might be better for us. We'll let Larry pick the spot."
Jerry Essler will be recognized as a Kenmare GooseFest 2013 North Dakota Goose Hunters Hall of Fame inductee on Wednesday, October 23rd, immediately following the Top Shot Chef Showdown at the Kenmare Memorial Hall. Everyone is invited to attend this event, which begins at 6 pm with the meal.