Thanks for reading some of the latest features about area people and events.
To view every page and read every word of The Kenmare News each week,
subscribe to our ONLINE EDITION!
School board has three candidates for two seats
Voters in the Kenmare School District will soon have their first chance to view floor plans for a proposed addition to Kenmare High School AND to elect two school board members to serve the district for three more years.
5/29/13 (Wed)
Election is June 11
By Caroline Downs
Voters in the Kenmare School District will soon have their first chance to view floor plans for a proposed addition to Kenmare High School AND to elect two school board members to serve the district for three more years.
When the polls open at Kenmare High School on June 11th, school district patrons will choose among candidates Lars Christensen, Rebecca Standard and Craig Ellsworth for the two open seats.
The first public display of plans and information related to the building project proposed to offer more classroom space for the elementary grades will also be available for viewing. The board plans to host more public meetings about the project during the summer, with a referendum on the project tentatively scheduled for November.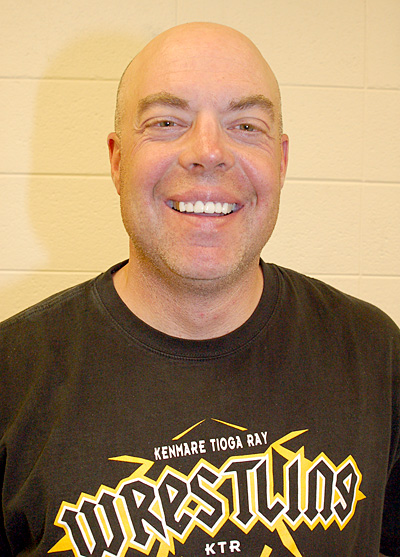 Lars Christensen, candidate for rural at-large position
Lars Christensen
Christensen, a self-employed farmer, would like to serve a fourth term on the board as the rural at-large candidate. He and his wife Emily have two children directly affected by the school board's decisions: Annika will attend sixth grade this fall, and Andrew will be a third grader. Christensen also serves as an assistant coach for the Kenmare High School and local PeeWee wrestling programs.
"I've been on there long enough now, I feel comfortable about how the board should operate," he said. He was first elected in 2004.
He continued, "I have a vision for what I'd like to see in the future, and I'd like to continue to do that work."
Christensen's vision includes improvements made to the school district's building to handle the increased student enrollment in the elementary grades. "If we have more housing available in Kenmare and the population continued to grow, classroom space for students will be one of the biggest issues for the board," he said.
He wants the district to remain committed to offering a broad curriculum for the junior high and high school students, and he said the district's staff size may have to be expanded if enrollment numbers keep rising.
Finding more bus drivers to transport Kenmare's kids to and from school and to activities concerns Christensen. "It may not sound like an educational issue, but it's important," he said as he talked about several of the current drivers approaching retirement age. "We've had a hard time even finding substitute drivers. There are no easy answers."
He also keeps an eye on the district's finances. "Our interim fund is all right for now," he said, speaking about the balance the district carries over annually that has been used to fund bus and technology purchases and small-scale building projects in recent years. "But we might have a lot more expenses in the future, so I'd like to keep the district on sound financial footing."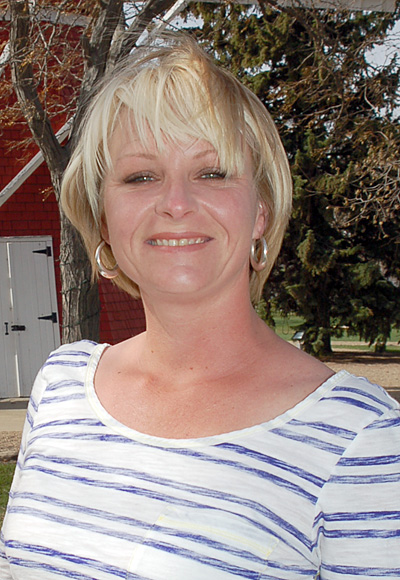 Rebecca Standard, candidate for at-large position
Rebecca Standard
Rebecca Standard, who moved to Kenmare nearly three years ago with her husband Christian from Eugene, Oregon, is running as a candidate for the at-large position on the school board.
She credited her husband, who works at Farmers Union Oil Co. and currently serves on the Kenmare City Council, as inspiration for her school board run. "I figured with my husband doing so much for the community, I should get involved, too," she said. "I think the school board is a good fit for me. I think I have some insight to offer, coming from a larger district with 25 to 40 kids per classroom."
Standard described herself as "predominantly a stay-at-home mom" during her time in Kenmare, although she is a licensed hairdresser by trade. She also started employment at the Kenmare One Stop and Burger Shop, and will be seen often at the store's new west side square location once that facility opens later this summer.
She has a teenage son still living in Oregon who visits Kenmare during the summers, and two daughters who live and attend school in Kenmare. Xandria will be a freshman at Kenmare High School, and Haley will enter third grade in the fall.
"I've been listening to the students and what they would like to see at the school," Standard said, adding that more classes and extra-curricular programs related to drama, art and even home economics have been requested by Kenmare's kids.
She supports the idea of expanding those programs for all grade levels. "I'd like to see more extra-curricular activities for all ages, including in the elementary school," she said. "At least, more social times or fun activities that the school supports. Things like bowling nights, movie nights or dances promote relationships and friendships and encourage the kids to interact beyond the 15-minute recesses."
She talked about her own interest and ability in researching and writing grants to support those kinds of programs. "Giving the kids those options opens their minds," she said. "If we give them a little bit of a push, their interests can develop. There's so much out there for them, and they can go out and open their horizons, and then bring that back to the community."
Standard is also interested in nutrition and wellness for students and staff members, as well as maintaining a strong educational foundation as enrollment grows. "With the larger number of students coming in, we need to be able to handle their educational needs," she said, "and make sure teachers have what they need to meet the challenges."
She looks forward to representing district patrons on the school board. "I think it would be good for the school board to have a fresh perspective," she said. "Hopefully, the community will think so, too."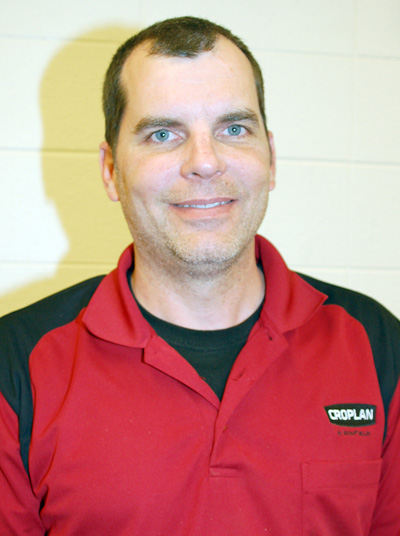 Craig Ellsworth, candidate for at-large position
Craig Ellsworth
Craig Ellsworth is running for a third term on the Kenmare school board as the at-large candidate.
"I care about the kids, and I enjoy being a school board member," he said about his service on the board, which includes officially representing the Kenmare School District on the governing board for the Mid-Dakota Education Cooperative based in Minot. "I think I have something I can contribute to the community, based on my education and work experience."
Ellsworth is general manager for Winfield Solutions, a Land O'Lakes company in Minot where he has also volunteered for many years as the popcorn sales colonel serving the Tomahawk District of the Boy Scouts of America. He and his wife have lived in Kenmare for nearly 15 years, and Shelley works at the Kenmare Community Hospital in the physical therapy department.
The Ellsworths have two children enrolled at Kenmare High School, including Tyler, a member of the KHS Class of 2013, and Tucker, who will be an eighth grader this fall.
Ellsworth was a big fan of the Kenmare school system before he became a board member. "We've got a really great school," he said. "People ask me why I live in Kenmare and work in Minot, and it's because of the great community here and the great school."
His top priority for the school district is to maintain the high quality of education offered to students. "I think that shows through the recent purchase of Read 180 and other technology and resources to help our teachers," he said.
Ellsworth is also concerned about the infrastructure of the school district. "That's why the board has hired Kraus-Anderson as a construction manager to fully review both the grade school and the high school," he said.
"They've done a full analysis of all our needs, including a review of the classes and numbers of students. Then they came to the board with some options."
He noted Kraus-Anderson has been doing similar work for Minot Public Schools and Minot State University, in addition to their extensive experience with school projects and communities of all sizes across the region.
The options for Kenmare included a list of all repairs and other types of maintenance needed. "They also included an option to build a new building," Ellsworth said, "and now the board has endorsed a possible plan that we very much want the public's input on."
He acknowledged the Kenmare schools have not seen "the staggering influx of students" experienced in other districts. "But the grade school has grown by 50 students," he said, "and we're splitting almost every class there. As those students get older, that's going to impact the junior high and high school classes."
He continued, "We have a steady growth that we have the opportunity to address now."
The proposed plan involves housing grades pre-kindergarten through 12 in one building, which Ellsworth favors at this time.
"We would be able to consolidate and to enhance security," he said, "which would be easier under one roof. The staff would be able to coordinate more with each other, and we would save efficiencies."
Ellsworth asked district patrons to take time on June 11th both to vote for the school board members and to look over the Kenmare school project drafted by Kraus-Anderson.
"There will be a display of the proposed plan there," he said. "We also invite the public to watch the newspaper for when those [public] meetings will be held. We welcome them to attend and we welcome their input."
Polls open June 11th
The Kenmare School District election will be held Tuesday, June 11th. Polls will be open at Kenmare High School from 7 am to 7 pm that day.
Voters may also request an absentee ballot from Renae Murphy, school business manager, at Kenmare High School. Absentee ballots should be returned or postmarked by June 10th in order to be counted with ballots cast at the polls.