Thanks for reading some of the latest features about area people and events.
To view every page and read every word of The Kenmare News each week,
subscribe to our ONLINE EDITION!
Live musical performance in the city park on Monday to kick off library's summer reading program
Even as longtime Kenmare Branch librarian Pauline Nielsen jokes about the number of days she has remaining until retirement, plans for the summer reading program are taking shape at the library.
5/29/13 (Wed)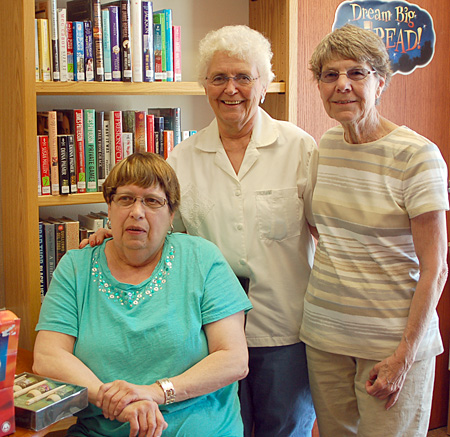 Kenmare's Book Lady . . . Kenmare Branch Librarian Pauline Nielsen, seated,
is surprised with a celebration for her upcoming retirement. Ward County Public
Library Kenmare board members (l-r) Maureen Munch and Shirley Lindquist
planned the event, held May 15th at the local library. Nielsen has spent 30 years
sharing books with Kenmare's kids and adults, from 1980 to 1993 and again
from 1996 to 2013. Her final day at the Kenmare Branch Library will be May 30th.
By Caroline Downs
Even as longtime Kenmare Branch librarian Pauline Nielsen jokes about the number of days she has remaining until retirement, plans for the summer reading program are taking shape at the library.
The 2013 summer reading event encourages readers to "Dig into Reading!" Participants of all ages are invited to sign up at the Kenmare Branch Library, the Bookmobile or the Ward County Public Library.
Kids who decide to "Dig into Reading!" this summer should stop by the Kenmare Branch Library to record their reading progress. For each book finished, the reader's name will be entered into a weekly drawing that will take place every Thursday at 4 pm. Prizes will be drawn for one girl and one boy each time, and readers do not have to be present to win.
The Kenmare Branch library has special events planned through the summer, including the popular cupcake decorating party on Tuesday, June 11th, beginning at 2 pm at Maple View. Other activities will be announced, and the "Dig Into Reading!" program will close with a party at the library on August 1st at 2 pm. The top six readers will receive prizes during that celebration, and two names from all the kids signed up for the program will be drawn to receive the bicycles donated by Kenmare Veteran's Club, Inc.
Conductor Jack plans
stop in Kenmare for
summer reading kick-off
The kick-off for the summer reading program will take place Monday, June 3rd, at 10 am in the Kenmare City Park when Conductor Jack rolls into town.
Jack Norton is a successful children's entertainer, television producer, EMMY Award winning songwriter and early childhood education expert. He is the co-creator of The Zinghoppers, a children's band with a television series airing on over 100 PBS member stations nationwide and in 175 countries to over 1 million viewers daily. Norton writes, co-directs and co-stars as the friendly "Conductor Jack."
His love of hip-hop, electro dance and bubble gum pop music has a huge influence on the Zinghoppers music. Prior to his work with that band, Jack was an accomplished band leader, singer-songwriter and performance artist specializing in interpreting vintage vaudeville, dixieland ragtime jazz and jug band influenced bluegrass music. His work as a solo artist and within his bands (The Mullet River Boys and the Wizard Oil Vaudeville Company) earned Jack countless Minnesota Music Awards--including nominations as "Best Male Vocalist," "Best Instrumentalist" and "Artist Of The Year".
Coming from a long line of musicians, Jack performed in his parents' bluegrass band starting at the age of 4. His guitar teacher was none other than enigmatic bluesman Leon Redbone, and he learned to play the ukulele from his neighbor--the eccentric falsetto crooner Tiny Tim. He has an obsession with American popular music from the 1880s to the 1930s.
Norton lives in Nashville, Tennessee with his wife Kitty. Together, they work to achieve their dreams of making the Zinghoppers the #1 children's entertainers in the world.
Conductor Jack's appearance in Kenmare is free of charge. Everyone is invited to enjoy the live music and Norton's high-energy performance on June 3rd.
Free books for
eligible preschoolers
The Kenmare Branch Library is now looking for eligible families with preschool children to receive books free of charge from Dolly Parton's Imagination Library.
The program is supported in North Dakota by an initiative from the office of First Lady Betsy Dalrymple and in Ward and Renville counties by the Souris Valley United Way in Minot.
Preschool children from birth until their fifth birthdays who live in Ward and Renville counties can be registered for the program by their parents. Each month, a new, carefully selected book will be mailed to the child's home, building a library for that child. All the parents have to do is read the books to their children, supporting the idea that reading aloud to kids on a regular basis provides a boost toward a successful education later.
Parents are asked to submit the official registration form, available at the Kenmare Branch Library, which will be approved and held on file with the Souris Valley United Way. If a family should happen to move while their child or children are getting books, the family must notify the Souris Valley United Way office of the new address in order to continue receiving the books.
Register at the library
For more information or to register for Dolly Parton's Imagination Library or the Dig into Reading! summer program, contact Bree at the Kenmare Branch Library at 701-385-4090 or stop by between 9:30 am and 5 pm on Mondays, Wednesdays and Thursdays.