Thanks for reading some of the latest features about area people and events.
To view every page and read every word of The Kenmare News each week,
subscribe to our ONLINE EDITION!
Scholarship for world travel gives preference to Kenmare students
Carly Hedlin, a 2008 KHS graduate, spent a month during her junior year at St. Olaf College in Northfield, MN, visiting countries surrounding the Baltic Sea. "It's a mind-blowing experience, so different from our cultures," she said.
4/11/12 (Wed)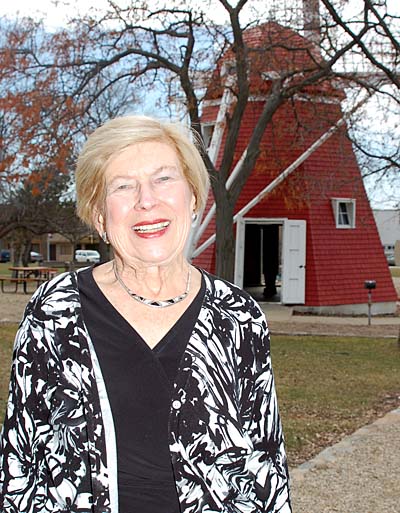 Marjorie Christensen Ribe, a former 40-year resident of
Kenmare and avid traveler, now endows a scholarship
to support overseas travel and education opportunities
for North Dakota students, with preference given
to students from Kenmare. Scholarship information is
available from the North Dakota Community Foundation.
By Caroline Downs
Carly Hedlin, a 2008 KHS graduate, spent a month during her junior year at St. Olaf College in Northfield, MN, visiting countries surrounding the Baltic Sea.
"It's a mind-blowing experience, so different from our cultures," she said.
Stephanie Barnhart, a 2009 KHS graduate and student at Concordia College in Moorhead, MN, divided five weeks of her time last May and June in the African country of Rwanda between that nation's capitol city of Kigali and a smaller village of Musanze.
"Five years ago, if I would have closed my eyes and pictured Africa, I would have pictured the animals," she said. "Now, when I picture Africa, it's walking up the road to the Deaf Center at the foothills of a really verdant country among men, women and children going about their daily lives, wearing their traditional garb. I picture people now, not the giraffes."
Former Kenmare resident Marjorie Christensen Ribe is delighted to hear impressions like those from students who have traveled abroad. She is even more pleased those travels can happen for North Dakota, and especially Kenmare, students with the help of a scholarship she provides through the North Dakota Community Foundation.
"When we started going overseas, I became aware of the wide world and what a narrow view I had about it," she said. "I think young people need to have a real feel for the world."
Marjorie, originally from Bemidji, MN, earned a degree at North Dakota State University, where she met Lee Christensen of Kenmare, an economics major. After graduating from college, she worked in Denver and Minneapolis before Lee convinced her to marry him and move to Kenmare.
"So I came to this little town and taught home economics at the school for two years," she said. The couple farmed land north and south of town and started their family of three children.
Marjorie became genuinely fond of Kenmare and called it home for 40 years. She and Lee both became active in local and state organizations. Lee served on the Kenmare School Board, including a stint as president, then went on terms as a North Dakota state representative and senator and as a board member of the state's soil conservation agency. Marjorie loaned her leadership talents to the North Dakota Council on the Arts and state Red Cross organization, and served as president of the Mental Health America of North Dakota organization.
The Christensens started traveling overseas after their own children completed college. Marjorie took the first trip alone, an Elderhostel adventure to Colorado focused on hiking and photography opportunities, because Lee believed he had too much responsibility on the farm to leave. However, after Marjorie returned and started planning a second trip, Lee asked to join her, and the couple made the first of several trips to Europe. "We always traveled with a group," Marjorie said.
After realizing the benefits of their own travels, the Christensens started creating opportunities for students to travel abroad. "Lee and I felt so fortunate, so we wanted to share that and we wanted it to be perpetual," said Marjorie.
The couple established a scholarship for college students to use for studies overseas. Five years ago, Marjorie met with the director of the North Dakota Community Foundation, which has administered the scholarship since then. Any North Dakota student can apply, but preference is given to students from Kenmare, at Marjorie's request.
"I have a close emotional relationship with Kenmare, and I would like to have Kenmare students be aware of this [scholarship]," she said.
After Lee's death from cancer, Marjorie left Kenmare and moved to Santa Fe, NM. She has been married to retired physicist Fred Ribe for the last 12 years, and the couple spends their time participating in a variety of volunteer efforts, including nursing home visits, various missions through their church, and supporting arts, hospice and homeless programs. Marjorie returns to North Dakota nearly every year, visiting family and friends and checking on conditions at the Christensen farm.
She continues her overseas travels with Fred, which feed Marjorie's passion for experiencing different cultures and peoples around the world. "Last year, we took a trip to Morocco and I found that fascinating," she said. "Our guide shared information about the politics, religion, monarchy and feelings of the people. This year, we're going to England and France."
She continued, "Fred is the history person. I enjoy learning about people and talking with them through interpreters, getting to know who they are. Maybe that's the reason I'm still here at age 84!"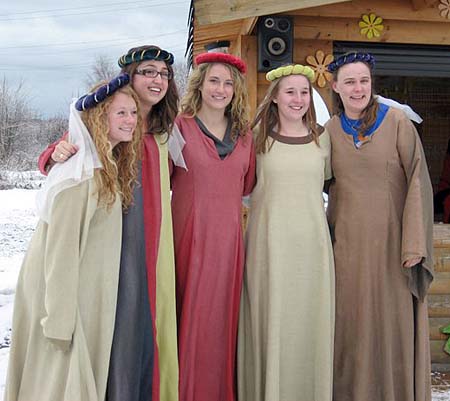 Carly Hedlin, second from right, joins some of her classmates in medieval dress
during a visit to the Kaliningrad Province of Russia. Hedlin, who attends
St. Olaf College, applied the Marjorie Christensen Ribe Scholarship toward
a month-long tour of the Baltic region led by a German professor. The St. Olaf
students met with university students from eight countries to discuss
similarities and differences in their cultures and educations.
Carly Hedlin tours
Baltic countries
Carly Hedlin is a senior economics major at St. Olaf College with an emphasis in management studies and the daughter of Dave and Janelle Hedlin of Kenmare. She will graduate in May and would like to develop a career in events planning.
In January 2011, she used the Marjorie Christensen Ribe Scholarship to participate in the Mare Baltic trip as part of St. Olaf's emphasis on foreign education experiences. "They want us to learn a lot about different cultures while we're students here," said Carly.
The trip was led by German professor LaVern Rippley, who took the students through selected cities in Germany, Poland, Russia, Lithuania, Estonia, Latvia, Sweden and Finland, all near the Baltic Sea. "We did 32 cities in 31 days," Carly said, adding that her group of nearly 20 students traveled by bus and ferry.
Rippley arranged for various tours of historical sites, reasonable hotel stays, and meetings with university students in each country. "He had acquaintances at different universities there and set up [opportunities] for them to speak with us," said Carly. "We would hear their perspective of the U.S., how they grew up and how their education system is different from ours."
She enjoyed those informal meetings with students, as well as a session with the president of Estonia. The group also observed the impact of the former Soviet Union on communities and churches in the region, visited castles in the different countries, and toured a German U-Boat submarine and a WWII concentration camp.
Carly looks back on the experience now as an incredible opportunity to see places she never would have thought about visiting otherwise. "The trip made me want to go back there to explore more," she said, "and it made me want to travel even more."
While she has focused on completing her college coursework instead, the trip to the Baltic region inspired her to take classes about foreign countries. "Right now, I have a class on Asian countries," she said. "I've been wanting to learn more about different cultures of the world."
Carly learned about the Marjorie Christensen Ribe Scholarship through a lifelong personal connection to Marjorie. "My mom is friends with Marge," she said, "and I've known her since I was little. As soon as I found out I was going abroad, I started applying."
From Carly's perspective, her month-long trip was invaluable to her college studies. "It was a great way to learn more about these countries and their cultures," she said. "You can't learn this stuff in a classroom. You have to experience it for yourself."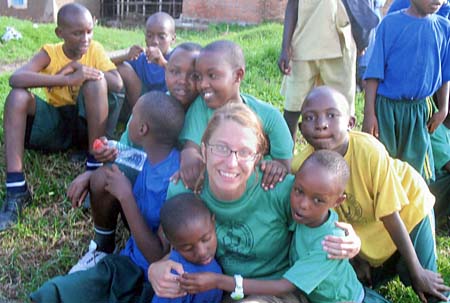 Stephanie Barnhart, center, used the Marjorie Christensen Ribe Scholarship
to help fund a five-week trip to Rwanda through Concordia College.
Barnhart is pictured here with students from the Wisdom Nursery
and Primary School in the small town of Musanze, where
the Concordia group assisted in the classrooms. The Americans also
taught English lessons to students in the capital city of Kigali.
Steph Barnhart teaches
students in Rwanda
Like Carly, Stephanie Barnhart applied the scholarship toward a particular college traveling experience--the Concordia College Summer Field Studies Rwanda: Service in the Heart of Africa, early last summer.
Stephanie, a communications major and the daughter of Ken and Jean Barnhart in Kenmare, discovered the opportunity during a global education fair at the college. She and her three traveling companions prepared for the five-week visit with meetings, readings, documentaries, a research project and other writings, all supervised by trip advisor and English professor Dr. Bill Snyder.
The group left May 3rd and joined the one million residents of Kigali to volunteer their teaching skills at The Learning Center. "It was a facility for students finished with high school but who have not yet gone to university," said Stephanie. "This was a place for them to improve their English abilities, along with their computer skills."
The Concordia group offered English lessons to a group of about 30 students their own age, using the class's only copy of a workbook, a whiteboard and dry erase markers. "It was a slow process, waiting for 30 people to copy something," Stephanie said. "In the meantime, they would ask us questions. It was unbelievable to me how much they wanted to know and how much they had heard about America."
Stephanie and her traveling companions fielded questions about rap songs, the NFL, marriage customs in the U.S. and slang expressions along with teaching English. Many of the students also served as the heads of their households, raising younger brothers and sisters in the wake of the country's genocide in 1994, when nearly one million people were killed over a 100-day period.
During evenings in Kigali, the four Concordia women stayed at the SOS Children's Village, a type of orphanage in the city, and taught English lessons to two groups of women who lived at the facility. The Americans also assisted a group of SOS mothers with a letter-writing campaign to the facility's sponsors. "Listening to their stories, the reasons that they're not married and [staying] at SOS was incredible," said Stephanie. "They just wanted to talk to us. It was like coffee hour."
After two and a half weeks in the capitol city, the Concordia group left for a two-week stay in rural Musanze. "Kigali was like Fargo, but Musanze was like coming home to Kenmare," Stephanie said, describing a lush countryside and ubiquitous goats and cows.
The Concordia women assisted in classrooms at the Wisdom Nursery and Primary School there, attended by over 500 children and operated by the Seventh Day Adventist Church. Sitting three to a bench and desk, the students copied notes from a chalkboard. "These kids are starved for books," said Stephanie. "They want to learn and they work so hard at it."
A small supply of outdated workbooks becomes a treasure for the students during recess times. "Recess turns into a mob of children with their hands all around these books," Stephanie said.
While in Musanze, Stephanie and the other Concordia students spent afternoons at the Center for Deaf Children, a separate school established by the same founder as the elementary school. "This place was a lot more basic than the primary school," explained Stephanie. "It's home to 62 kids ages 3 to 18 who live and study there."
The Americans' role was to provide recreation for the students, but even playing with the kids challenged Stephanie because she didn't know sign language or the local language. The students there gave her a new name, however, the sign for "long and skinny" as they described her physical appearance, and a bond formed. "They have words," Stephanie said. "It's just not the way that I know them."
The students also responded as she led them in volleyball, communicating the rules through gestures and facial expressions. Stephanie discovered she could "talk" with these students in the most unexpected ways. "Who ever thought I'd be 8000 miles away in Rwanda playing volleyball with deaf children?" she asked. "It was hard to leave that place. That's the place where I learned the most about myself."
Before returning to the U.S., the Concordia group enjoyed shopping in local open air markets, sampling a wide array of international foods and visiting different genocide memorials in Rwanda. They spent a day on a safari, complete with a guide, four-wheel drive jeep and views of water buffalo, zebras, various antelope, hippopotamuses and giraffes.
Stephanie admitted she was happy to return home to running water, but the time she spent in Rwanda left an impression. "The reverse culture shock for me has come through thinking about unequal distribution," she said. "Some of my priorities seem backward to me now. You can't just dole out money, but you can do a lot."
She paused and then repeated her last thought quietly, "You can do a lot."
Scholarship
funds available
Marjorie was pleased with the experiences of both these young women, and she encourages other Kenmare-area students to use the scholarship in a similar manner.
According to guidelines from the NDCF, the Marjorie Christensen Ribe Scholarship is intended to financially assist students from North Dakota to have an international educational experience. Applicants should exhibit high moral character and leadership ability, and have at least a 2.5 GPA on a 4.0 scale.
The funds may be used for high school or college students participating in an international experience to include, but not limited to, high school students attending international language camps or foreign exchange programs, college students studying a semester abroad, or other educationally accredited international studies.
Students from across North Dakota may apply for the scholarship, which currently offers a maximum award amount of $3,000.00. Preference is given to students from the Kenmare area, as specified by Marjorie.
Further information and an application for the scholarship are available online from the North Dakota Community Foundation website at www.ndcf.net/Kenmare/index.asp.
Marjorie hopes students using the scholarship will meet and learn about the citizens of foreign countries in a way that helps those students become more supportive and respectful of differences. "I want them to have an understanding of people of all countries, races and backgrounds," she said, "so we can work more cooperatively as individuals and as nations."