Thanks for reading some of the latest features about area people and events.
To view every page and read every word of The Kenmare News each week,
subscribe to our ONLINE EDITION!
Area students recognized for artistic talents in Jr. Duck Stamp contest
Nineteen students from the region were among the 100 young artists recognized for their winning entries in the 2012 North Dakota Junior Duck Stamp contest.
4/11/12 (Wed)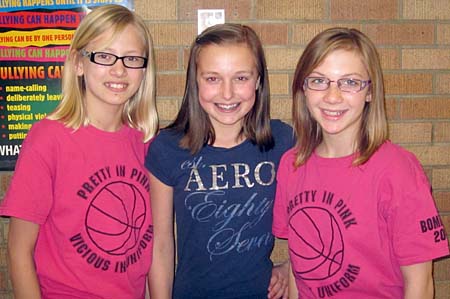 ND Junior Duck Stamp artists . . . Berthold students (l-r) Grace
Burke, Lyvia Roark and Laura Vangsness celebrate their success
in the state's Junior Duck Stamp contest. Not pictured is honorable
mention winner Alivia Schweitzer. The artists prepared their entries
during art lessons in their 6th grade classroom
with Jane Kalmbach of DakotaBlessings Studio, Kenmare.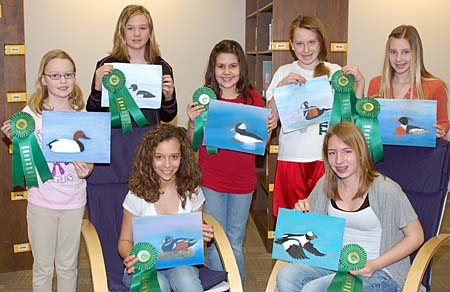 Draw a duck, any duck . . . Seven Kenmare students are among
the 100 artists recognized across the state for their top entries
in the ND Junior Duck Stamp contest. Receiving honorable mention
awards in the Grades 4-6 and Grades 7-9 divisions are, standing (l-r),
Emma Condit (5th), Kirsten Medlang (6th), Mia Fragoso (7th), Sierra
Overton (6th) and Kendra Brekhus (7th) and, seated, Zoe Smalls (7th)
and McKayla Neubauer (7th). More than 1170 pictures were submitted
to the contest. These artists prepared their entries during lessons at
Kenmare Public School with Jane Kalmbach of DakotaBlessings Studio.
By Caroline Downs
Nineteen students from the region were among the 100 young artists recognized for their winning entries in the 2012 North Dakota Junior Duck Stamp contest.
All 19 artists prepared their Junior Duck Stamp entries under the direction of Jane Kalmbach of DakotaBlessings Studio in Kenmare. The contest, which attracted more than 1,170 submissions, was sponsored by the U.S. Fish & Wildlife Service.
Lyvia Roark of Berthold earned one of three 1st place awards in the Grade 4-6 division with her fulvous whistling duck.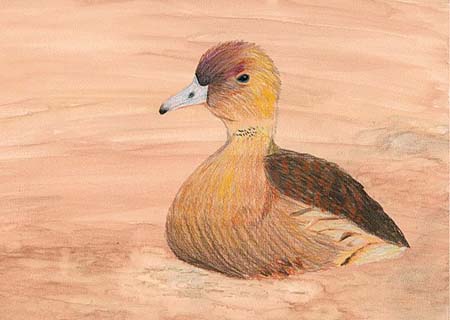 Lyvia Roark, Berthold--Fulvous Whistling Duck, 1st place Grades 4-6
Hannah Tiedman of Minot received a 1st place award in the Grade 7-9 division for her red-breasted merganser.
A hooded merganser done by Laura Vangsness of Berthold was awarded one of three 2nd place honors for Grades 4-6, while her classmate Grace Burke earned a 3rd place in the same division with her common eider.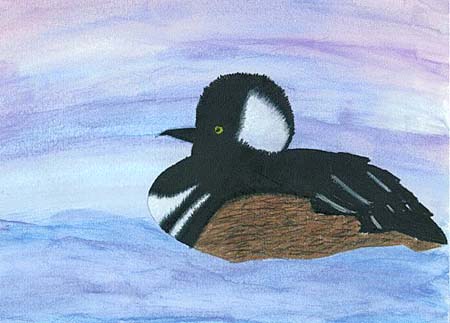 Laura Vangsness, Berthold--Hooded Merganser, 2nd place Grades 4-6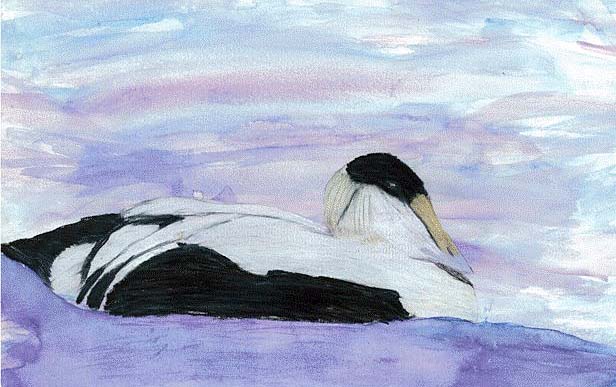 Grace Burke, Berthold--Common Eider, 3rd place Grades 4-6
Sophie Lind of Rugby also received a 3rd place award in the Grade 4-6 division with her picture of a wood duck.
Several young artists had their pictures chosen for honorable mention awards in each contest division.
Emma Condit, Kirsten Medlang and Sierra Overton of Kenmare, Alivia Schweitzer of Berthold, and Sara Nelson of Bowbells were named honorable mention artists in the Grade 4-6 division.
McKayla Neubauer, Kendra Brekhus, Mia Fragoso and Zoe Smalls of Kenmare, Brianna Honrud of Powers Lake, Kerstin Grubb of Tioga, and Madison Tiedman of Minot were named honorable mention artists in the Grade 7-9 division.
Hanna Rose Leschisin of Stanley and Sean Sullenger of Powers Lake were Kalmbach's students who received honorable mentions in the Grade 10-12 division.
Kenmare kids have fun
with ducks and pastels
The Kenmare students accepted their honorable mention ribbons with pride. All seven of the local honorees have entered the contest at least once before, and this was the third year for several in the group. They worked with Kalmbach during time set aside for the project in their classrooms.
Kirsten Medlang said she enjoyed the drawing aspect of the picture, while Kendra Brekhus said she likes spending any time she has on drawing and art.
The Kenmare entries in the Grades 4-6 and Grades 7-9 divisions were done with pastels. Emma Condit said she enjoys using the wide variety of colors among those pastel chalks.
"I like making new color combinations and blending," added Sierra Overton.
Mia Fragoso enjoyed blending the pastels to create the picture's background, but she also liked combining colors to create the shades she wanted for her duck feathers.
"I think we all had fun doing it, and we love drawing," said Zoe Smalls, adding that she chooses colorful ducks for her entries.
McKayla Neubauer nodded her agreement. "I go for the most unique ducks," she said.
Kalmbach was happy about all her students' entries. She worked with kids in grades 1 through 12 from 10 different schools, offering a total of 15 classes.
"For some of these kids, it was their first art experience and their first time with this contest," she said. "It can be a challenge to get the work prepared in the time we have together, but I already have plans and ideas ready for next year."
She also expressed appreciation to the schools that invited her to work with their students. "I'm grateful to the teachers who fit me into their schedules," she said. "Congratulations to all the students who participated! I hope to see them again, along with more students, next year."
Art opportunity for kids
in northwest region
Jennifer Jewett, Education & Outreach Coordinator at the Des Lacs National Wildlife Refuge and one of the contest organizers, was delighted with the record-breaking number of submissions for the 2012 contest. "That means there are just that many more youth in our state being introduced to wetlands, waterfowl and habitat conservation," she said.
She noted the variety of interpretations offered by student artists in the 2012 contest. "I saw youth venturing away from traditional 'federal duck stamp worthy' art, such as the traditional male/female duck species standing next to each other," she said. "I would really like to see the Junior Duck Stamp Program evolve. It is for kids, and it should be different from the adult/federal duck stamp contest. We should encourage kids to use their imaginations and stretch their artistic abilities."
She continued, "The main goal of this program is to teach youth about wetland habitat and waterfowl conservation, to educate youth about land stewardship and the importance of connecting to their natural world."
Kalmbach emphasized those connections, along with the art lessons. "I like this program because it teaches kids about nature, and many of these kids hunt or have seen these ducks and geese," she said. "My goal is that they learn some basic art lessons along with learning more about waterfowl and their habitat. Through this contest, many of the kids discover they can be creative."
Jewett noted the significance of Kalmbach's participation with the students. "She submitted over 200 entries this year from a part of the state that has been traditionally under-represented in the contest," said Jewett. "She is reaching out to kids who may have never been exposed to this program, especially if they recently moved here with their families because of the oil boom."
She described Kalmbach as an indispensable asset to the Junior Duck Stamp program. "We have the best of both worlds with her," Jewett said. "She is a great artist and she loves the outdoors. I wouldn't doubt she has suggested her students visit the refuge to see the ducks in their natural habitat. Besides wanting the kids to be excited about art, she wants them to be excited about ducks!"
Awards banquet in Bismarck
The canvasback duck, which inhabits the prairie wetlands of North Dakota, was named 2012 "Best of Show" in the contest. Mark Staples, 17, of Harwood, ND, titled his winning artwork "Simple Reflections," using colored pencils as the medium for his picture. He has participated in the contest for nine years and has studied for the past two years with Marjorie Teske, instructor at Studio-on-the-Prairie at Souris, ND.
Later this month, Mark's artwork will compete at the National Junior Duck Stamp Contest, along with other state and U.S. territory entries. The winner of the national contest will have his or her entry made into a Junior Duck Stamp sold for $5, with proceeds from these stamps supporting conservation education programs.
Logan Lamoureux, 12, from Westhope, received Best of Show Runner-Up honors for an acrylic painting of a blue-winged teal, which he titled "Lookout." He also takes art lessons from Teske.
All first, second and third place winners and their families will be recognized at the North Dakota Junior Duck Stamp banquet and awards ceremony in Bismarck on May 5th. Winning students will receive ribbons and prizes donated by the U.S. Fish and Wildlife Service, Ducks Unlimited, and wildlife clubs from throughout North Dakota.
Kenmare Veteran's Club, Inc. contributed to the ND Junior Duck Stamp program to help cover meal and motel expenses for winners and their families attending the banquet.
ND Junior Duck Stamp exhibit
comes to Kenmare in May
The winning artwork, including honorable mention pictures, will be displayed around the state during the next year at national wildlife refuge events, zoos, shopping malls and other locations. Kenmare High School will host the exhibit May 1-10, 2012, in the library, and the public is invited to view the pictures.
The ND Junior Duck Stamp exhibit can also be seen in this area at Lostwood National Wildlife Refuge June 9 and 10 during the Lost in Birding Festival, the Burke County Fair in Flaxton June 16 and 17, the North Dakota State Fair (Dakota Square Mall in Minot) July 18-30, and Upper Souris National Wildlife Refuge September 19 and 20 for the Mouse River Loop Envirothon.
The exhibit will return to Kenmare October 16-22 for display during the 24th annual GooseFest celebration.
The ND Junior Duck Stamp winners and honorable mention pictures can be viewed in albums on the North Dakota Junior Duck Stamp Facebook page. The exhibit schedule and any changes will be listed on that page as well, and information about the 20th annual ND Junior Duck Stamp contest in 2013 will be posted when it becomes available.
Persons or organizations interested in hosting the Junior Duck Stamp exhibit should contact Jewett at 701-385-4046 ext. 221 or by e-mail at Jennifer_Jewett@fws.gov.