Thanks for reading some of the latest features about area people and events.
To view every page and read every word of The Kenmare News each week,
subscribe to our ONLINE EDITION!
Power outages add to the misery of weekend blizzard
Winter's last blast blew through northwestern North Dakota over the weekend, with drenching rain, dangerous ice buildup, snowfall totalling several inches and wind gusts measured between 55 and 70 mph throughout the region on Saturday afternoon.
5/04/11 (Wed)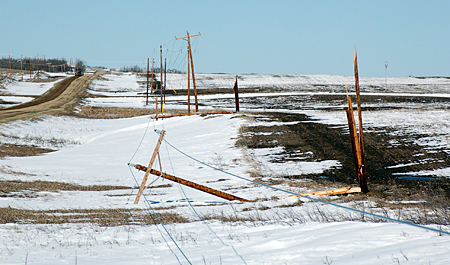 A string of power poles snapped off along Ward County No. 4 west of Kenaston.
By Caroline Downs
Winter's last blast blew through northwestern North Dakota over the weekend, with drenching rain, dangerous ice buildup, snowfall totalling several inches and wind gusts measured between 55 and 70 mph throughout the region on Saturday afternoon.
But travel restrictions, closed roads and new snowdrifts became minor problems after the power went off Saturday for some 30,000 people--and stayed off for an estimated 20,000 customers through much of Monday, with some rural locations expected to be without electricity for up to a week.
The forecast storm moved into the area Friday, starting with steady rain that changed over to snow on Saturday as winds picked up speed and the temperature dropped. Snowfall reports ranged from 1.5 inches at Parshall to 9 inches in Crosby.
Amounts ranging from three and four inches were generally recorded between Kenmare and Minot.
Widespread outages were reported to Montana-Dakota Utilities, Burke-Divide Electric Cooperative, Mountrail-Williams Electric Cooperative and Verendrye Electric Cooperative, beginning early Saturday morning, as the storm battered power poles, transmission lines, cross arms and other equipment.
MDU reported over 100 poles down, while Mountrail-Williams noted at least 340 poles dropped in Williams County and another 200 in Mountrail. Verendrye Electric described damage to wires, tie wires and cross arms, with only a handful of poles actually toppling or snapping off in the wind. Burke-Divide reported multiple downed poles and cross arms at substations throughout its service area.
Blizzard conditions prevented crews from assessing damages or doing much repair work on Saturday, although several linemen were out attempting repairs at specific substations. Sunday's calm and sunny weather allowed crews to drive some roads or fly their service areas and view the extent of the problem.
Home, farm, oilfield and commercial customers scrambled to keep sump pumps working in flooded basements, supply water to livestock, maintain drilling operations and warm families as overnight lows dropped into the mid-20s. Several school, community and church activities were canceled or rescheduled across the region because of road conditions and the lack of electricity.
In the meantime, MDU and the area electric cooperatives posted warnings about downed power lines and called for additional crews and resources. Mountrail-Williams recruited the services of 150 contracted lineworkers from neighboring states after announcing the damage to its service area was worse than first estimated. Cooperative officials described the situation as bleak and advised some customers to prepare for an extended period of time without power.
Verendrye Electric restored power to its customers around Berthold, Des Lacs, Foxholm and Carpio. The cooperative expected all work in its service area to be completed by Monday, with its crews then dispatched to assist Burke-Divide crews.
By Sunday evening, Burke-Divide had restored power to the Greenbush, Norma, Northgate, Bowbells, Kincaid, Lignite, Battleview, and Crosby substations, although cooperative representatives noted the vast majority of their customers still did not have electricity. Crews were being called in to resume restoration efforts early Monday morning and expected to work as long as daylight allowed.
As of 10 pm on Monday, MDU restored power to most of its customers in Williston and customers in Appam, Grenora, Sentinel Butte, Rhame, Tioga, Bowbells, Coteau, Stanley, Mohall, Kenmare, Bainville, Sherwood, Tolley, Loraine, Crosby, Noonan, Larson, Columbus, Lignite, Ambrose, Ray, Wheelock, Epping, Springbrook, Watford City, Portal, Flaxton, Northgate, Battleview, Powers Lake, McGregor, Wildrose, Temple, Donnybrook and Hamlet.
Any MDU customers within those communities still without power were advised to call 800-638-3278.
Communities waiting for power from MDU as of Monday evening included Hanks, Zahl, Alamo, Corinth, White Earth and Carpio. Approximately 270 customers were affected, with MDU plans calling for power restoration to be completed in those locations by Tuesday.
According to MDU representatives, an estimated 65 poles still needed to be replaced as of Tuesday morning, but not all had to be replaced to restore power to the remaining communities.
MDU also advised its customers that repair work would continue through the next days and weeks, with scattered, brief outages to be expected during that process.
Kenmare keeps its power
Kenmare's MDU customers remained relatively unaffected by the storm. Customers lost power from about 7 until 9:30 am Saturday, but were able to use electricity through the rest of the weekend.
High winds from the storm downed a few trees around town and some power poles outside of town, but Kenmare residents were supplied with electricity through the weekend.
Business at the local grocery stores, gas stations and hardware stores was brisk Saturday and continued Monday as residents of the outlying areas purchased generators and stocked up on groceries and gasoline, given the outages in the surrounding communities.
Most buildings at the Des Lacs National Wildlife Refuge headquarters remained without power or water on Tuesday morning, although one building was receiving electricity.
Repair damaged
electrical equipment
The North Dakota State Electrical Board reminds home, farm or business owners who have experienced electrical damage to their dwellings or buildings to contact a licensed North Dakota electrical contractor. The electrical contractor may need to repair or replace the damaged electrical equipment or wiring before the power supplier can reenergize it.
If you notice unsafe conditions in electrical equipment or wiring, please contact the power supplier and request that the power be disconnected for safety reasons until repairs can be completed.
The State Electrical Board is available to answer further questions, and can be reached at (701) 328-9522 or electric@nd.gov.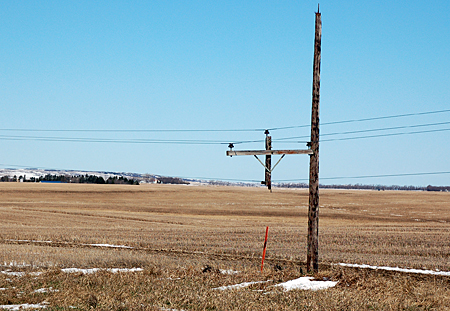 With some damaged poles, the cross arm remained
suspended by wires after snapping from the pole.