Thanks for reading some of the latest features about area people and events.
To view every page and read every word of The Kenmare News each week,
subscribe to our ONLINE EDITION!
Photobook captures images of Mouse River Flood of 2011
A year after the Mouse River Flood, Kenmare photographer Ruth Ganes is still surprised at the response she gets to a photobook she created after the event.
7/11/12 (Wed)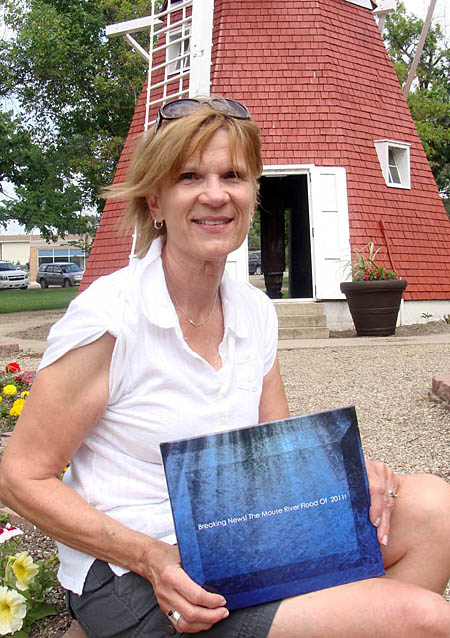 A flood of memories, memories of a flood . . . Ruth Ganes
created a personal photobook to record her memories of
the 2011 Mouse River Flood, but friends and family wanted their
own copies. The book is now for sale at Kenmare Drug and
the Quilt Inn, with a portion of the proceeds donated to
the Mouse River Flood Recovery Fund.
By Caroline Downs
A year after the Mouse River Flood, Kenmare photographer Ruth Ganes is still surprised at the response she gets to a photobook she created after the event.
"The book started just for me," she said, "That's how I make all my photobooks."
Copies of Breaking News! The Mouse River Flood of 2011 have been in demand, however, as friends and family have requested their own collection of the images Ganes used to commemorate the catastrophe. "The pictures are mostly from around Kenmare and the Des Lacs River valley, Mouse River Park, Lake Darling and the Mouse River valley," she said.
Some photos are familiar, such as pictures of the water-covered Mouse River Park.
Other photos may surprise readers, such as the pictures of pelicans bobbing calmly on the water's surface near the Lake Darling Dam, where the releases stood at turbulent record levels. "They didn't seem to care," Ganes said as she talked about seeing the quiet pelicans in the midst of the river's chaos.
She also included a photo taken of the Mouse River at the McKinney crossing east of Kenmare soon after that road reopened in July. Water covers fences and vegetation, with trees rising above the river's surface. "At that time, it was rather pretty," Ganes said. "That's how it looked then. I decided I wanted to make this a history book and a memory book."
Ganes compiled the book in late July 2011 using an online photo editing and publishing program. She happened to show a copy to Kenmare Branch librarian Pauline Nielsen. "She immediately said, 'I want one and the library needs one,'" Ganes recalled.
She printed a few more copies, and suddenly the requests came from all directions. Friends ordered multiple copies to send to relatives. Ganes finally decided to sell the book for $40 and made a few copies available to the public at Kenmare Drug. She donated a portion of the proceeds from book sales to the Mouse River Flood Recovery Fund.
Interest started with
father's photography hobby
Ganes never really planned to sell her photos, much less sell books containing her pictures. She has a lifelong interest in photography, stemming from her Lutheran pastor father's hobby during her childhood. She used to work with him in his darkroom and she still has 35 mm cameras that belonged to him, along with boxes of photos he took.
"I take my camera with me everywhere," she said, adding she has used a Kodak digital camera for the past three years.
Her husband Eric encouraged her to pursue her interest by framing and hanging her photos in his dental offices. She started getting favorite pictures enlarged and printed on canvas as gifts to family members.
Since retiring from First District Health Unit a year and a half ago, Ganes has invested more time and money into quality equipment. She has created other online photo albums after special family events and trips taken, and has even presented programs related to the topics of those albums.
"It's mostly been a hobby," she said. "I really had no intention of selling anything."
She prefers to focus her camera on landscapes and nature scenes, especially the birds in her own backyard. "And grandchildren come in there, too," she added, laughing as she talked about her passion for capturing the unusual pose of a grandchild when he or she is unaware of her presence with the camera.
Book serves historical purpose
Breaking News! became a project different from anything Ganes had done before, however. After she finished the book, she created a DVD of photos used in the book upon the request of friends. She donated prints of several of her photos to a fundraiser held by FDHU to help staff members who lost homes in the flood, with the prints selling for amounts that surprised Ganes.
A year after the flood itself, demand remains steady and Ganes decided to accept Quilt Inn manager Janeen Melgaard's request to offer the books and DVDs for sale at that location as well as Kenmare Drug.
Ganes hopes the books serve as a historical record for other people. "It was a devastating event, and sometimes I don't think we appreciate history until we get older," she said.
She chose to finish her collection of flood photos with a picture of a blooming flower, accompanied by a statement about hope for the future of the people and places impacted by the Mouse River Flood.
"And a year later, there is recovery," she said. "People are working together and moving forward, and they are rebuilding."
Copies of Breaking News! The Mouse River Flood of 2011 can be purchased from Ganes directly, the Quilt Inn or Kenmare Drug. Ganes continues to donate a portion of book sales to the flood's recovery fund. For more information, contact Ganes at 701-385-3229.