Thanks for reading some of the latest features about area people and events.
To view every page and read every word of The Kenmare News each week,
subscribe to our ONLINE EDITION!
After 32 years with the Refuge, Kenmare man is back in the oilfield
After nearly 32 years with the U.S. Fish & Wildlife Service, Duane "Doc" Dockter turned in his keys for the maintenance shop--and every other building at the Des Lacs National Wildlife Refuge--on May 1st and packed away the required brown uniforms.
7/11/12 (Wed)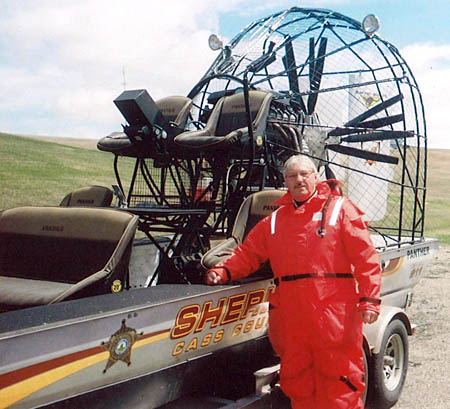 All in a day's work . . . Duane Dockter, former maintenance
engineer at the Des Lacs National Wildlife Refuge, demonstrates
his role as an airboat instructor. During his nearly 32-year career
with the USFWS, Dockter also served as a safety officer,
construction inspector and fire inspector.
By Caroline Downs
After nearly 32 years with the U.S. Fish & Wildlife Service, Duane "Doc" Dockter turned in his keys for the maintenance shop--and every other building at the Des Lacs National Wildlife Refuge--on May 1st and packed away the required brown uniforms.
"I'm too young to retire!" he said. "But I had my time in, and I can't go any higher or go any further with them."
Co-workers, family and friends honored Dockter and his years of service during a dinner held June 15th, where the word "retirement" was used loosely.
Instead of retiring, Dockter is working again in the oilfield for Cornerstone Natural Resources as a pumper, capping a lifetime of work that started in the oil patch. In fact, his family arrived in Kenmare in 1959 because of those jobs.
"My dad was in the oilfield," said Dockter. "We lived all over, in Carrington, Bottineau, Bowbells, Columbus, Crosby. Then it shut down and Kenmare is where we ended up."
Dockter started first grade at Kenmare Elementary School and graduated in 1971. From there, he volunteered for the draft and joined by U.S. Marine Corps. When his service ended, he returned to North Dakota and followed his father's example into the oilfield.
The energy business slowed down, though, so Dockter took a temporary seasonal position at the Des Lacs NWR in 1976 and worked at Minot Air Force Base during the winter. By 1980, he returned to the oilfield, but that work declined again in 1988.
Fortunately, he knew Molly Hansen, who was the Des Lacs NWR clerk at the time. "The oil boom shut down and Molly called me up and said there was a position open at the J. Clark Salyer refuge," said Dockter. "There were 80 people who applied for that position, and I got it."
He commuted from Kenmare to the J. Clark Salyer NWR for five years, until a similar position came open at the Des Lacs NWR in 1993. Since then, Dockter has been a familiar face in the brown USFWS uniform for Kenmare residents and refuge visitors.
"They call us the 'backbone of the refuge,'" he said. "That's because maintenance people never leave. They know everything about the refuge."
The position proved to be a natural fit for Dockter, who prefers working outdoors. Through the years, he developed expertise in several areas through training and experience, and served as a safety officer for both the J. Clark Salyer and Des Lacs refuges, fire inspector, construction inspector, and 11 years as a USFWS boating and airboat instructor.
He enjoyed the variety of assignments that came with his job titles. "With all the training, the fire details, I got to see a lot of country," he said, adding he also accepted work details with clean-up crews after the 2010 BP oil spill in the Gulf of Mexico. "I never turned down a detail. I liked seeing new country and meeting new people."
Dockter has observed his share of changes in the national wildlife refuge system. "When I started, we didn't have a fire crew," he said. "If we had to do a burn, we just went and did it. I don't think we upgraded our fire equipment until 1980."
He noted the refuge's two maintenance engineers on the refuge coordinated all projects with the refuge manager, assistant manager, clerk and biologist when he started. "Now, it's tons of people involved," he said. "They kept coming up with different positions. I don't even know how many managers I've worked for. At least six!"
He also had the added responsibility of supervising youth hired during the summers under the Youth Conservation Corps, or YCC, program. He laughed as he recalled occasions through the years when he has run into those same kids as adults and tried to remember their names. "They'll say, 'Hi, Doc, I worked with you one summer,'" he said, "but that might be 30 years ago now, when they were 17 or 18."
The biggest portion of his job involved daily operations and projects at the Des Lacs NWR. He divided those duties with Dave Gins most of those years.
"We did our own electricity, we did our own plumbing and our own carpentry, to a certain extent," Dockter said. "We did a lot of construction, building roads and dams and putting in culverts."
He believes the roads and water control structures on the refuge are in fairly good shape now, but repair work is ongoing and new projects are always in the planning stages. "I know they're trying to fix a couple of the water structures this summer," he said, "and they'll be doing some work on the South Lake Road."
Although his job at the refuge kept him busy, Dockter found time to serve the community as well. He has been a volunteer with the Kenmare Fire Department and Kenmare Ambulance, the municipal judge, and an active member and leader of the former Jaycees organization.
He is currently the gaming manager for the Kenmare Veteran's Club, Inc., on the Honor Guard for the American Legion Heidenberg-Peterson Post #64 in Kenmare, where he also served as post commander at one time, and an active volunteer with the Kenmare GooseFest Committee.
In 1993, Dockter was first elected to the Kenmare Park Board and has served on that board for nearly 20 years now. He focuses his efforts on Kenmare's Centennial Park, near the high school and U.S. Highway 52. "I do everything up there," he said. "Mow, plant the flowers, look after things."
He and his wife DeLora have been married nearly 37 years and have three grown daughters and three grandchildren, with another grandson due in August.
Dockter said he won't miss the political aspects of his federal job. Then he paused and laughed again. "I enjoyed it all, spraying [for weeds] and everything," he admitted.
He also noted that in all his years at the Des Lacs NWR, some parts of the refuge were still unfamiliar to him. "I've been all over, fixing trails and roads, spraying with four-wheelers, fixing fence," he said, "but there are areas on this refuge I know I've never been."
He has exchanged the federal holidays and physical labor for a return to the oil industry, where he started his adult life. "Now I can drive around all day and listen to the radio," he joked, before describing his over-loaded daily schedule for checking the 18 wells assigned to him.
Dockter said he was ready to make the change and he is comfortable in his new role, but his co-workers and memories from his years in the refuge system hold a special place in his heart.
"I'll definitely miss the people I worked with," he said. "But I'm around. You're gonna see me!"