Thanks for reading some of the latest features about area people and events.
To view every page and read every word of The Kenmare News each week,
subscribe to our ONLINE EDITION!
Pastor Cole Bentley serves rural Lutheran churches of Kenmare, Powers Lake and Battleview
"I'm still getting used to the whole 'Pastor' thing," said Cole Bentley about the title he'll use with members of the five congregations he serves through the United as One Lutheran Parish in northwestern North Dakota.
9/26/12 (Wed)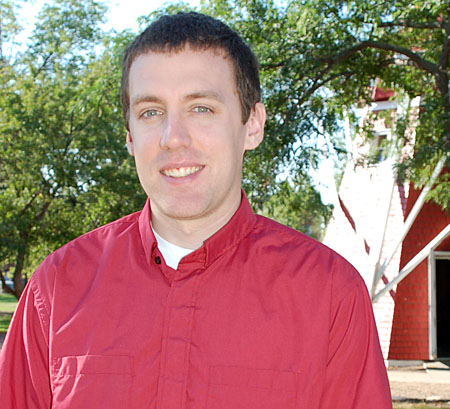 Pastor Cole Bentley, United as One Lutheran Parish
By Caroline Downs
"I'm still getting used to the whole 'Pastor' thing," said Cole Bentley about the title he'll use with members of the five congregations he serves through the United as One Lutheran Parish in northwestern North Dakota.
Pastor Cole, as he is called these days, has been called to shepherd Trinity Lutheran, Elmdale Lutheran and Bethlehem Lutheran churches, all of rural Kenmare, as well as Holy Cross Lutheran in Powers Lake and Bethel Lutheran at Battleview. Working and worshiping with the memberships of five different churches could be a daunting prospect for a minister fresh from seminary, but Pastor Cole is excited about his opportunities.
"One of the things I love is the diversity of the churches," he said. "Each church has its wonderful history. The people all have a wonderful outlook on life and a strong faith. I get to know not just the people, but the places they call home."
Pastor Cole is a relatively new resident to the state of North Dakota. He was born in Montana and mostly grew up there, with a childhood that detoured through Alaska back to Montana and into Wisconsin where his father ran his grandparents' business for a while. When he was 12, his family returned to the far northwest corner of Montana at Eureka, where he graduated from high school.
He started college at Montana State University-Bozeman, but wasn't comfortable there. When a younger sister decided to visit North Dakota's Jamestown College as a potential student during spring break week, Pastor Cole went along.
"It was awful weather, but by the end of the visit there, I was signing enrollment papers," he said.
He liked the campus atmosphere and the fact he was closer to his Wisconsin relatives. He graduated in December 2005 with a bachelor's degree in business administration and a concentration in finance.
Pastor Cole admitted he chose a major in business because he really couldn't decide what he wanted to do with the rest of his life, but the time he spent at Jamestown proved formative in other ways.
"During my junior year, I got more involved with Campus Ministry," he said, "and my friends would often say things to me like, 'You remind me of our pastor' or 'You should think about being a pastor.'"
He laughed and shook his head. "There was no way I was going to get up and talk in front of large groups of people," he said.
However, he continued his participation in ministry activities, including serving as a counselor at Camp of the Cross near Garrison, where he was actually hired by his future wife Carrie. "The experience of being a counselor showed me that this could be a possibility for where God might be leading me," he said.
Pastor Cole went on to spend two summers at Camp of the Cross and served as one of the student chaplains for Campus Ministry at Jamestown College. He also played basketball at 6 am a few mornings every week with other ministry staff members and a Presbyterian pastor who spoke often about options in ministry for Cole's future.
As he faced graduation and the reality he didn't want to pursue a career with his business degree, Pastor Cole prayed about entering the ministry. "I finally said okay to God, show me what I'm supposed to do," he said, "and then I had a sense of peace about the decision."
He started with a youth director's job at Lord of Life Lutheran Church in Bismarck. Pastor Cole hadn't been involved with a Lutheran church since his childhood, but he liked what he experienced there.
"When we lived in Wisconsin, we went to the Lutheran church," he said. "Then in Montana it was the Church of God while I was in high school and at Jamestown College it was the Presbyterian Church. Getting back to the Lutheran church in Bismarck, I liked the liturgy and order of worship and other things I fondly remembered from my childhood."
He began studying Lutheran theology with a sense of purpose. "I like the Lutheran way of thinking about God," he said, "and I felt the call to ministry, especially to rural ministries, to the people of North Dakota."
Pastor Cole started dating Carrie while living in Bismarck, and the two married in 2007. The next year, they moved to Dubuque, Iowa, where Pastor Cole enrolled at Wartburg Theological Seminary.
"They specialize in rural ministry," he said. "I knew pastors in this area who had gone there and they spoke very highly of it."
He completed his seminary studies, served an internship at Trinity Lutheran Church in Laramie, WY, and graduated last May. In the meantime, the couple's sons Sam, now age 3 ½, and Tim, 11 months, were born. As the summer began, the family waited to hear about a placement for Cole.
"In the early spring, we found out we were heading to this region, and we were really hoping for western North Dakota," said Pastor Cole.
He was offered three possible positions, so he, Carrie and Sam came to the Synod Assembly in early June and had three interviews in four days at churches in the Watford City, Underwood and United as One parishes.
"There was always something about this area I felt God was pushing me toward," he said. "The other calls were wonderful. They were wonderful communities with exciting calls, but it came down to praying a lot, listening and believing this was where God was moving us."
The Bentleys arrived in Powers Lake in mid-July, with Pastor Cole taking his first pulpit in his first parish on July 30th. Carrie serves as the parish secretary.
Pastor Cole was intrigued by the churches' strong sense of identity when he was going through the interview process. "When I was reading through the paperwork for this parish, these churches didn't have a sense of barely getting by," he said. "They have a sense of having a mission and that God has a purpose for them. Their mission is not completed."
He described the parish's perspective as refreshing. "They're small, but they're thriving," he said. "It's a beautiful expression of how they're living God's word."
The three rural Kenmare churches hold joint worship services, which rotate among the three church buildings. Pastor Cole actually fills that pulpit on the third Sunday of every month, with a schedule that puts him at Holy Cross and Bethel Lutheran churches on the other Sundays. Speakers and lay pastors lead services for the rural Kenmare churches the rest of the time.
"They have a good rotation," said Pastor Cole. "This area is blessed with lay people who can speak the word of God. I feel when I'm not there, the people are well-fed."
Beyond the churches, residents of Kenmare, Powers Lake and Battleview are likely to see Pastor Cole at sports activities. "I'm looking forward to going to football and basketball games," he said. "It'll be fun to see the kids I get to know through the church."
He enjoys camping, fishing and hunting, and he looks forward to taking advantage of outdoor recreation opportunities in this part of the state. "My grandpa built a cedar strip canoe and gave it to us," he said. "We've had that out on Smishek Lake already."
Pastor Cole intends to listen to his parishioners and other area residents as he begins his first year of ministry. "It's important to me to learn about life here on the prairie," he said, "to learn about these communities and learn about the way God is working here."
He can be reached at the United as One Lutheran Parish office based at Holy Cross Lutheran in Powers Lake by calling 701-464-5572 or by emailing holycross@nccray.com.
"I thinking being with the people is the wonderful blessing of this call," he said. "Over time, we'll learn where it is God is leading us."